Outlook for MAC
Convert Apple Mail to PDF – An A to Z Guide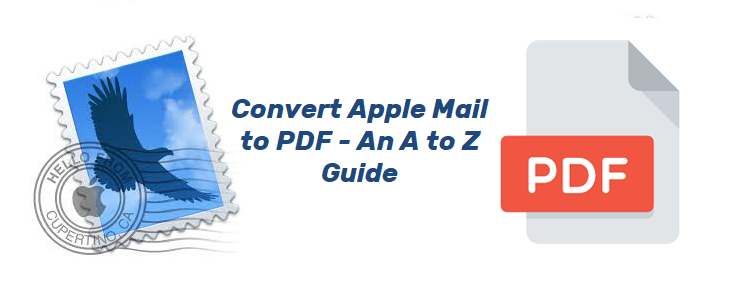 Summary – Looking for a way to convert Apple Mail to PDF in batch, then it is time to rejoice. Here in this blog, we are going to discuss the two best ways to convert multiple Apple Mail in PDF. So, stick with this blog in order to complete the process without any hassle.
Well, we know that Apple Mail is the default desktop email service of Mac OS. Basically, it stores all email databases in MBOX format. And if users wish to export multiple emails from Apple Mail to PDF, then users have to go through with the very tedious process.
To understand the complication let's see a user query asked by an Apple Mail user
Hi, by profession I am a lawyer and I am working on a case where I have to summit multiple email conversions as a piece of evidence. But the thing I don't have that much time to save all the emails one-by-one print as PD. So if anyone knows any solution to batch conversion of Apple Mail to PDF then please suggest any reliable solution.
Just like the above query, there are a number of users who are looking for a solution to convert Apple Mail to PDF.
Why PDF Not Other File Format?
Let us now discuss why users choosing PDF rather than other file formats
PDF always preserves the formatting of the original document.
In PDF files users can easily apply a strong password so that only authorized can access PDF files.
It is a universally supported file format so users can open it on any devices
Document-level security can also be applied very easily.
PDF is widely accepted as legal documents or as evidence.
One-Stop Solution to Convert Apple Mail to PDF
As we said above users have to save emails from Apple Mail to PDF one-by-one which makes this a tedious task. Hence users must opt for a professional alternative. Mac MBOX to PDF Converter tool is capable of exports multiple Apple Mail mailboxes at once. The program is designed with well-chosen techniques and algorithms so both the technical and non-technical users can easily achieve its task.
The best thing about this tool is, it is very easy to operate and lets you perform conversion comfortably without any hassle. And gives you a guarantee to complete, successful, and secure way to convert Apple email to PDF.
Meanwhile, the best thing that makes this application even more desirable is its availability as a trial edition so users can take a trial of the software and when he/she satisfied with it, then they can get the licensed version The software offers different file naming options to store the migrated data file. Moreover,
Step to Convert Apple Mail to PDF Using Tool
1. Download the software and install it on your Mac machine
2. Now click on the Add File(s) or Add Folder to add Apple Mail .mbox files
3. Choose the PDF format from the export option
4. Click on the Advance settings and choose the settings as per preference
5. Click the Export button to convert Apple Mail mailbox to PDF on Mac
Manual Method To Convert Apple Mail to PDF
If you are looking for a free way to save Apple Mail to PDF then follow the below steps. But keep in mind that it only for those users who have fewer emails in Apple Mail.
1. Open Apple Mail email client.
2. Select one or more messages.
3. Go to File and choose Export as PDF.
4. Select the destination to convert Applet Mail to PDF
Why the Software Over Manual Method?
By using this application, users will be able to convert MBOX files to PDF in batch.
The development of the tool has been done after proper R&D so it is the best option to convert Apple Mail to PDF.
The GUI of the tool is very straightforward and so technical and non-technical users can easily achieve their task
Various advanced settings provided by the software such as the option to apply page margin, set page numbers, include MIME header, etc.
The tool also provides a date filter option so users can also filter the emails according to a specific date range
The tool supports all latest versions of Mac OS (Mac OS X 10.10 and later versions)
Conclusion
Whatever the reasons for conversion of Apple Mail to PDF, if you are stuck in a situation where you nat able to complete this task, then this blog helps in the right way. Here we have discussed manual as well as an automated way to convert Apple Mail to PDF.