Import & Export
Best Solution to Convert XLSX Contacts to HTML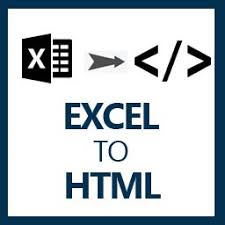 Are you facing constant issues to convert XLSX Contacts to HTML? Have you tried the manual method but unable to convert Mac Excel contacts? If yes, then you are in the right place as this article provides you the best solution to transfer Excel XLS / XLSX / XLSM contacts to HTML format. This is the most reliable solution for users.

For storing large amounts of useful information and data, Excel files are considered to be the most used platform. But, there are several downsides to using XLS format. A few of them are enlisted:
Lack of control and security

Prone to human error

Difficult to manage

Troublesome for business activities

Lead to wrong calculations
This is why users are finding ways to convert XLSX Contacts to HTML as it will be easier for the users to read or share the spreadsheets with others. Thus, in the following section, we will find out the reasons why users are looking for ways to transfer Excel Contacts to HTML file format.
Why HTML is Preferred?
HTML stands for Hypertext Markup Language, is a standard, structured language for web pages. You can add the look and feel to regular or ordinary web pages through HTML. Using HTML, you can easily add text, images, and other forms of multimedia to your web pages. Some of the advantages of HTML is written below:
Easily accessible

Interactive

Interlinking can be done

Easy to Manage
As the users have started noticing the advantages of HTML over XLS, they have looking for the techniques to convert XLSX Contacts to HTML file format. The manual method for transferring Excel contacts to HTML can be fruitful for converting a limited number of Excel files.
However, this method does not guarantee you a 100% efficiency and might encounter data loss.
Therefore, to resolve this issue, we have come up with a solution, namely the Mac Excel Contacts to HTML Converter.
Prominent Features of the Tool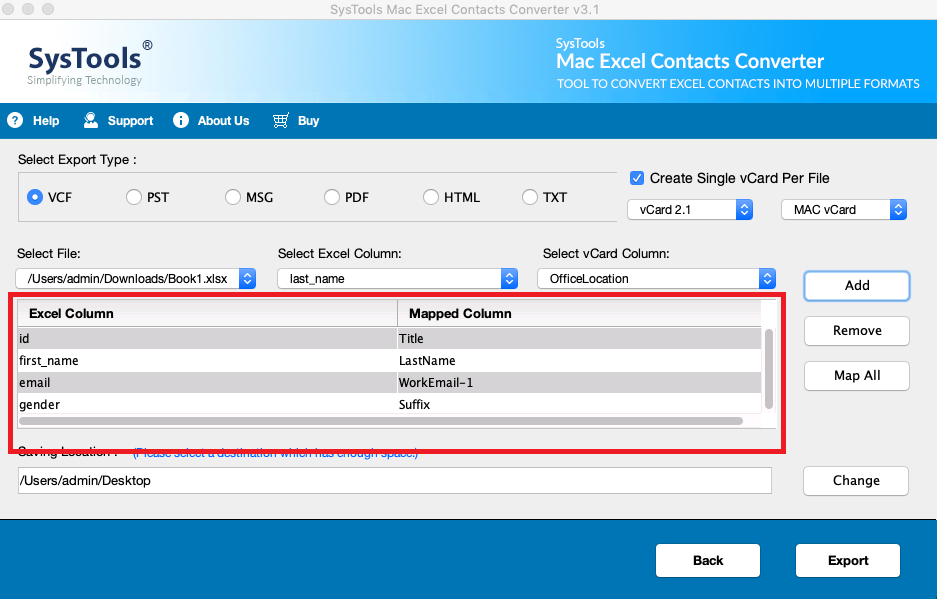 Export Multiple Excel Contacts: This software application offers you to convert multiple XLS contacts to HTML format at once. By using these features, users can perform the batch conversion in a hassle-free manner. Due to the bulk conversion, users can save their precious time.
Converting Excel Contacts into Multiple Formats: Once the XLS / XLSX / XLSM files are successfully added into the software, it will be reflected on the software panel. After this, the application provides multiple conversion formats in which Excel Contact files can be converted. Supported file formats are PST, EML. MBOX, vCard, HTML and TXT.
Manual / Automatic Mapping Options are Rendered: Using this important feature offered by this tool, the users can map the XLS / XLSX / XLSM files manually and automatically. If there are so many columns that have to be mapped then, users should opt for the Auto-Map Option. Otherwise, it can be done manually. The Auto-Map feature will map all the Excel columns of the selected files with the respected XLS columns.
Date-Filter Option: The functionality offered by the software to apply date filter has helped the users to convert XLSX contacts to HTML in a range based duration. With the help of this, the data that will be converted will be of that certain period of time only. This allows users to export only the data they need. Therefore, it can save users a lot of time.
Self-Explanatory GUI: The best part of the tool is that it has an interface that is easily understandable. XLS Contacts to HTML Converter Software is completely safe and comprises a simple and interactive interface. Even a non-technical user can operate it without any technical assistance.
Compatible with Mac OS X 10.8 & Other Below Versions: This software works perfectly fine with all the latest Mac OS X versions like Mac OS X 10.8 Mountain Lion, OS X 10.9 Mavericks, OS X 10.10: Yosemite, OS X 10.11: El Capitan, macOS 10.12: Sierra, macOS10.13: High Sierra, and macOS 10.14: Mojave. This application ensures that there will be no compromise with the data while converting Excel Contacts to HTML on Mac.
Observational Verdict
After considering all the points mentioned in the above article in order to convert XLS contacts to HTML, a third-party tool should be preferred. As it will provide you with the guaranteed tool in a less amount of time.