PDF
How to Decrypt PDF on Mac – 4 Quick & Simple Methods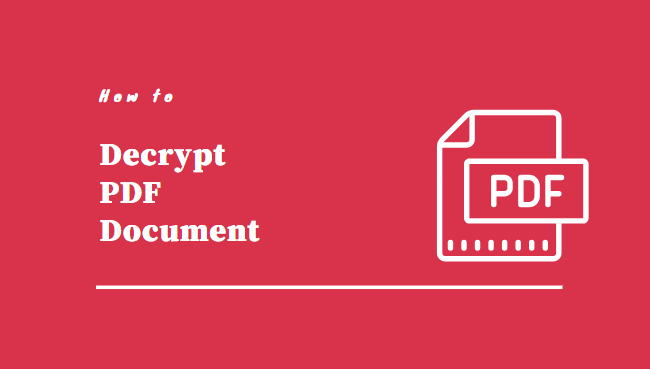 This guide offers Mac users four straightforward methods to decrypt PDF files. Whether users have the password or need alternative solutions, these methods will help access encrypted PDF documents with ease.
Table of Contents:
Encountering a locked PDF file on a Mac can be a roadblock, especially when the content is crucial. This guide is tailored for Mac users. It offers clear solutions to decrypt PDF documents.
For Mac users, encountering an encrypted PDF can be a common occurrence. After all, encryption is a common data security measure in PDF files to protect sensitive information. However, legitimate needs arise where users must decrypt these PDF files. Fortunately, there are methods to do so. Understand these methods and decrypt encrypted PDF documents to access PDF file with ease.
What is PDF Encryption & Its Types?
PDF encryption serves as a digital lock. It restricts unauthorized access to the document's content. There are two main types of encryption. User-level encryption stops viewers from opening the PDF without a password. Owner-level encryption restricts editing and printing. Knowing which type you're dealing with is key to choosing the right decryption method.
When we talk about decrypting a PDF file, it generally points to a user-level password. So, most of our methods focus on this aspect. Of course, we will also include the method to decrypt encrypted PDF files related to owner-level encryption.
How to Decrypt PDF on Mac
When users have the required password, it is quite straightforward to decrypt PDF files. The Mac operating system offers native applications like Preview to handle this task. To start, users simply need to open the encrypted file in Preview and input the password when prompted. Then, simply save a new, decrypted version of the file. This process ensures that the content remains intact while removing the encryption.
Other methods include using PDF editors like Adobe Acrobat and professional tools dedicated to PDF security.
Method 1: Preview on Mac
Preview is a built-in app on Mac that handles PDF. It can open encrypted PDF if users know the password. Users open the locked file with Preview and input the password. Once opened, they can export the document. The exported version is not encrypted. Here is the step-by-step process to decrypt a PDF with Preview on Mac:
Open the encrypted PDF with Preview.
Enter the password when prompted.
Once opened, go to File >> Export as PDF.
Uncheck the Encrypt option.
Save the PDF. This new file should be free of encryption.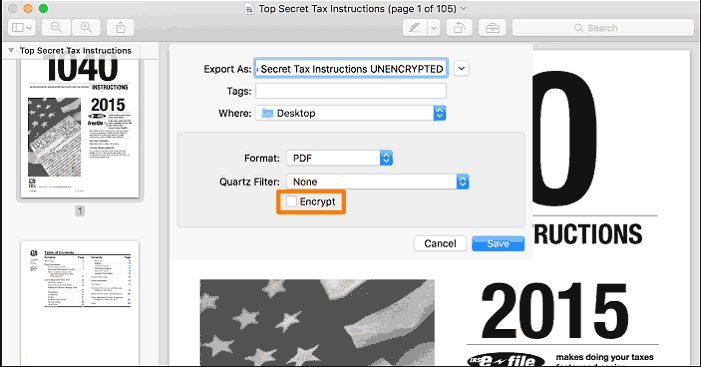 Method 2: Dedicated Tool (Recommended)
Mac PDF Unlocker is a tool dedicated to removing password protection from PDF files on Mac. It can decrypt PDF with and without a known password depending on the type of encryption. First, users download and install the software. They then load the PDF and follow prompts to unlock it. This method is useful for stronger encryption.
Download and install the software on the Mac system.
Launch the application and add the encrypted PDF using "Add Files" button.
Enter the password required to open the PDF file.
Choose an output location and click "Unlock" to decrypt PDF.
Note: Users must note that to decrypt a PDF file having user-level encryption, password is generally required. But to decrypt an encrypted PDF having owner-level encryption, password is not needed. This is the case with our recommended professional software. Other software work on different methodologies, so they may or may not work in this way.
Method 3: PDF Editors like Adobe Acrobat
Adobe Acrobat is the most popular PDF editor. Other PDF editors include PDFelement, Foxit, WPS, etc. They offer more features than Preview. To decrypt a file, users open it in one of these editors. They must enter the password. The editors provide options to change security settings and save the PDF file without encryption.
Open the PDF in Adobe Acrobat (paid).
Provide the password to open the document.
In Adobe Acrobat, go to File > Properties > Security and select No Security in the security settings.
Save the decrypted PDF file.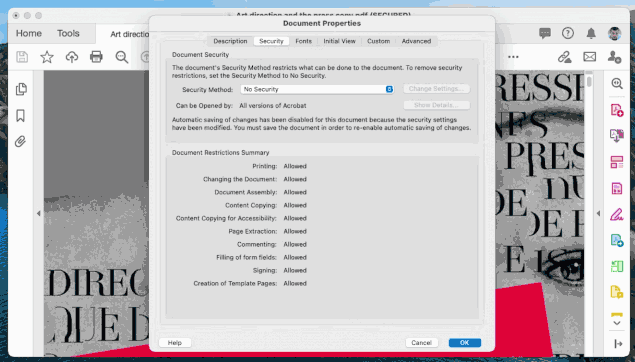 How to Decrypt PDF Without Password on Mac
For PDF files without known passwords, users can try specialized password recovery tools. These tools use various methods to guess or bypass the password. Users should be aware of legal issues before attempting this.
Sometimes, PDF has restrictions like no printing or editing. To remove these, users need the owner password. But tools like PDF Unlocker can easily decrypt PDF without password. So users can remove restrictions from PDF on Mac without the need for owner password.
Here is the process to do so:
Install and run the software on the Mac system.
After that, add the encrypted PDF with "Add Files" button.
Choose an output location.
Click "Unlock" to decrypt PDF without password.
Frequently Asked Queries
Q: Can I decrypt all PDF files on my Mac?
Most PDF documents with standard encryption can be decrypted. Success varies with the tool and encryption level.
Q: Is it legal to decrypt a PDF?
It's legal if you have the right to access the document. Unauthorized decryption can lead to legal issues.
Q: Will the quality of the PDF change after decryption?
Decryption should not affect the quality of the content in the PDF.
Bringing it All Together
Mac users have multiple ways to decrypt PDF file. They can use Preview for simple tasks or opt for more robust tools like professional software, Adobe Acrobat, etc. The choice of method depends on the encryption level and whether the password is known.
Takeaway from the blog:
To decrypt PDF that you cannot open without password, use one of the following methods:
Preview App on Mac
Adobe Acrobat Pro DC
Other PDF Editors
Professional Tool (recommended above)
To decrypt encrypted PDF that you can open, but cannot perform certain actions (limited permissions):
Use the professional tool (no need for password)
Any other method (password is must)