Import & Export
,
MAC OS
,
Outlook for MAC
Export Outlook for Mac to Apple Mail Tried & Tested Solutions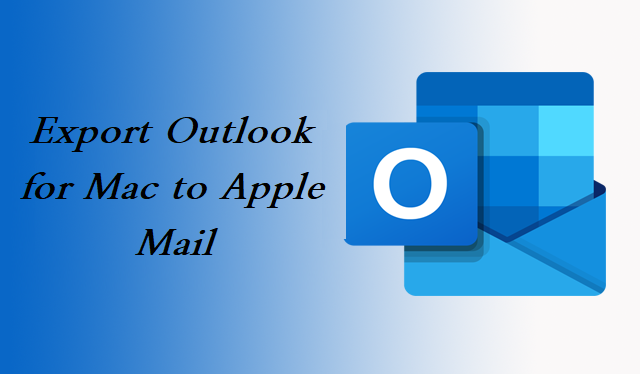 Summary – If you are here, then it might be you are seeking for a way to export Outlook for Mac to Apple Mail. So it time to rejoice because here in this blog we are going to illustrate the best way to migrate Outlook for Mac file to Apple Mail file. Now, if you want to complete this task in the right way then stick with this blog till the last or bookmark this for future use.
Basically, both of the email clients are Mac OS based, but they support different file formats to save their email database. Hence, many users not able to open Mac Outlook emails in Apple Mail directly. Now before beginning the process to let see why user want to transfer Outlook for Mac to Apple Mail
Reasons Why Users Do this Migration?
If we talk about the reasons, then there is no specific reason for this migration. Basically, when users feel the need for this conversion they start looking for the way. Here in this section, we cover what are the scenarios that are responsible for Outlook for Mac to Apple Mail migration.
Users no need to pay any money to use Apple Mail because it is as default email client of Mac OS
User switching the Operating system environment.
Most users think that Outlook has errors magnet and they have to face them from time to time.
Many users being bored with Mac Outlook and curious to use Apple Mail functionality.
Due to organizational change users also want o to migrate the data to Apple Mail
Also Read: Download All Emails from Outlook 2016 Mac
A Workaround on Export Outlook for Mac to Apple Mail
Let's start with the free manual method
Free Manual Method to Transfer Mac Outlook to Apple Mail
1. First, start your Outlook on your Mac system.
2. Now, choose the mailboxes that you wish to export to Apple Mail
3. In the next step just drag and drop the selected mailbox to the desktop interface to convert it into MBOX
4. Repeat the drag and drop step till all mailbox is converted to MBOX
5. Now create a new folder and, move all the MBOX files into that folder
6. Close Outlook and start Apple Mail on your machine
7. Select the File option, then the Mailboxes option.
8. After that select the MBOX format option from the pop-up dialog box and click on Continue.
9. Browse the MBOX folder files, then click on Choose
10. Now, click on Continue to import OLM File into Apple Mail
Limitations of Manual Method
We know that nothing comes without sacrifice and in the manual method there are some limitations you have to face such as:
If you try to export a bulk amount of data then it is not possible you can only move one file at a time.
Due to the one-by-one method, its a very time consuming and lengthy process.
Also, if you have an orphan Mac Outlook file and you want to export it into the Apple Mail program, then it is not possible.
Profession Way to Export Outlook For Mac to Apple Mail
Now if you think that the manual method is very complicated and kills your time, then here in this section we are going to discuss the automated way to complete this task. OLM to MBOX Converter is the best way to complete this task because it can easily export multiple files in a batch. The tool not only saves the file in MBOX but it is capable to save Mac Outlook emails to PDF, PST, CSV, and other file formats.
Working Steps of the Tool
1. Download and install the tool
2. Launch the software and click on the Add File(s) or Add Folder
3. Choose MBOX from the Export option
4. Click on the Advanced Settings and choose settings as per your requirement
5. Select the destination location to save the resultant file
6. At last click on the Export button to start the process
Conclusion
Now, it is time to wrap-up, here in this blog we have discussed two methods that can export Outlook for Mac to Apple Mail. Users can either go with the manual or automated way to complete the task. Now, it depends upon the users to choose the method.