Gmail
,
Outlook for MAC
Know How to View Gmail Emails in Outlook in an Efficient Manner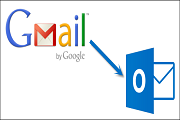 Summary: Gmail is a web-based email application that can let users access their mailbox everywhere (requires internet connection). But Gmail cannot do all that on the web that Outlook for Mac can do the local machine. For example, flexible email sorting options are not available on the Gmail on the web. Thus, a lot of users have queries like how to view Gmail emails in Outlook Mac.
If a user can access Gmail emails in Outlook also, then it will be easy for them advance action on Gmail data also. Now, the question is how to set up a Gmail account in Outlook 2016 for Mac? Fortunately, Mac Outlook permits users to configure Gmail in it and let them access mailbox data without any hassle. However, users need to wait until Mac Outlook synchronizes complete Gmail data into it.
User Query: "I used Outlook 2016 as an email client on my Mac machine. And, I use my Yahoo Mail email in Outlook. But when it comes to accessing Gmail emails in Outlook, I am unable to do it. Therefore, looking for a stepwise procedure that allows me to set up Gmail in Outlook for Mac. If anyone out there know any solution, then please suggest."
Advance Solution to View Gmail Emails in Outlook Mac

To overcome all the limitations faced by the users and to move complete email folders or selective folders from Gmail to Outlook, the users are suggested to opt for automated tools. Gmail Backup Tool for Mac is one such application that let users download selective folders from Gmail to multiple file formats, including PST format. After that, a user can easily import that PST file to Outlook for Mac. It is a hassle-free approach to view Gmail emails in Outlook.
Manual Method to View Gmail Emails in Outlook for Mac
Gmail is the popular web-based email service but still most of the organization use Outlook as their default email client because of its user-friendly interface. In addition, Outlook email client is capable to manage POP3, IMAP, or Exchange email accounts. Therefore, configuring a new account like Gmail in Outlook is possible. To do the same, follow the steps mentioned below:
Steps to Configure Gmail Account in Outlook for Mac
Step 1: Enable IMAP in Gmail Account
First of all, sign in to your Gmail account
After that, click on the Gear button from the upper-right corner
Click on the Settings to open Gmail settings
Then, you need to click on the Forwarding and POP/ IMAP tab
Now, choose Enable IMAP option from IMAP access section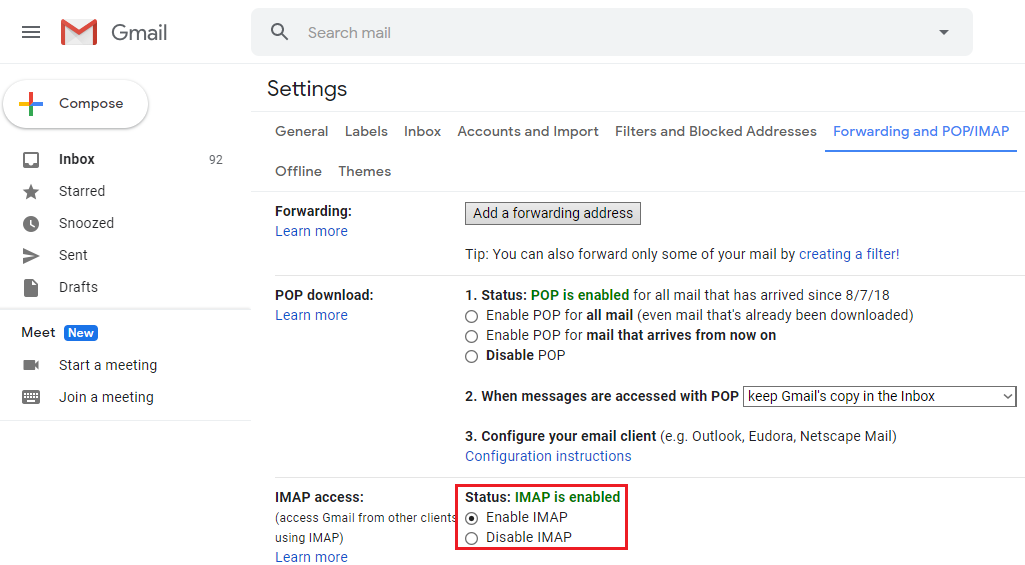 Then, click on the Save Changes button
Navigate to Labels tab and uncheck the Show in IMAP option for Important and Chats
Click on the Save Changes button from General tab.
Note: Outlook shows Label as a separate folder. So, by unchecking the Show in IMAP option make things look better.
Step 2: Add Gmail Account to Outlook for Mac
To start the configuration process, open Outlook on Mac
For Mac Outlook 2011
After that, from the Menu bar, click on the Outlook option and then on Preferences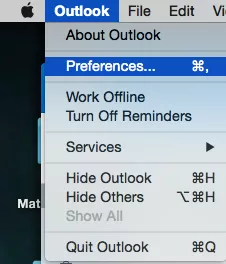 Now, Outlook Preferences window will open in front of you. Choose Accounts option from Personal Settings section
For Mac Outlook 2016
Go to Tools from the Menu bar and click on Tools >> Accounts option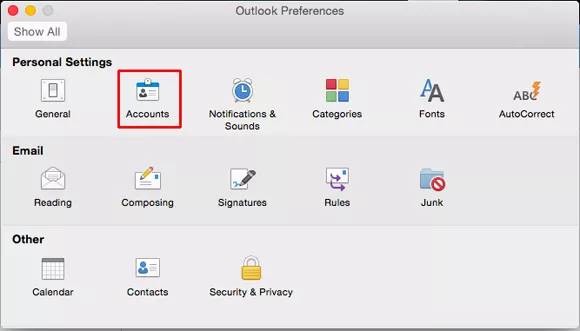 Next, choose Other Email option in order to add Gmail account in Outlook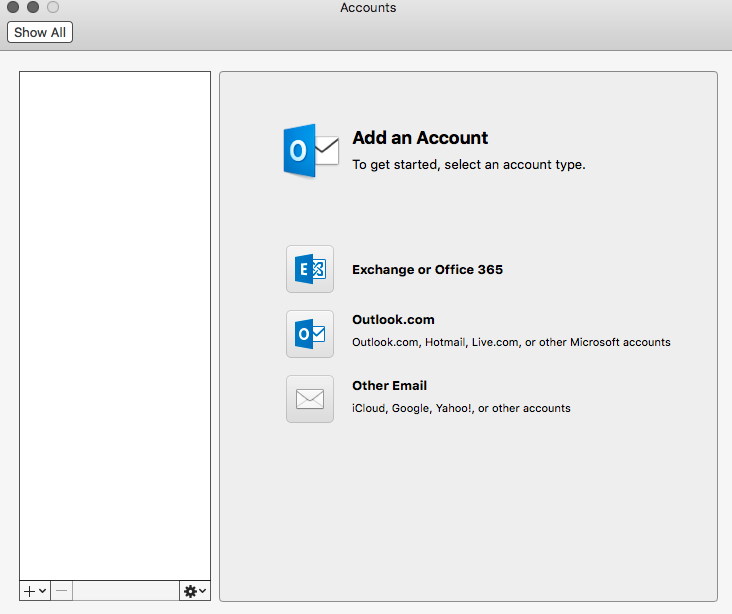 Here, enter your Gmail ID and its Password. Click on the Add Account button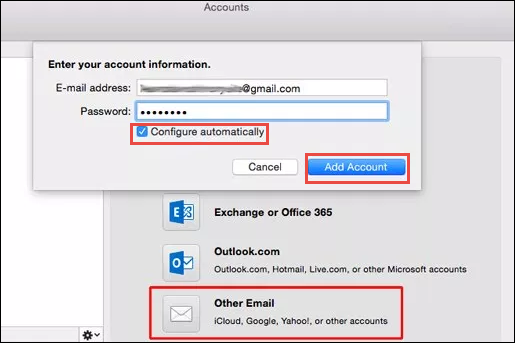 Note: Do not forget to check Configure Automatically option as shown below.
In the Accounts window, enter Account Description and your name in the Full name field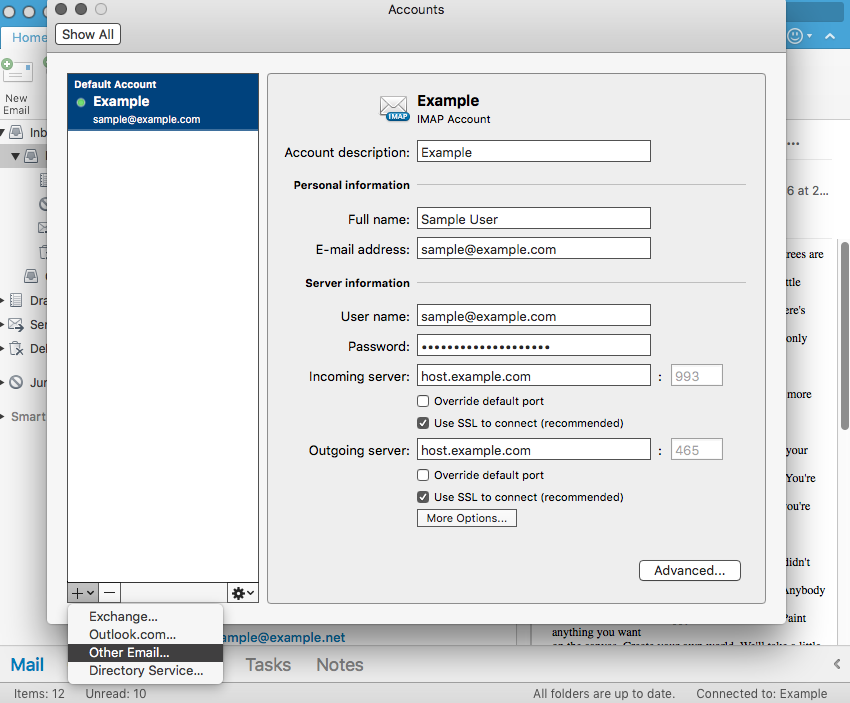 After that, Outlook will verify your added account username and password. If it is verified properly, it starts loading all emails from a Google server.
After following the above steps carefully, a user can view Gmail emails in Outlook for Mac without any trouble. In addition, one is allowed to perform any action on them and manage the email in the way they want.
You Might be Interested in: How to Backup Gmail Emails to Mac Outlook
Limitation of Manual Procedure
The manual procedure is quite easy to perform but sometimes users find difficulty in configuring it. For example, they are not sure about the port number, incoming server, etc. Apart from all this, if a user wants to move emails from selective emails only, then also a manual method fails. Let's consider another possible situation faced by the users in which manual fail:
"I do not want to move emails from any folder other than inbox from Gmail to Outlook for Mac. I tried the manual configuration of the Gmail account in Outlook but did not find any option to move the selective folder. So, I want a solution that allows me to move inbox emails from Gmail to Outlook. Any suggestions?"
Conclusion
There are many users who select Mac Outlook over Gmail as their email client. Due to easy accessibility to emails and all the messages stored on local system, users find it easier to send and receive emails on Outlook. Thus, this article explains two different solutions and answers common query i.e. how to view Gmail emails in Outlook Mac. Users are suggested to use automated tool to make the task quick and hassle free.