Outlook for MAC
Find Out Why Mac Outlook Cannot Open Attachments?
User Query-"Hi, I have an issue regarding Outlook for Mac, recently I noticed that my Mac Outlook cannot open attachments whenever I receive any files like PDF, JPG, DOCX, etc. Unfortunately, I don't have any other Mac machine to test further and downgrade my OS. So anyone knows the solution, then please help me."
Can't open the email attachments in Mac outlook is one of the frequent asks queries by most of the Mac Outlook users. And all of the users want to know how it can be resolved effectively without losing any data.
So, if you are one of those users who face this issue and want to get rid of this serious problem of attachment opening, then read this article, to know why Mac Outlook cannot open attachments and how to fix it. 
Why Users Cannot Open Email Attachments in Mac Outlook?
Most of the users reported this issue after upgrading the version of Mac Outlook. Moreover, some of the common issues are listed below:
If users have some synchronization issues in the Mac Outlook, then they will be unable to open or save attachment issues.
Sometimes it occurs due to the file compatibility issue in Mac Outlook.
How to Resolve the Issue Mac Outlook Cannot Open Attachments?
Email attachments are very important data for any email users. However, if they are not able to access the email attachment, then it is a very crucial situation for them.
Therefore, it is important to fix this issue immediately so users can access their email attachment. So in this section, we are going to discuss some manual techniques that will resolve the issue of Mac Outlook cannot open attachments.
#Tip 1: Update Mac Outlook to Latest Version
When you get this type of issue the first thing that a user has to do is check for the new update of Mac Outlook. Because, if you are using the older version of Mac Outlook, then you will probably face this type of issue.
#Tip 2: Clear Your Cache Memory
Cache memory is a storage place where Microsoft Outlook stores file that you have used previously so that you can easily re-access them. And, if there is an issue in your cache memory, then you may face an attachment opening issue. So, it is important to clear your cache to resolve this problem.
Follow the troubleshooting steps to clear the cache memory in Mac Outlook:
Open Mac Outlook and go to the navigation panel. Then right-click on the account.
Select the Properties option
Now click on the Empty Cache option.
Once it is done, right-click on the folder containing email attachment that is not downloaded.
After all the settings, click on the synchronize now option to reset all the settings.
#Tip 3: Reset Your Email Account
If you are still getting the issue of Mac Outlook cannot open attachments, then you can try to reset your email account. So, to do this you need to fast delete your account from Mac Outlook and later you have to add the same account again.
Here are the steps to reset your email account
Open Mac Outlook and go to the Tools option.
Select an Account from the tools option.
Now, select the account which you want to reset.
After that click on the Delete button and confirm your choice to remove the account.
Once your account is deleted. Open Outlook again and at the same account details to reset it once again.
#Tip 4: Safe Mode Option
Sometimes antivirus or firewalls may scan your emails while opening the attachment. So, due to the scanning process, you may encounter this issue. So to check this firewall problem try to open Mac Outlook in Safe Mode and the guidelines are listed below
First, restart your Mac machine.
Now, hold the shift key for a few seconds and release it once Mac boot in the safe mode.
After that login to your respective user account and launch Outlook in safe mode.
Smart Solution to Open Attachments Stored in Mac Outlook
If you still encountering opening email attachment issues in Mac Outlook, then the best solution is to download all the attachments on your system. But, you cannot download multiple attachments from multiple emails in Outlook manually. So, to do this, you can try a trusted third-party application that easily extracts attachment from Mac Outlook emails. 
SysTools Outlook Attachment Extractor is one such a tool that easily extracts attachment from the OLM, OLK, PST, and from configured Outlook account.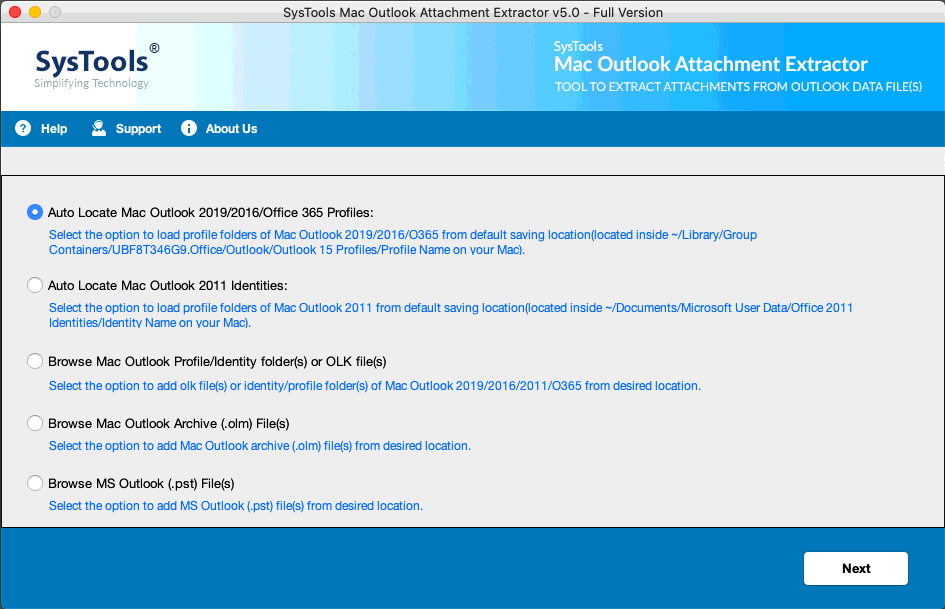 Conclusion
All the describe tricks in the above article are the basic troubleshooting solution that a user can try to fix the issue when Mac Outlook cannot open attachments. But if you do not have that much time and want your attachments as soon as possible, then you can try the automated solution to extract the attachments.
People Also Ask
Q. Why Can't I Open Attachments in Mac Outlook?
A. There might be various possible reasons due to which you are unable to open attachments in Mac Outlook. Some of them are:
1. Make Sure that the Attached File Format is Known or Recognizable
2. Outlook is Not Updated to Latest Version
3. System's Cache Memory is Completely Filled
4. Some Problems with Your Account Settings
Q. How do I fix Attachments now opening in Outlook for Mac?
A. If there is any issue while opening attachments, then you can try the following fixes:
1. Check if the Attached file is accessible in any Outlook application.
2. Ensure that any plug in or antivirus is not blocking the attachment to open.
3. Make sure that Mac Outlook is updated to its latest version.
4. Best option is to download the attachments with SysTools Outlook Attachment Extractor.