MAC PDF
Know-How to Remove Permissions from PDF on Mac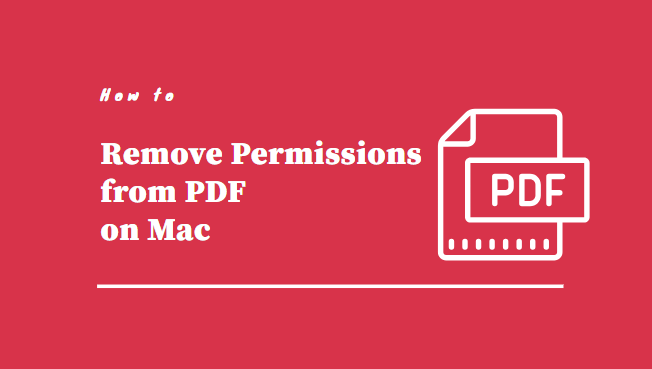 This guide is for users who want to remove permissions from PDF on Mac. After all, it limits the ability to work effectively with a document. Learn how to remove restrictions from PDF files on Mac using a variety of user-friendly methods.
Table of Contents:
PDF files are widely used for their reliability and security features. Sometimes, these security features include permissions that restrict actions like editing or printing. Mac users might find themselves needing to remove these permissions for legitimate reasons. Let's explore how this can be done.
What are Permissions in PDF?
Permissions in a PDF are security settings applied by the creator of the document. They can restrict various actions like editing, copying, printing, or commenting. These are meant to protect the document's content but can be inconvenient for users with legitimate access needs.
Top Methods to Remove Permissions from PDF on Mac
When working on a Mac, users have several practical and straightforward options to remove permissions from PDF files. One of the most popular methods is using Adobe Acrobat Pro DC which is a comprehensive tool well-known for its extensive features in managing PDF files. It allows users to change security settings including removing permissions.
Another user-friendly method for Mac users is utilizing the Preview application which is a built-in tool on macOS known for its simplicity and ease of use. Preview offers a basic solution for removing PDF restrictions without the need for additional software installations.
The last method involves using a tried, trusted, and tested tool to remove PDF restrictions on Mac.
#1 Via Adobe Acrobat Pro DC
This method is ideal for those who regularly handle PDF files and need an all-in-one solution for editing, creating, and managing document security. The process typically involves opening the PDF in Adobe Acrobat, accessing the document properties, and modifying the security settings. But the user must have the necessary permissions password.
Open the PDF in Adobe Acrobat Pro DC.
Open File > Properties.
Click the Security tab.
If the document is password-protected, you will need to enter the password.
Once in, change the security setting to No Security.
Save the document for the changes to take effect.
#2 Via Preview
This method is particularly useful for those who prefer a quick and straightforward approach without the complexity of professional software. However, it's important to note that the effectiveness of Preview in removing permissions can vary based on the PDF's encryption strength and the security measures applied.
Open the PDF with Preview.
Click on File and select Export.
In the export window, uncheck the Encrypt option.
Save the new unencrypted version of the PDF.
If it does not work, then print the PDF file and save it as a PDF file again.
Remove Permissions from PDF on Mac Via Professional Software
PDF Unlocker for Mac stands out as a specialized and efficient solution for users looking to remove restrictions from PDF files. It is tailored specifically for handling PDF permissions. This software provides a straightforward and user-friendly interface that simplifies the process of removing PDF restrictions on Mac. It's particularly beneficial for those who might not have access to Adobe Acrobat Pro DC. The software is a versatile tool designed to handle various restrictions, including editing, printing, and copying.
One of the key advantages of using the Pro tool is its focus on providing a hassle-free experience. The software is engineered to process the PDF security layers efficiently. It ensures that the integrity of the document remains intact while removing password from PDF along with the specified permissions. This is particularly crucial for users who deal with sensitive or important documents and cannot afford any data loss or corruption.
Install and open the professional software on the Mac system.
Upload the PDF files that have restrictions.
Click on the Unlock button.
The software will remove the PDF permissions.
Open the new PDF file and check its permission settings.
Video:

Conclusion
Mac users have several options to remove permissions from PDF Mac. Whether using Adobe Acrobat Pro DC, Preview, or specialized software, each method caters to different needs and levels of technical expertise.
Multiple FAQs
Q) Will removing permissions affect the content of the PDF?
No, it only changes the security settings, not the content.
Q) Can I remove permissions without the PDF's password?
Generally, you need the password to change permissions legally and ethically.
Q) How to remove restrictions from PDF on Mac?
There are 3 methods each with unique features:
Adobe Acrobat Pro DC offers comprehensive PDF editing and security options.
Preview is a built-in Mac application that provides basic PDF viewing and manipulation tools.
The professional tool specializes in removing restrictions and is user-friendly.