CSV
Know the Usage of Best CSV to PDF Converter Mac Software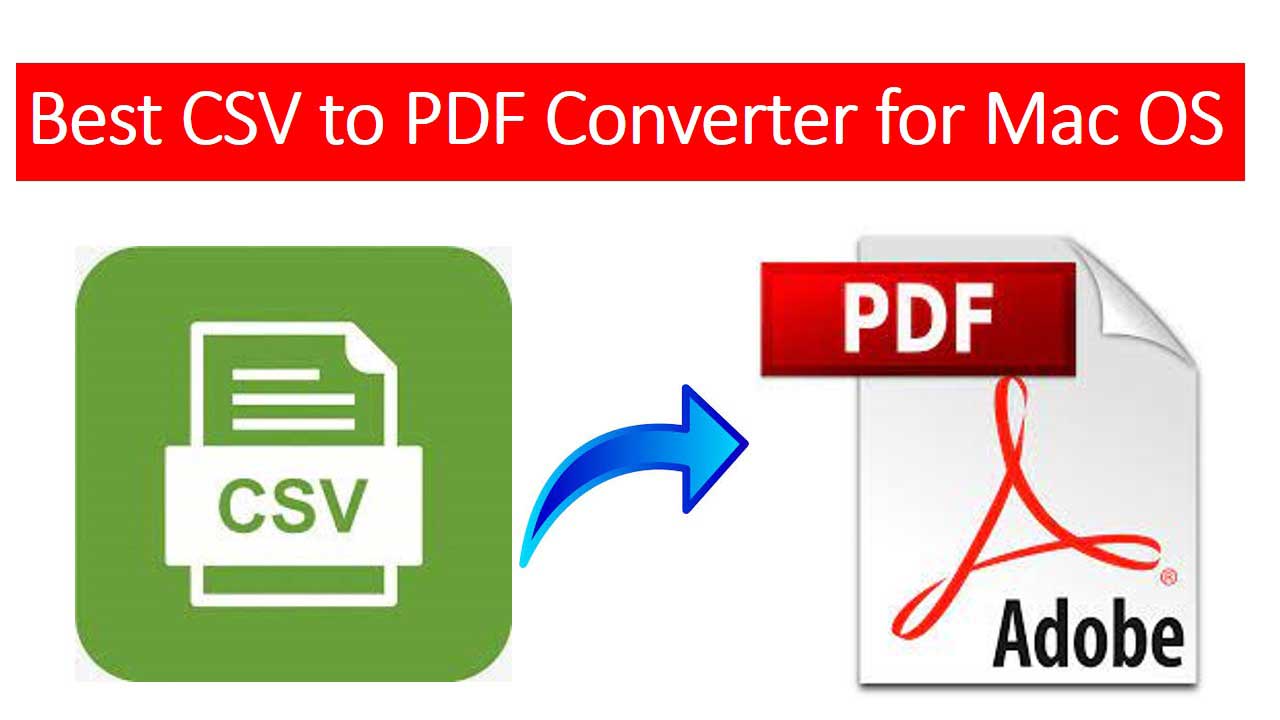 However, all the contacts are necessary for communicating with anyone. But, that works efficiently when the contacts are maintained properly. So, just like you, there are many users who use Excel files to secure their contacts. And when you export them you get a CSV file, now the question arises. What if there is a need to use those contacts in an Adobe PDF file? Here, you will need a CSV to PDF conversion for any further use.
So, if you are a Mac-based user and have a CSV file saved on it. Then, no worries because today, we will be discussing what you can do to convert CSV to adobe PDF on a Mac machine.
Though the CSV file keeps the data in a tabular form that lacks standardization, therefore, most of the users prefer Adobe PDF file. An adobe PDF document is quite safe and secure when it comes to sharing some crucial information. Because it doesn't allow any modification and you can even encrypt it for more security. So, whatever the reason for this conversion, we are going to introduce you to the best software for all Mac machines.
Methods to Perform CSV to PDF Mac Conversion
There are two methods that you can opt for this contacts conversion process on a Mac machine-
How to Convert CSV Contacts to PDF Document Manually?
You can perform this conversion to transfer your contacts from CSV file to PDF by following the below steps-
First of all, open the Microsoft Excel application on any version of Mac machine, tap the Open tab
Tap on the Browse option and then import the CSV file from your desktop
Afterwards, tap the File menu and choose the Save As option from the given options
Here, you need to choose the Destination Path on your Mac machine and provide the File Name
While saving, just choose the Adobe PDF option from the dropdown of Save As Type, hit the Save button
Best CSV to PDF Converter for Transferring Bulk Contacts
If you have plenty of contacts saved in your CSV file on a desktop then you should go for the reliable and secure solution. For the same, we have come up with the CSV File Converter Mac to PDF file for bulk conversion. Using this software you can easily convert CSV to PDF Mac that too along with the all formatting.
Moreover, you can even use this tool if in case you need a secure way to convert CSV to HTML, vCard file, TXT, or other formats. This will execute the entire task in just a few minutes that too with complete accuracy. Likewise, it is even capable enough to import CSV file into iCloud contacts on Mac machine.
Why Choose this Software Over Manual Method on Mac Desktop
Going with this software is quite good because it is pre-tested and specially designed to convert CSV to PDF in bulk on Mac. Moreover, it provides other functionalities that make it better than choosing any manual method or other software in the market-
Supports to Convert All CSV Files: The best thing about this software is it can easily convert CSV contact files created by all the applications on Mac OS. So, it won't matter if the CSV is created by Notepad (or any other text editor), Microsoft Excel, or Google Docs, it will convert the file format without losing any contact information.
Include/Exclude Fields Option: It is quite easy software if in case you want to access all the contacts from the CSV to other format by including or excluding the fields on a Mac machine.
Supports All Mac Versions: CSV to PDF converter tool is designed so that it will support all the latest versions of MacOS X 12.0 (Monterey), MacOS X 11.0 (Big Sur), Mac OS X 10.15, and all earlier versions.
Easy User Interface- Moreover, it won't matter if you are a highly technical or novice user. All users can use this software to convert all the contacts files in a matter of minutes into a PDF file.
Easy Steps of Software to Perform CSV File to PDF Conversion
First of all, download this CSV to PDF converter on any version of the Mac machine. Now, just implement the steps given below-
In the first step, tap on the Add File(s) button to add the contact CSV file on the software panel
After this, just select PDF as export option and enable mapping for the same
Here, just browse a location for the resultant adobe PDF file on Mac desktop
At last, mouse-click the Export option to convert all CSV contacts to PDF file format.
Conclusion
In this article, we have talked about the way to CSV to PDF conversion on Mac system. However, for executing this task we have shared manual and professional solutions that will help you better. Though if you have multiple contacts in a CSV file then we would recommend you to choose the CSV file to PDF converter Mac software.