Import & Export
How to Import Google Takeout to Thunderbird Application Quickly?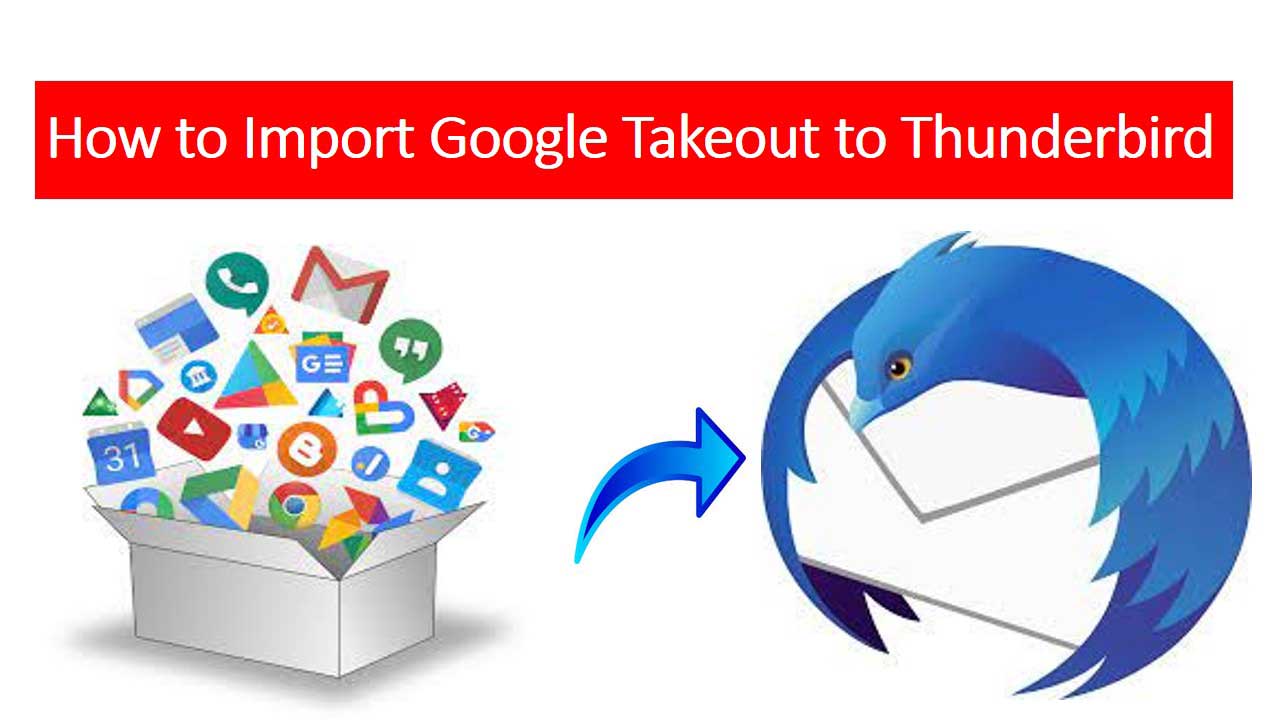 It is quite common when people switch when they feel the current thing or platform is of no use. Or they like to move to something that is easily available. The same thing applies to moving from one email service to other. Here, our main concern is when people like to switch from a webmail client to a desktop application. In short, we will be discussing how to import Google Takeout to Thunderbird application. For this task, we will share the best method with you in this article.
Most of the time, users like you prefer to switch to desktop applications because there are certain things when you store your data on the cloud. As sometimes data saved on the cloud are not safe because of ransomware attacks. Moreover, you may like to secure your data on your desktop as well. So, here becomes the need to extract data and import it into Mozilla Thunderbird.
So, you can easily extract the data through Google Takeout first, and import it into Thunderbird later.
How to Extract Data Using Google Takeout on Desktop?
If you have stored your data on webmail provided by the Google, you must have to download the first on a PC. For that, follow the steps to know how Google Takeout works-
To initiate this process, just navigate to takeout.google.com on your machine. However, Google Takeout selects all possible data out of 41 data by default
So, that you can choose only the required data that you want to import into the Thunderbird application
Once you check the particular data item, just scroll down and click on the Next step
After that, it will ask you to select the delivery method. Here, you can just choose any method in the delivery method, for instance, select an option for email
Now, just choose the required Frequency as per the needs of your computer machine
When you scroll down a bit, it will ask you to select the file size and file type
Following that, mouse-click the Create Export button to execute this extraction of Google Takeout
When the process is done, you'll get an email from Google Takeout with a link to the downloaded files. So, just finish this task by clicking on the Download Archive option.
As a result, you will have the file of the required data in an MBOX file. Now, you can import this resultant data file on your Mozilla Thunderbird application.
How to Import Google Takeout to Thunderbird Instantly?
Make sure to set up a Thunderbird profile on your computer system first. But, if in case, you already set up the profile then you can proceed with the import task. For doing this task securely, you should use the Mac Thunderbird Import Wizard.
Using this software, you will be able to import and access the data of Google takeout in Thunderbird. Moreover, it provides you the option to import EML files to Thunderbird and offers other file formats as well.
However, you can proceed with the importing task without any hurdles because it provides an easy user interface.
Along with the interface, it never imposes any limitations while adding the Mozilla Thunderbird supported file formats.
Why Choose this Software Over Others? Useful Features
Going further with this software to import Google takeout to Thunderbird application will be a nice decision, because-
Mac Machines Compatibility – You may be using a different Mac machine as compared to other users. Hence, keeping this thing in mind, this tool is designed for working with all Mac OS. So that anyone of you can easily work on any version of the Mac operating system. Therefore, it completely supports Mac OS 10.8, and all below versions, Mac OS X 11.0, and Mac OS X 12.0 versions.
Free Software Version Available– If you are the one who wants to know about this software first before using it. Then, this utility has a free demo version for you all. Using the free trial version you can easily know and import a limited number of emails from the file.
Options to Choose Thunderbird Identity – Moreover, you can easily choose any required identity of the Thunderbird application. That mean, whatever email id or profile you have configured in your Thunderbird account. This tool shows them all so you can choose accordingly from the given fields.
Facility of Date Filter – This is an advanced solution that provides a date filter option for a selective import. Here, you can choose the date range and just import the added file or folders selectively.
Guide to Import the Resultant File into Mozilla Thunderbird
Download and launch the software on your Mac system first carefully. Once the installation is done, run the tool and follow the steps to import Google Takeout to Thunderbird –
From the initial screen of the software just browse MBOX/MBS/MBX file(s) option from the Import Mail section
After that, just mouse-click the Add File(s) or Add Folder(s) button for locating the folder containing the Google Takeout exported files
Now, you can choose the Mozilla Thunderbird identity/profile from the next window as per the requirements. Make sure to select the active account in which you want to import the files.
In this step, tap on the Date Filter button for importing the data according to the specific terms
Now, finish these steps by clicking on the Import button. Just after that, the software will begin the importing file/folder process to Thunderbird.
Once you are done with the process, you can open the Mozilla Thunderbird and view all the files or data of the Google Takeout here.
Import Google Takeout to Thunderbird – Conclusion
In this article, we have explained "how to import Google Takeout to Thunderbird" in detail. To make the pain of all users, we have suggested a secure professional solution. For making this clear, we have provided a step-by-step guide above. So, you can now easily import the data of the Google takeout in your Mozilla Thunderbird application. Using this solution would be a nice choice because of its multiple features and a free demo version.