Import & Export
How do I Import Apple Mail to Outlook Mac? Tried & Tested Solution
admin
| Modified: 2020-12-22T11:31:44+00:00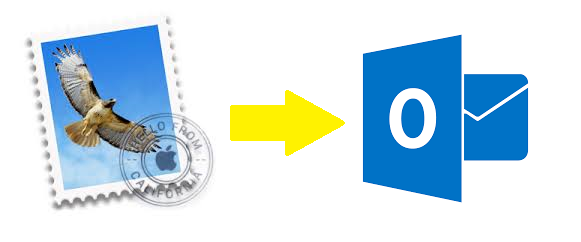 Both Apple Mail and Outlook are the major email clients for Mac. Apple Mail is free and comes preinstalled on the Mac system, while MS Outlook is a commercial email client. Still, out of the two, Outlook is more preferred because of its usability, extensive set of features and security updates. More and more Apple Mail users are migrating to Outlook for Mac for compatibility with Exchange and Office 365.
In this article, we explain the methods using which a user can easily import Apple Mail to Outlook for Mac. But first, let us take a look at the general misconception associated with this process.
Table of Content:
Common Misconceptions:
There are many misconceptions around this email migration. Outlook for Mac 2016 & 2019 creates an MBOX file when users drag and drop the mailbox folder to the desktop. This led to users believing that there must be an import functionality as well. However, this is not the case. MS Outlook provides the import option only for PST and OLM mailbox files. So, a user needs to convert Mac MBOX to PST or OLM to be able to import it in Outlook. This statement holds true for even Apple Mail as this Mac email client uses MBOX files for storing email messages.
Although this is the most preferable method to migrate Apple Mail files into Outlook, users can skip it entirely with the manual method. So, without further ado let us begin the manual method first.
Manual Method to Import Apple Mail to Outlook using IMAP:
Create a new Yahoo Mail account.
Run Apple Mail, go to Preferences and select Accounts to open the Accounts tab.

In the Account window, click on the '+' icon and type full name, yahoo email address and password and click on Continue.

Now, enter imap.mail.yahoo.com in the Incoming Mail server tab and input email address and password.

In the Outgoing Mail Server window, input smtp.mail.yahoo.com along with user credentials and click on Continue.

The Account Summary window will open. Users can verify the settings here and click on Create to configure Yahoo mail with Apple Mail.

Now, move all the emails from Apple Mail to the Yahoo inbox folder.
Once the data is moved, run MS Outlook for Mac 2016/2019 and go to Tools to select Accounts option.

Click on the '+' symbol at the lower left of the Accounts panel and select Other Email option.

Enter the email address and password to reveal more settings and input the fields as follows:

Server – imap.mail.yahoo.com
Port – 993
Server – smtp.mail.yahoo.com
Port – 465 or 587
Requires SSL – Yes

Click on the Add account button and click Continue on the Certificate dialog box, if it appears.

Now users can access all the Apple Mail mailboxes in Outlook for Mac 2016/2019.
Third-Party Tool for Fast Apple Mail to Outlook Migration:
Users who have tried the manual method know how lengthy it is. The manual method involves synchronization at two ends which ends up taking a lot of time. The chances of data loss are also high due to the long steps involved in the process. This is the reason why most users want to import Apple Mail to Outlook with third-party software, especially for large mailboxes.
MBOX to PST Converter for Mac is an adequate tool for such user needs. It converts multiple MBOX files of Apple Mail into PST format. Using this solution retains the email attributes and metadata of the Apple mailbox files. Moreover, it also allows the user to import the Apple MBOX file in Outlook for Mac 2016 or 2019 without any issues. Users can take advantage of the multiple advanced options given in the tool such as mail filters, split .pst file, and more.
Follow the steps to import Apple Mail Emails to Outlook Mac
Run the MBOX to PST Converter for Mac on user system.
Click on "Add File" or "Add Folder" option to import Apple Mail MBOX file(s).

Select "PST" and choose location to save Outlook data file.

Click "Export" to start converting Apple Mail to Outlook PST file.

Optional: Users can also apply "Advance Settings" such as Create Single PST file, Split PST option and Date Filter for the conversion.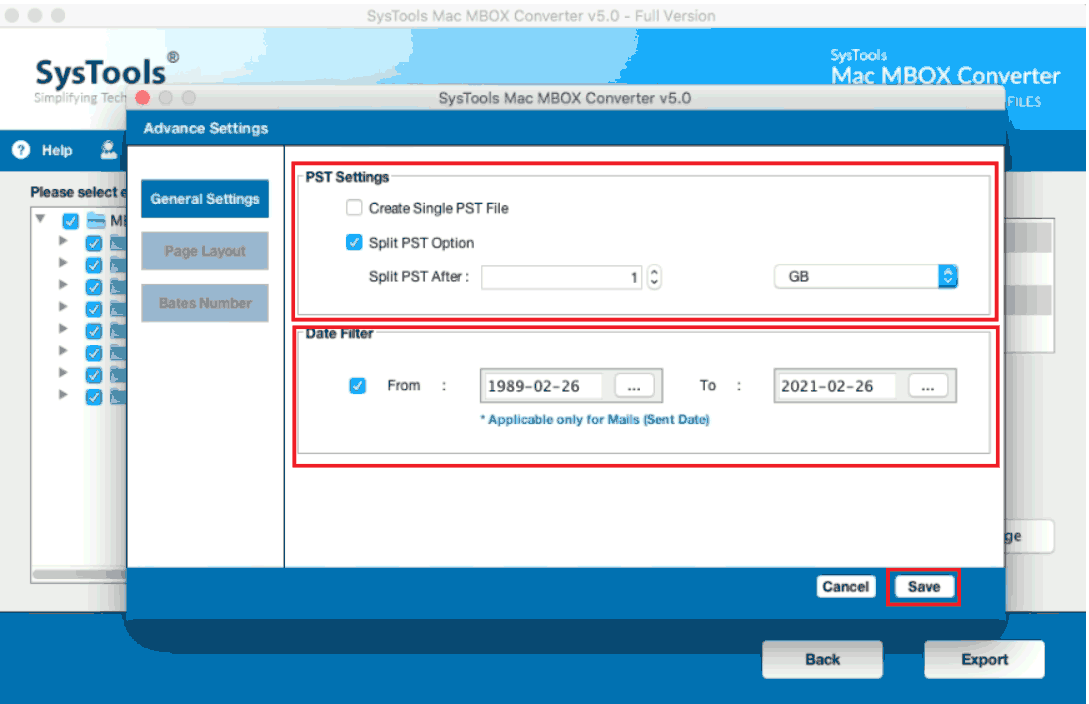 Additional Information- Exporting Apple Mail Mailboxes:
Apple Mail stores its mailbox data in MBOX folders. Users can either go to its default location i.e., ~/Library/Mail/V(number like 1, 2, 3, 4, 5, 6) to locate the MBOX files or export Apple mailboxes manually as follows:
Select the mailbox folder(s) in Apple Mail that user wishes to import to Outlook
Go to Mailbox in ribbon bar and click on the Export Mailbox button.
Choose a folder to export the MBOX file from Apple Mail & click Choose.
Final Verdict:
For the migration of Apple Mail emails to MS Outlook, users can take the help of either of the methods provided in this article. But for fast and effortless migration, it is suggested to use a third-party tool. This tool preserves the integrity of email messages and helps to import Apple Mail to Outlook for Mac 2016 & 2019. Users can try the free demo version first and then decide about the method.