Import & Export
Know What is OLK Files and How to Open OLK15 Message on Mac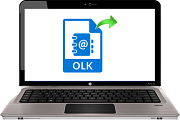 "Hello everyone, Can anyone knows what is OLK file, and what is the function of .olk in Outlook Mac? Actually, my boss gave me 3 OLK15 message files taken from the Outlook 2016 for Mac. He told me to decrypt those .olk files and import the extracted emails in Mac Thunderbird application. So, I searched on the internet and find out there is no direct utility available that can convert OLK files in Thunderbird file format. Thus, I installed many of programs for the same, but none of them works for me. Now, the problem is how can I open OLK files on Mac Thunderbird. If anyone knows the method, then please tell me the process."
Are you also facing the same situation that mentioned above? Do you know how to extract emails from OLK files and view them in Thunderbird client? If your answer is 'Yes', then you are landed on the right page. The objective of this article is to describe about OLK15 message file and how to import them into Mac Thunderbird.
With the help of this write-up, the users will view Outlook 2016 Mac OLK file on Thunderbird application without any problem. Before going to describe the method, first, understand the .olk file format.
What is Mac Outlook OLK Files?
Outlook 2011 or 2016 for Mac saved the data in OLK files in backend on Mac platform. The file ended with .olk extension is designed to keep individual data of Outlook profile.
The OLK14 or OLK15 message files are located in Identity folder of Mac Outlook user account. Unfortunately, there is no inbuilt program available in Mac Outlook that can import OLK file data in Thunderbird. Therefore, the introduction of third-party application is must in order to get data from OLK files.
How to Open OLK15 Message File on Mac Thunderbird Application?
It is evident from the above that there is no inbuilt program in Mac Outlook that can convert OLK file in readable file format. So, users can take help of third party application named as OLK to Thunderbird Converter software. The software is designed to convert OLK14message or OLK15 message file in EML format. This file type is easily supported by Mac Thunderbird. It downloads emails, contacts, calendars from the Outlook OLK file to .eml format without any data loss. Here is the step-by-step guide mentioned in order to open OLK15Message on Mac platform.
Step 1: Save Mac Outlook 2016 OLK file in Thunderbird Supported Format
1. First, you need to download Mac OLK to EML Converter tool.
2. Once it is installed completely, click on Add Folders to upload the OLK15 message file and click on Next.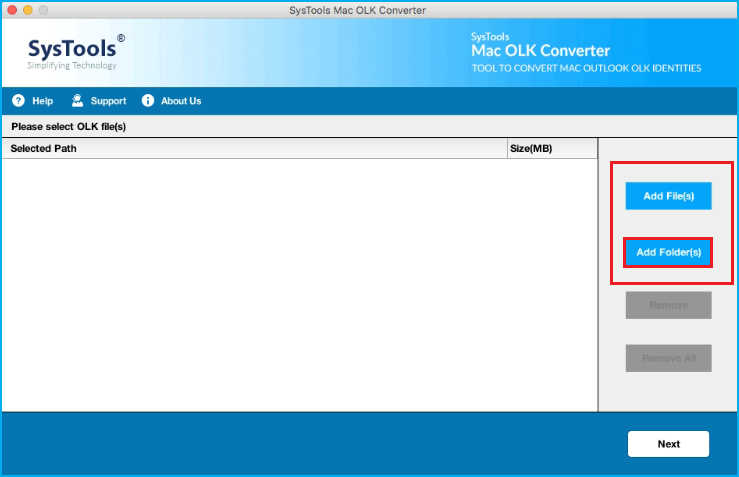 3. On the following screen, select EML file format in order to view OLK files in Mac Thunderbird. Moreover, under the Export Option, you have an option to apply Advance Settings if you want to.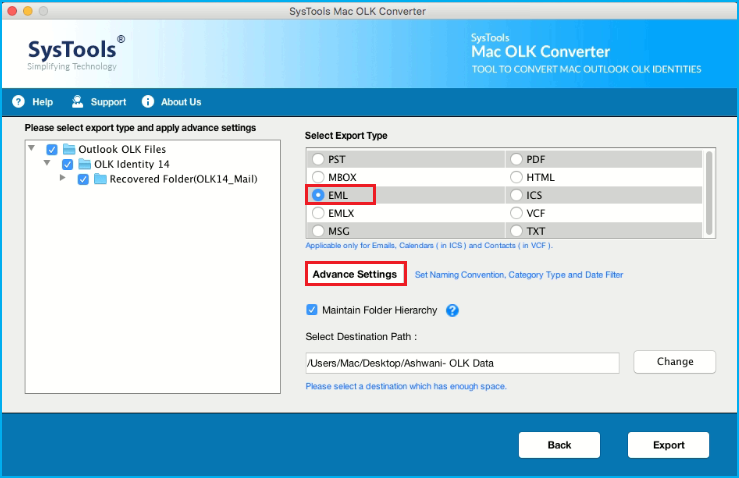 4. If you want to manage the folder structure of OLK file, then check the box corresponding to Maintain Folder Hierarchy.
5. Click on the Change button to browse the destination location for the resultant EML file.
6. Finally, click on Export to start the process.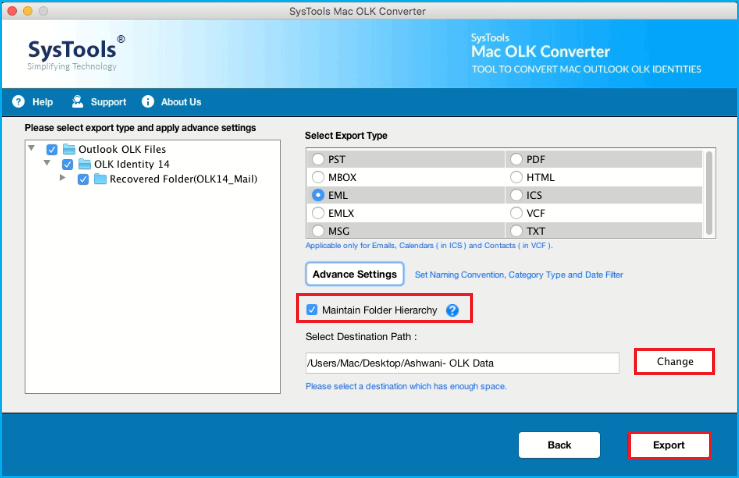 7. You will get the message "Export Process Completed Successfully" once the process is completed.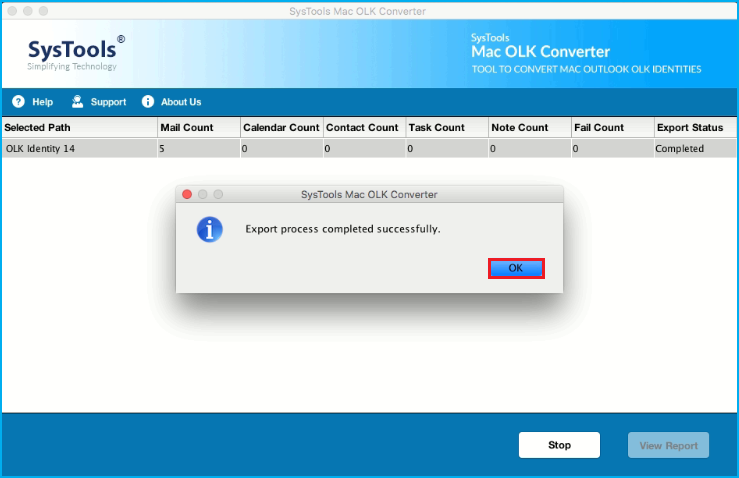 Step 2: Import EML File in Mac Thunderbird Program
Launch Thunderbird application and go to Menu Icon. Now, select Tools >> Import Export Tools >> Import Messages
A new window opens, navigate to the folder that consists .eml files that had created in Step 1. After that, select them all and click on Open.
At last, it takes a few minutes to upload all the messages in Thunderbird.
Let's Sum Up
After considering the user query 'how to open OLK14 message files on Mac Thunderbird?'. In this article, we have provided a relevant method that can easily convert the OLK file of Mac Outlook 2011/2016 in EML file format. After that, the users can use drag and drop method or Import and Export tool to move data folders of OLK in Thunderbird on Mac platform.