Import & Export
,
Outlook for MAC
Top 2 Methods to Import Outlook 2011 to Outlook 2016 Mac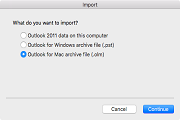 Summary: As Outlook's popularity is increasing day by day, it becomes important for users to upgrade and import Outlook 2011 to Outlook 2016, 2019 Mac. This is because the updated versions get latest security features and comes with complete bells and whistles. However, the migration process is not as simple as it may seem. Users must take care of different things while moving the mailbox. One of the major concerns of end users is the security and privacy of the data.
Therefore, in this blog, we will discuss a manual solution to import Outlook 2011 to Outlook 2016 Mac. Before that, let us go through the following scenario, which has taken from the forum site:
"I have been working on Mac Outlook 2011 for the last two years. However, now I have decided to import my Outlook 2011 folders or files into Outlook 2016. Even I searched for many methods, but I was unable to find any relevant solution for the same. Can anyone please suggest to me a suitable approach to import data from Outlook 2011 to Outlook 2016 Mac?"
Procedure to Import Outlook 2011 Data to Outlook 2016 Mac
On Mac machines, the upgrade process from Outlook 2011 to 2016 is not always a smooth and successful process. Microsoft claims you are given an option to automatically import Outlook 2011 data during the installation, but this is not the case. Here is the top-rated solution using which users can import Outlook 2011 files and folders to Outlook 2016:
Quick and Reliable Solution – Recommended by Experts
Users are suggested to use this instant and reliable solution, i.e., Mac OLM to PST Converter Tool. This software is designed with advanced algorithms, which helps to transfer Mac OLM files in bulk. Moreover, it is capable enough to export selective OLM data file using date filtration feature. Also, it keeps the folder structure intact as original throughout the conversion process. It has an interactive and user-friendly interface that even a technical or non-technical user can use it wisely.
Follow the below steps to import Outlook 2011 to Outlook 2019, 2016 Mac:
Step 1: Launch the software on your desktop.
Step 2: Then, click on Add File(s) or Add Folder button.
Step 3: Navigate and then, choose the specific file or folder on the system.
Step 4: Once the file has been added, then you can press Next button.
Step 5: After this, choose PST radio button.
Step 6: You can apply the following filters such as:
PST Settings: You can split PST into equal small parts.
Categories: Select / Deselect categories as per your needs.
Date Filter

: This feature can be used to filter out the required files as per the date filter.
Step 7: Click on Change button to select the final location for an exported PST file.
Step 8: Finally, Click on Export button to perform a successful data conversion.
Manual Process to Migrate Outlook 2011 Mac to Outlook 2019, 2016 Mac
Step 1: On your Mac machine, you can start the Applications folder
Step 2: Right-click on Microsoft Outlook or you can hold down the control key and left-click
Step 3: Choose Show package contents from the resulting pop-up menu
Step 4: Within MS Outlook package contents, double-click on SharedSupport folder
Step 5: On the SharedSupport folder, select the Outlook Profile Manager
Step 6: Within the Outlook Profile Manager dialog box
Step 7: Click on '+' icon to add a new account
Step 8: Enter the new name for a specific profile. As a default option, you can use your username
Step 9: After creating a new profile name, make sure that it is selected from the list of profiles
Step 10: With a new account selected, click on the gear icon and select an option Set as Default
Step 11: Now, close all the open dialog boxes
Step 12: After this, you can open Microsoft Outlook
Note: No need to enter all the credentials on subsequent "log in" dialog box. Alternatively, you can simply close it.
Step 13: When you are using Outlook with a new profile, select File and click on Import option from the main menu
Step 14: Now, you can choose the Outlook 2011 data on this computer radio button
Step 15: At last, click on Continue button
This manual approach will take much time and sometimes, it will take hours depending on the number of emails you save in Outlook 2011 account. Thus, users start searching for a reliable third-party solution
Summing Up
In this blog, we have discussed the manual procedure to import Outlook 2011 to Outlook 2016 Mac. But, if this method gets failed, then users can opt for an alternate solution such as Mac OLM to PST Converter Tool. By using this software, users can perform bulk conversion from Mac Outlook to Windows Outlook without any data loss. Along with this, we have discussed the complete working steps of the tool in a proper way. So, users can opt any solution as per their need or desires.