PDF
Get Effective Solutions If Mac Preview Doesn't Combine PDFs
If your Mac Preview won't combine PDFs, there can be many reasons. It can be any technical problem with your Preview application. However, you can always contact the Apple support team and discuss the problem with them. In this article, we won't be discussing the reasons why it happened but we will provide the best alternate solution. Here, we will introduce you to the best solution for this task to work on all versions of Mac system.
But sometimes there can be improper handling of PDF pages while dragging the pages to combine them. For this, drag the thumbnail (or PDF page) to the above or below of the other thumbnail pane, and a divider line may appear. To ensure the proper insertion, do not drag the thumbnail beyond the divider line."
Using Preview Application for Two PDFs
If You Want to Know Full Steps, follow the below guideline-
WARNING: Before making any changes, keep the copy of the original PDFs, click on File > Duplicate to create a copy of the PDF files before combining them.
Open the PDFs you want to combine using Mac Preview.
In each PDF, click on View > Thumbnails to unveil the page thumbnails in the sidebar.
Drag the PDF page/ thumbnails you want to join to the thumbnail sidebar in the other PDF document. Click Command-key to select non-adjacent thumbnails.
You can insert thumbnails/ pages to the end of the PDF document or between the pages. You can always drag thumbnails/ pages to rearrange them.
Tip: To join an entire PDF file to the beginning or end of another PDF document, drag the PDF icon in the Finder to the sidebar of an already opened document.
Mac Preview Won't Combine PDFs? Use Alternate Solution
Well, this tool is perfect if you are looking for a professional solution that is quite affordable. PDF Merger For Mac Application will effortlessly combine multiple PDFs in a short period of time.
You will be able to provide the page range of a PDF file that you want to join in another PDF or to its provided page range. This is the perfect tool as it can handle multiple PDF files at once.
You can download the tool's free version here and try it yourself on any version of Mac system. Moreover, whatever the situation is you can simply extract certain pages from PDF in preview.
Now let us get to its working steps!
Steps to Use the Software on Mac System for PDF File
Initially you need to download the software that is suggested above on any version of Mac machine, follow the steps-
1-Step: After installing the suggested Mac tool, choose the "Merge" option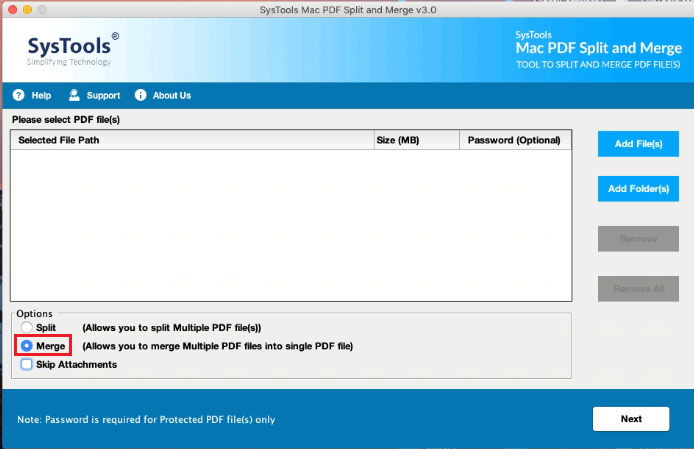 2-Step: Then, mouse-click on the "Add Files" to add multiple PDF documents or "Add Folder" to add the complete folder containing PDF files.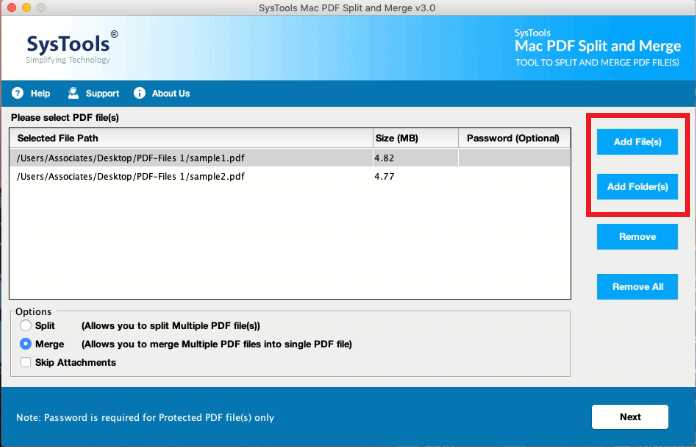 Note: You can even check the "Skip Attachment" option in case you don't want to attach attachments in an output PDF file.
3-Step: In this step, just tap on the "Next" button to move further with the working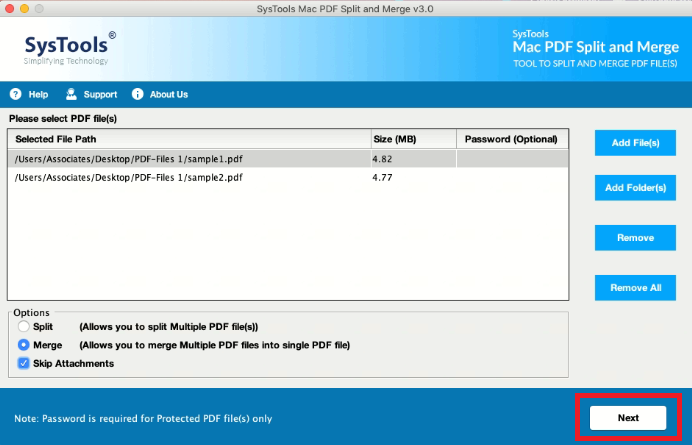 4-Step: If you just want to combine some specific pages of different PDF files, then you can choose "Merge Options". If you don't select it manually, then the tool will simply assemble all the selected PDF files.
To Use Range Options for Multiple and Different PDFs: Input 1-2 4-5, 1-2, then this automated utility will combine 1 to 2 & 4 to 5 pages of 1st PDF, all pages of 2nd PDF and 1 to 2 pages of 3rd PDF)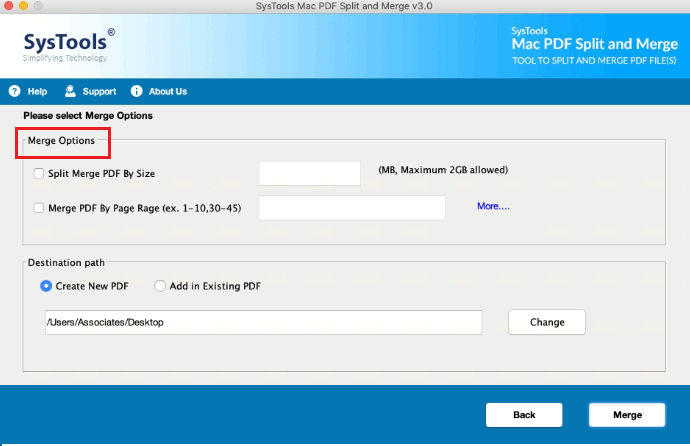 5-Step: Here, you can select any merge option as you like. Also, choose to create a new PDF file or add in the existing PDF.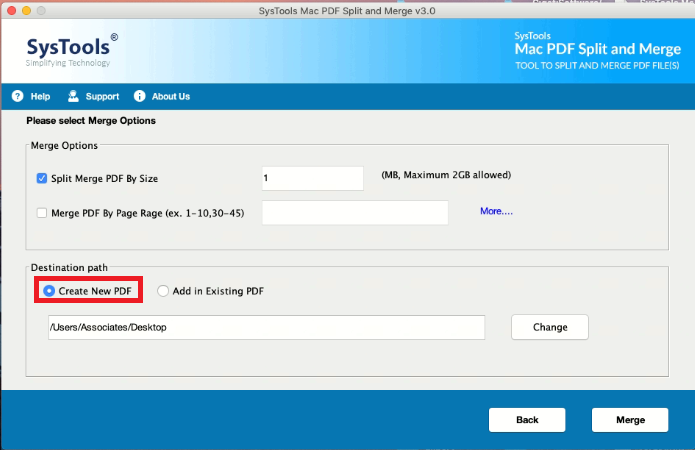 6-Step:  Eventually, tap on the "Merge" option after that to initiate the process on any Mac desktop.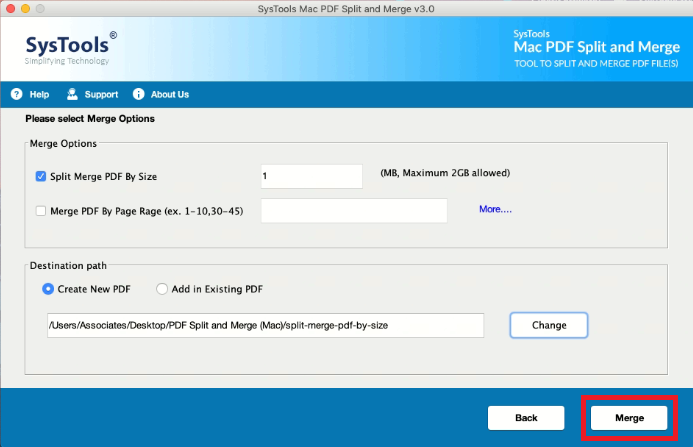 See how easy and effortless this tool is!
Mac Preview Won't Combine PDFs – Conclusion
If you are experiencing any technical problems with the Preview application on your Mac, kindly contact the Apple Support team. While dragging the PDF thumbnail make sure it does not go beyond the divider line. But if you want a professional solution nothing comes before this PDF combine software. The mentioned software is quite useful when Preview application is unable to combine any types of PDF on Mac. Therefore, we have shared this advanced tool for all Mac based system.