MAC PDF
3 Methods to Edit Protected PDF on Mac – Without Password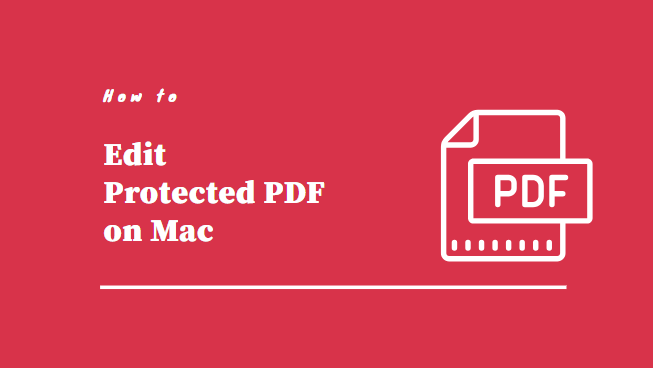 In order to edit protected PDF on Mac, generally a password is mandatory. It is quite challenging to do it if users don't have a password. However, there are several ways to bypass these restrictions. This guide will introduce three methods that allow you to edit locked or secured PDF documents on your Mac without needing a password.
Table of Contents:
Protected PDF files are common in the digital world. They are primarily used to secure information and prevent unauthorized editing. But what if there is a need to make changes to such a document on Mac but the password is missing? Thankfully, there are a few workarounds that can help users unlock and edit secured PDF without password with ease.
Unlock & Edit Protected PDF without Password
PDF Unlocker for Mac provides a seamless solution to edit protected PDF without password. This powerful tool is specifically designed to remove various permissions from a PDF file, including editing, printing, and copying limitations. Its user-friendly interface makes the process simple. Once the software is installed on Mac, users can easily import the locked PDF file. The software efficiently analyzes the document and displays the restrictions imposed on it. With just a few clicks, users can remove these limitations without needing the original password. This capability is particularly useful for individuals who need to access and modify content in secured PDF documents for legitimate purposes.
Once the editing restrictions are removed using the software, the PDF file is ready to be opened and modified in any standard PDF editing software. You can save the unrestricted PDF to your desired location and then open it in applications like Preview, Adobe Acrobat Reader, or any other PDF editor of choice.The best part is that this process does not compromise the quality or the layout of the original PDF.
Step 1 – Import Locked PDF Files
Start by downloading and installing the professional software on Mac. Launch the program and import locked PDF file. Users can do this by using the Add File(s) and Add Folder option.
Step 2 – Unlock Editing in Secured PDF Files
Once the file is imported, the software will display if there are restrictions applied to the PDF. Look for the Unlock option within the software. This step to edit protected PDF on Mac doesn't require the original password.
Step 3 – Open & Edit Protected PDF Files
After the restrictions have been removed, save the unlocked PDF. Users can now open and edit this file in any standard PDF editor like Preview or Adobe Acrobat Reader.
How to Edit Secured PDF without Password Using Chrome?
Google Chrome offers a surprisingly straightforward method to edit secured PDF without password on Mac. This approach leverages Chrome's ability to open and print PDF files. First, the user opens the secured PDF using Chrome's built-in PDF viewer. From there, simply use the print option, not to print the document on paper, but to save it as a new PDF. This process essentially creates a duplicate of the original PDF but without the editing restrictions. It's a clever workaround that doesn't require any specialized software and can be particularly useful to edit a password protected PDF on Mac.
Once you've saved the new version of the PDF file using Chrome, it can be opened in any PDF editor for further modifications. This method effectively bypasses the editing protection originally placed on the document. It's worth noting that while this method is generally effective, it may not work on PDF documents with those that have restrictions on printing. However, Chrome's print-to-PDF feature offers a convenient and hassle-free way to edit secured PDF without password on Mac.
Step 1 – Open Protected PDF Files
Open the Chrome browser on your Mac and drag the protected PDF file into a new tab.
Step 2 – Print as PDF (No Print Restriction)
If the document doesn't have printing restrictions, go to the 'Print' option in Chrome. From there, save the document as a new PDF. This process creates a copy without the original editing restrictions.
Step 3 – Open & Edit Secured PDF Files
Open the new PDF file in your preferred PDF editor, like Preview, and you should be able to make the necessary edits. Users can also copy text from secured PDF along with edit and other stuff.
Get Adobe Acrobat to Edit Protected PDF (Password Required)
For those who have the password to a secured PDF, Adobe Acrobat Pro offers a robust and comprehensive solution to edit such documents. Adobe Acrobat is the industry standard for PDF editing and management. It has the capability to handle secured documents. Once the user opens the protected PDF in Adobe Acrobat Pro, it can easily input the known password to edit protected PDF Mac.
Adobe Acrobat Pro's advantage lies in its precision and range of editing capabilities. Furthermore, Acrobat Pro allows users to re-secure the document with a new password and adjust permission settings as needed. It provides flexibility and security for sensitive information. Adobe Acrobat Pro is an excellent choice to edit secured PDF without password on Mac.
Step 1 – Open a Secured PDF file
Open the PDF file in Adobe Acrobat Pro. Either double-click on the PDF file to open it directly. Or right-click on the document and select Open to open the PDF in Adobe.
Step 2 – Check Security Properties
Navigate to File > Properties, then to the Security tab to review the document's restrictions.
Step 3 – Unlock Editing in PDF
Select No Security in the list. Then, enter the password to remove password from PDF on Mac. Finally, save the changes and the PDF to edit protected PDF on Mac.
Conclusion
It is quite a challenge to edit a secured PDF on Mac without password. With tools like professional software, Google Chrome's printing feature, and Adobe Acrobat Pro for known passwords, users have various options to choose from based on their needs.
FAQs
Q) Is it safe to use third-party tools?
Yes, as long as users download it from a reputable source. It's safe and effective tool to unlock editing in PDF documents.
Q) Can these methods only edit secured PDF or works on all types of restrictions?
These methods works on all types of restrictions. But do note that the Chrome print option only works if there is no print restriction.
Q) Will the formatting of the PDF document change after unlocking?
The content and formatting of the PDF remains intact. After all, only the security settings is changed, not the content itself.