PDF
How to Unlock a PDF File For Editing on Mac Desktop Instantly?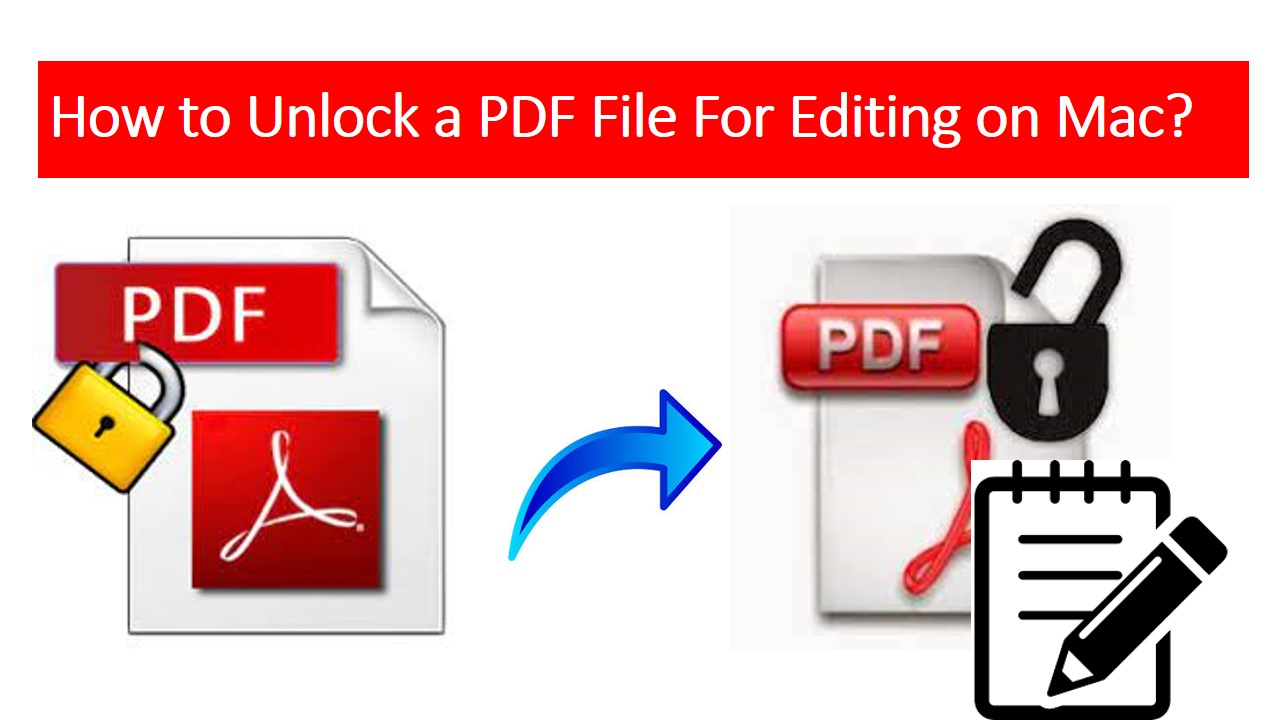 Summary: Today, let's understand the methods to unlock PDF for editing on Mac. We will be discussing the entire procedure of unlocking the files so that you can easily edit them. Choose from the methods that you think is right for your situation. 
PDF is a file format that can be locked with permissions and passwords since it holds important and sensitive information. This format is the only one that has this level of security which is why these files are also used in legal terms.
You can read a password protected PDF file but in order to edit a locked PDF on Mac, you first have to unlock it and then make the changes. The methods to unlock PDF document for editing are explained in the following segment. But why is it needed to process this task?
This mainly happens if you send a protected PDF file to someone and ask them to make changes. But the person doesn't know how to unlock it using the password. That causes the user to look for solutions to remove passwords protection from PDF files in order to do some editing.
Now, let's dive into the methods of doing so in best possible ways.
How Can One Unlock PDF for Editing on Mac?
It is eminent that to make any kind of changes in a PDF file that is locked you may want it free from any restrictions. Hence, to do so, you can use either of the two methods:
1. Trouble-Free Solution
2. Adobe Acrobat Pro to Unlock PDF
As the name suggests, the first way out makes sure that there are no troubles that the user has to go through while freeing PDF files from the restrictions. It is a reliable solution for all the Mac users who eager to know how to unlock a PDF for editing.
Second one being the manual method, is also useful and works well if he doesn't know the password, it is suggested to use the alternate solution. Here, you will understand the working of both these methods in the upcoming segments.
How to Edit a Locked PDF on Mac? Trouble-Free Solution
This solution is a quick, safe, and reliable method to make the PDF file password free in order to edit, print, or extract them. Use the features from the Mac PDF Unlocker Tool to make the file free from user level passwords. The best thing about this tool is you can just use these features either for a single or multiple PDF files. It also permits you to unlock PDF for editing even if there is any Owner level or user level security applied PDF.
You are also given an option unlock these files in bulk without losing any data, or any damage incurred to your PDF files. Find more features of this tool to unlock PDF for editing on Mac as explained below:
You can simply use the PDF file either for editing, printing, or to copy a text from the secured PDF on Mac.
Enable permissions such as commenting, signing, extracting, and form filling
Unlock a PDF for editing without installing Adobe Acrobat application on Mac machine.
Choose to either Save or Print the PDF file after freeing it
Moreover, it can also displace AES and RC4 128 and 256 bit encryptions
This software works on Mac OS 10.8, 10.9, and all the above versions
Creates a CSV report for the procedure of unlocking the files
Shows the status of the unlocking process as Pending and Completed
Now, going towards the working of this tool to have a clear vision on how it helps.
What are the Steps to Unlock PDF Document for Editing?
1. Install the software on your Mac desktop and click on the Add File(s) option. Add the PDF files as required to software panel and hit Next.
2. Now, select the Save radio button and hit the Change button to choose a destination location for the end result.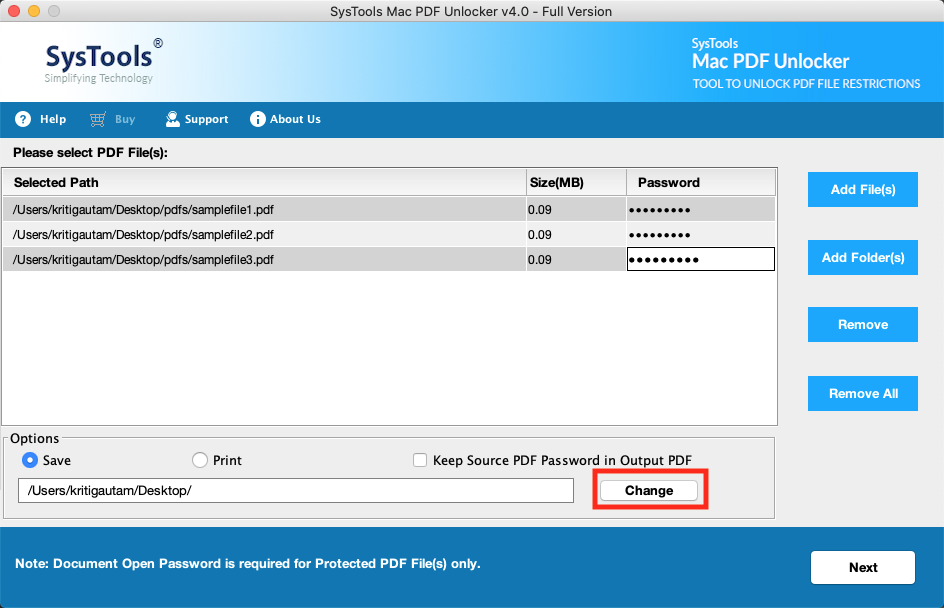 3. Finally, press the Unlock button and the tool will start the procedure from your selected PDF files on Mac
By following just 3 simple steps will unlock your files for you to be able to edit them as per your requirement.
Find the working of the manual method in the next segment.
Using Adobe Acrobat Pro to Unlock PDF for Editing on Mac
If you haven't installed Adobe Acrobat on your Mac machine then download it first. Then go through the following steps to edit a locked PDF on Mac:
1. Launch Adobe Acrobat Pro on your Mac machine.
2. Select the PDF file that is locked for editing task and open it.
3. Go to Priorities section and choose the Security tab.
4. Now, you will see various file restrictions under the Document Restriction Summary.
5. After that, choose the Change Settings option and press No Security from there.
6. Here, you have to enter the password to unlock PDF document for editing and click on the OK button.
7. In the end, choose a desired location to save the resultant PDF files.
Time to End the Write-up
It is really important to keep all your PDF files safe from any threats. Which eventually leads you to protect these files with passwords and encryptions. So, in case you ever need to edit it and if you have forgotten the password. Or needs someone else who doesn't know how the password removal works to edit it, then you might start looking for such solutions.
As we have mentioned, the manual method works the same but doesn't work if the you don't remember the permission passwords. In such scenarios, you can use the software as we have shared in this blog where there is no such issue. So, by this way you can easily unlock PDF for editing on Mac and get all the file permissions enabled.