Hotmail
How to Add Hotmail Email to Mac Mail Safely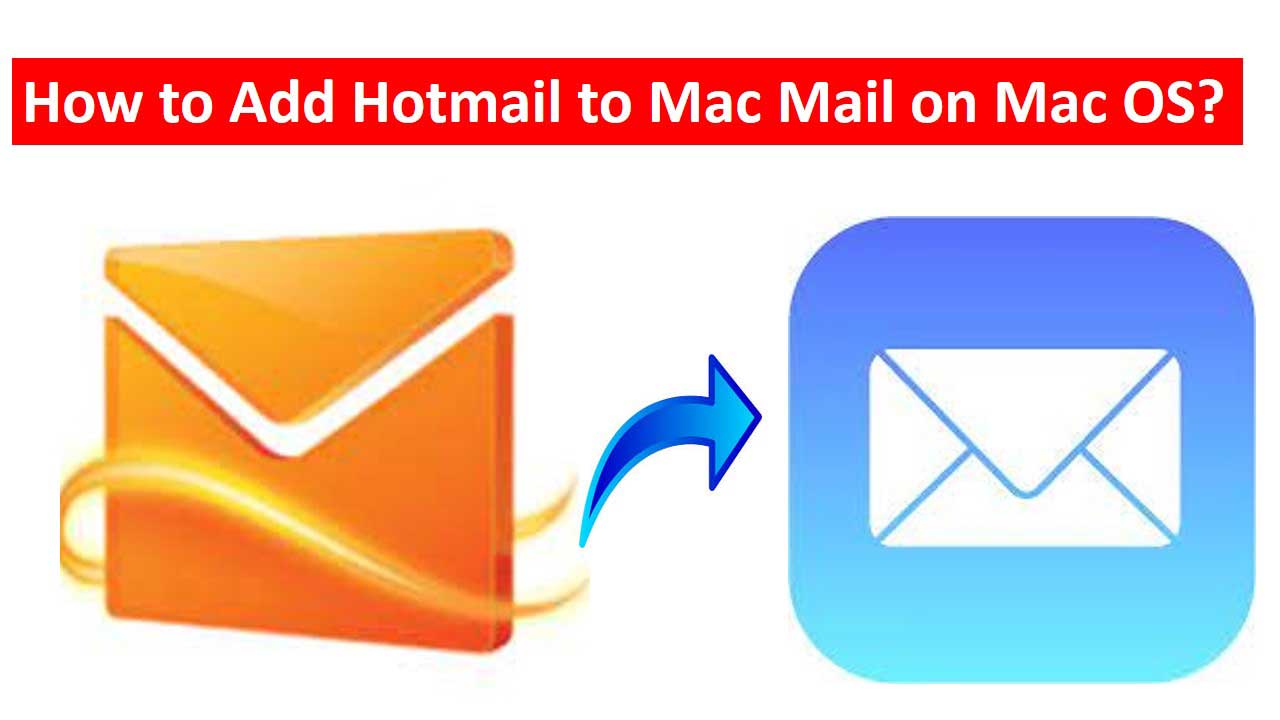 Do you need to add Hotmail email to Mac mail? Here, is what you are waiting for. Try any of the methods from this article and put a Hotmail account on Mac Mail. 
Hotmail was a very popular webmail client that got shut down in 2012 by Microsoft. It is replaced by the Outlook.com mail service. But the users continued with the Hotmail account. Now, there are multiple platforms like Windows and Mac using which a user can access the Hotmail account.
So, if you are a Mac user and want to access your add Hotmail to Mac mail. Then, a prominent way is to add your active Hotmail account to your Apple Mail. It is the best technique for accessing all your data without any issues.
Hi, I am Kunal, I have been using a Hotmail account for a long time, but due to switching to a Mac computer. I have decided to transfer Hotmail emails to Apple Mail. Although I have tried to do it manually through setup, I was unable to add a Hotmail account to Mac Mail, it only allowed for emails. I want to access my other Hotmail account data as well, can someone please suggest a reliable solution to adding a Hotmail account to Apple Mail? It would be a great help, thanks in advance.
Why Users Need to Add Hotmail Email to Mac
There are several reasons for moving Hotmail emails to Mac Mail. Most of the users and businesses repeatedly transfer from one platform to another. And the reason might be adaptable to a more private OS or wanting to know how a different email application. In addition, Hotmail has a few drawbacks as well and that could also be a cause to leave the Hotmail email application. So, in this article, we will describe a few reasons behind it. So, let's see to add Hotmail to Mac mail reasons.
In Hotmail attachment size limit is only 10 MB. Although, other email services are providing 20 and 100 MB.
IMAP protocol does not support Hotmail. While, there are several webmail services that allow users to use IMAP servers like Gmail, thunderbird, AOL and etc.
This is not for organizational purposes. If a single user is using it for their own reasons then it will be fine.
Hotmail does not offer any option for automatic email forwarding. It does forward but only to other Windows live Hotmail accounts, otherwise one require to pay.
Automatically erase emails and attachments without notifying users that are marked as junk.
Best Methods for Add Hotmail Email to Mac Mail
There are two most prominent methods that will put emails from a Hotmail account to Mac Mail. So, the first way is to Add Hotmail email to Mac and import them to Mac Mail. 
So, let us start by exploring each method in detail for Mac machines.
Manual Method

to Add Hotmail Email to Mac Mail
In this process, you will have to set up your account in your Mac Mail. For doing this, perform the procedure as shown below-
Initially, just open your Mac Mail on your Mac machine
After that, from the Mail menu, click on Add Account option
Later on, choose another mail account from the mail account selection screen and click Continue
In this section, just enter your name, Hotmail account, and password. Then, click on Sign in to move further for setup
Lastly, check all the items you need to access in your Apple Mail and then click on Done.
This procedure will add Hotmail email to Mac Mail very easily. Please note, by this option, you will fail to move the contacts and calendar of your Hotmail account. As this option does not give you the Hotmail contacts and calendar to access on Mac. By the above professional method, you will have access to all the mailbox items.
How to Add Hotmail to Mac Mail Quickly?
To perform this method, you need to have Mac Hotmail Backup Software on your Mac system. As it is a safe way to copy the emails of the Hotmail account to Mac Mail-supported email formats. Once you get the emails, contacts, and calendar, other data to the local system, then you can import the file at any moment to Apple Mail. With this application, users can save Hotmail emails to hard drive on Mac OS.
This tool not only Hotmail Apple mail convert, you can also port the file to any other platform or system easily either on Windows or Mac machine. Like, you can easily migrate Hotmail emails to MS Outlook with the help of this tool. In case, if you just want to secure and save emails from Hotmail as PDF format then it is also possible with this only.
Not just this, but you can operate this software without any hindrance on any of your Mac machine versions. As it supports all the latest and earlier versions of the Mac operating system to work with a Hotmail account. 
Working Steps to Add Hotmail Email to Mac 
For using this safe method, first, you need to download the software on your Mac machine. After that, just install it and follow the steps as stated below-
Run the Mac-based software and log in with a Hotmail account, tap Login
Select the preferred file format to transfer your all data from your Hotmail account
In this step, hit on the browse button to select the location to store your file on Mac OS
In the end, hit on the Start Backup button to perform this procedure on your Mac-based PC.
Now, you can access your entire Hotmail account on the Mac system by importing these Hotmail apple mail. The import process for EML and EMLX files is very easy. You need to just drag and drop the emails from the Mac desktop into the Mac Mail. In the case of MBOX format, import the file into Apple Mail using the Import wizard. But if you don't find this option feasible, then you can go for this alternative solution.
Final Words
If you want to add Hotmail email to Mac , then the best options are mentioned in the above section. As in this article, we have shared a proper safe, and secure method that allows you to add Hotmail account to Apple Mail. However, you can choose any method from them to execute this process. This is an entire procedure in that you simply set up your account in Mac Mail and access your data. But, we recommend you go for the professional method for adding a Hotmail account to apple mail, as it is quite safe for non technical users.
FAQs
Q. Will this tool backup Hotmail contacts as well?
A. Yes, this tool can easily let you archive the contacts on your Mac machine in .vcf format.
Q. Does this tool compatible with the latest Mac version?
A. Yes, this software is fully compatible with all the latest and earlier version of the Mac operating machine.
Q. Can I delete all the archived Hotmail emails after the completion of the backup process using this software?
A. Yes, this application has an option to delete multiple emails in Hotmail on Mac OS.
Q. In demo how many files we can Archive Hotmail Emails to Multiple File Format Options.
A. You can backup first 100 Emails.