PDF
Can't Open PDF Files on a Mac Computer – Know the Solution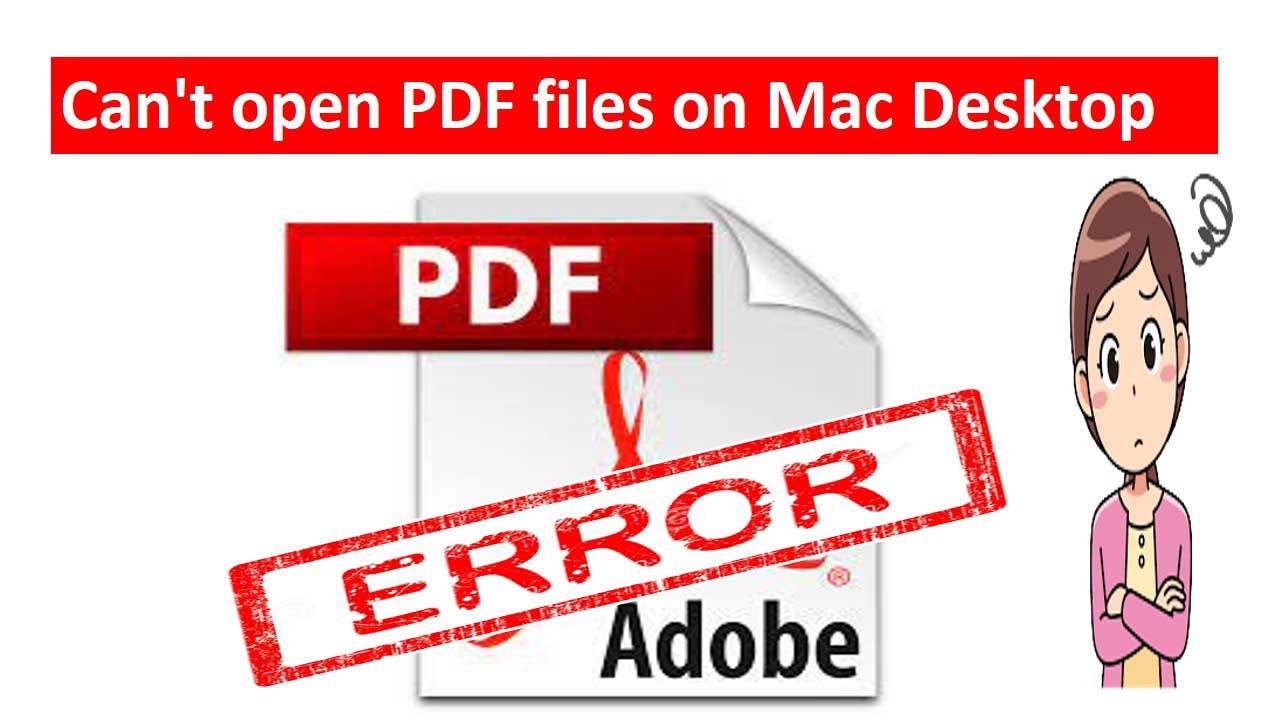 When it comes to PDF files, it actually means storing crucial information safely. A PDF file is a universal document that can easily be accessible by anyone. Whether small or large organizations all use portable documents to transfer their important data. But what if you can't open PDF files on Mac? Sounds frustrating, no? But no worries, if that's the issue due to which you are unable to view PDF on Mac then this article is for you.
Here, we will be describing the best solution that you can use if you are going through this tough time with your PDF file.
Let's have some user queries who are having this issue while managing their PDF document.
User Query: I have been making presentations for that I have gathered and stored all the information in a PDF file on a Mac desktop. But due to the sudden shutdown of the computer now I'm unable to open PDF on Mac machine. That PDF is very important to me and contains lots of information that I need to present in my presentation. If there is any solution that can help me to open the Adobe PDF file on Mac then do let me know.
Just like this user, if you are also having any issue with the PDF file can't open adobe pdf on mac then no worries. The next section is all about the solution. But, before moving further with the solution let's know the reasons that trigger the "cannot open PDF" error. After all, it is better to understand what causes the issue in a PDF file.
Can't Open PDF Files on Mac – Common Reasons
Even if a small issue makes the file inaccessible and as a result, you are unable to view PDF on Mac. Here, we are sharing a few of the common reasons for the same-
The reason behind of PDF file issue can be the abrupt shutdown of the Mac machine. Through which the PDF file you were working on came into some errors.
Moreover, if your Adobe Acrobat or PDF reader is outdated then you are bound to have the error message when you try to open a PDF.
Likewise, if you have used other apps to create a PDF file instead of Adobe Acrobat on Mac. Then they are high chance when you try to view the PDF file on another platform, you cannot open it.
But, do not forget to check out if there is any kind of corruption in a PDF file that you have stored on your Mac machine. Because even a minor corruption makes big trouble for you.
Now, if any of the cases are with your PDF file, then the solution that we are providing will help you in a better way.
Best Solution if You Are Unable to View PDF on Mac OS
Whenever there is a severe issue that makes you unable to access the PDF file. Then, it is better to move on with the professional solution to solve the severe issue. So, by keeping this thing in mind we have come up with a great Mac PDF file Recovery Software. It will help you to resolve all the errors in a PDF file in which you are having a "cannot open PDF" error message.
As this is the best software when you can't open PDF files on Mac because if there is any corruption then you can simply repair corrupted PDF files. The most amazing thing about this utility is its availability on all Mac machine versions.
Top Highlighted Features of the Utility
There are multiple benefits that this automated tool provides to ease your pain. All those features are quite helpful to get the PDF file data back-
While using this software, you can easily save the healthy PDF file in the new location of your Mac machine
Moreover, if you can't open PDF files on Mac then with this software you can fix it easily. As a result, this advanced tool will provide you a new portable document.
If you're worried about the available data in the PDF file then there is a benefit to choosing this tool. As this utility will not make any changes to the original formatting of PDF.
Through this standalone software, you can fix the error of the PDF files without Acrobat Pro on a Mac machine and view the content of it.
Likewise, you can easily operate this tool on any Mac machine irrespective of the version of the Mac operating system.
If in case, you want to preview the healthy PST file before saving it on your Mac PC. Then, you can even do this while using this amazing software.
It even allows you to view the report for the Adobe PDF file with the View Report option.
How to Fix Can't Open PDF Files on Mac Issue Safely?
So, if you're in this situation, then just download this suggested tool for Mac. Just after the launch on your PC, follow the steps given below –
Mouse-click on the Add File or Add Folder to add the PDF file from your desktop that is having any issue
In the second step, tap the Scan button for PDF files scanning on the Mac desktop if you can't open Adobe PDF on Mac
After that, you can Preview the entire data of the healthy PDF files on the software panel
At last, tap on the Save button to preserve the healthy PDF file at any location on a Mac computer
After the completion of the repairing process, you will be able to open the PDF file with earlier data. If required you can go through with the report by tapping on the View Report option.
Conclusion
In this article, we have discussed about the query that usually users like you face in their day-to-day life. So, when any issue occurs in the PDF file, it makes you unable to view PDF on Mac. Therefore, it is better to fix it before losing the information forever. Hence, to doing this easy for you we have provided a professional solution that you can use if you can't open PDF files on Mac. This is the most valuable solution that helps you to get back all the data in a healthy PDF. So, go for it, and to understand it first you can choose its free trial version.