MAC OS
How to Convert MBOX Files to PDF Documents on Mac OS?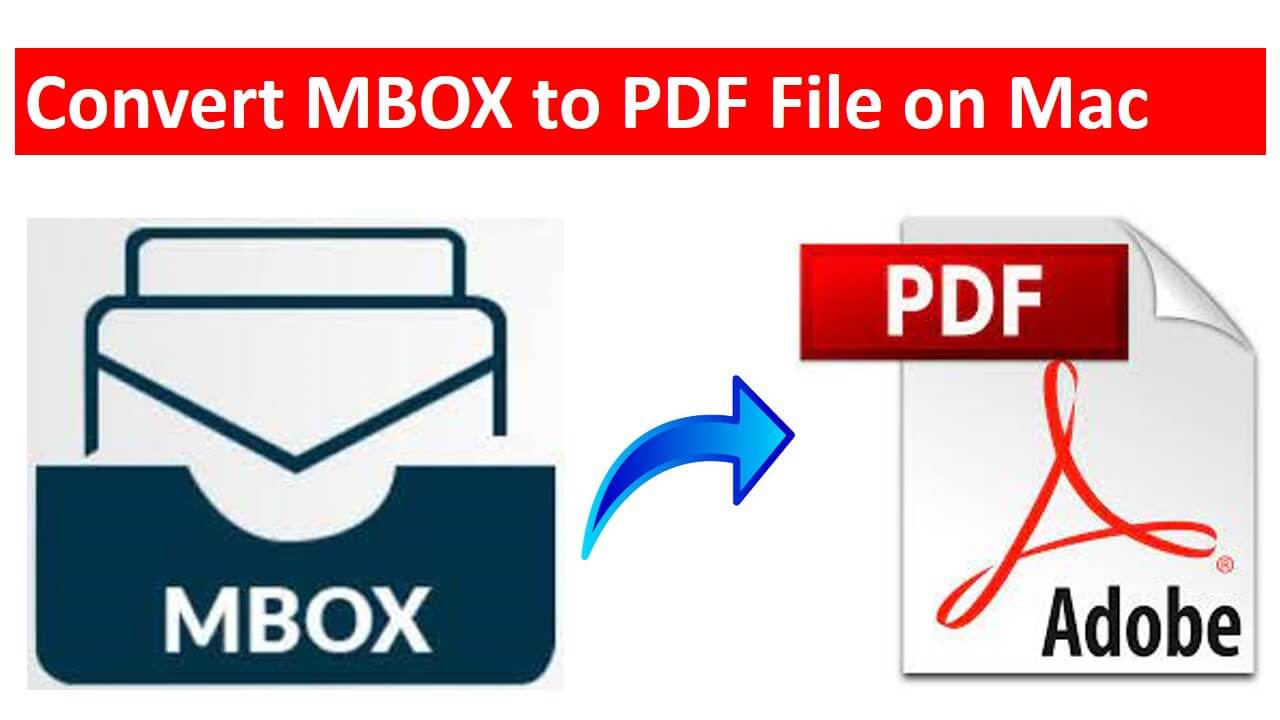 PDF file, how many benefits does it have? Documents for legal purposes, files that don't change on any platform, standards for documentation, and what not? In fact, PDF file is so popular that there are questions to convert almost every file format to PDF format. Hence, in this post, we will take a look at one such query i.e. How to convert MBOX to PDF? We'll provide both a manual approach and a professional solution to help you export dozens of MBOX files with attachments.
If we talk about MBOX, then it is the easiest file format to store multiple emails. More than 20 email clients use it to store email messages. So, when someone asks about ways to convert MBOX file to PDF, it essentially means exporting every email message inside an MBOX file to a PDF document.
Top Methods to Export MBOX Files to PDF
In this article, we have demonstrated different ways to tell you how to convert MBOX to PDF. The user only needs to follow the method that seems appropriate.
Manual Method to Convert MBOX File to PDF:
Open Thunderbird.
Choose the emails from the MBOX File which you want to convert.
Go to 'File' tab from the menu and click on 'Print' button.
Choose the 'Microsoft Print to PDF' option and click on 'Print'.
The 'Save Print Output As' window will pop up.
Click 'Save'.
Another Way to Convert File Using Add-on
The user has to install Mozilla Thunderbird and download the ImportExportTools NG add-on in it. Only after these things are taken care of, can a user really use the free method as defined below:
To initiate this manual process, just right-click on Local Folders.
After that, select ImportExportTools NG and click on Import MBOX file option.
Then, choose Import one or more MBOX files and click OK.
Now, select the MBOX file from your Mac system and click Open.
At this point, the file will appear within the Local Folder section.
Then, choose all the email messages present within this imported file.
Right-click on any of the selected messages and choose Save Selected message > PDF format.
After that, choose the location to save the file on Mac machine.
Eventually, the tool will generate a PDF file for each email message in the designated location.
Note
: This manual method is good for users who only wish to save the email message in PDF documents. However, it
Does Not Saves Attachments
with the Emails and also fails to provide any sort of customization settings. So, for such options, opt for the next method.
Automated Way for Exporting MBOX Files to PDF on Mac
Attachments are an important part of email messages. Most users who wish for email conversion also require the attachments to be converted alongside the emails. But the free manual method fails to deliver such results while converting MBOX files. Therefore, there is a requirement for professional software that can not only process dozens of MBOX files conversion at once but also convert MBOX to PDF on Mac with all attachments intact.
MacwareTools MBOX to PST Converter Tool is not confined to only PST files. It also offers the PDF option alongside other file formats such as EML,EMLX, MSG, CSV HTML, TXT. It provides a multitude of features to export MBOX files to PDF and makes it easy for users to obtain a seamless conversion experience. Moreover, it also allows you all to view MBOX file in MS Outlook application easily.
The software has various features such as:
Retains Attachments even after converting to PDF. Simply view the files in Adobe.
Naming Convention with multiple options to choose from.
Maintains folder structure and email formatting.
Date Filters for selective conversion of Mac MBOX files to PDF.
Option to apply bates number and date on each PDF page.
Option to include MIME header details in legalized documents.
Steps to Convert MBOX to PDF on Mac (with attachments):
Install and run the software on your Mac system.
Click 'Add File' to select the MBOX file.
Once you have selected the MBOX file, click the 'Next' button.
Click on 'PDF' and apply advanced settings.
Click the 'Export' button to start the conversion.
Video to Showcase the Tool's Working
Detailed Steps to Convert MBOX Files to PDF Format
Download the MBOX to PDF converter software on your Mac machine. Then after, follow the below-mentioned guide to execute the conversion.
1. After starting the software, click "Add File" and add MBOX files from the Mac computer
2. After that, choose the PDF file option from the next screen as an output
3. Now, apply Advance Settings for the PDF file with attachments as required
4. Later on, you need to hit the Check button to decide the Destination Path for preserving the PDF file
5. At last, just click "Export" to start begin the convert MBOX to PDF files process on Mac machine.
FAQs
Q: How can I export MBOX files from Apple Mail?
Answer: To export MBOX files from Apple Mail, go to the File menu and choose Export Mailbox. Select the mailbox that contains the MBOX files you want to export and choose a location to save the exported files.
Q. Can I convert multiple MBOX files to PDF at once?
Answer: Yes, you can convert multiple MBOX files to PDF at once by using the Add File/Add Folder button to select and add all MBOX files in the software initially.
Q. Will the software preserve attachments and formatting?
Answer: Yes, if you use the recommended software, it will preserve email message formatting and attachments. The manual method, on the other hand, discards all the attached files.
Q. Can I edit the converted PDF files?
Answer: Yes, you can edit the converted PDF files using a PDF editor tool like Adobe Acrobat or Preview on Mac. However, keep in mind that any edits you make to the PDF files will not affect the original MBOX files.
Conclusion
However, there is no guarantee if the current form of file is enough for a user to work upon or not. Being the standard file format for businesses, the PDF has a lot of usages. Sometimes, even email messages are required to be documented in PDF format. In this blog, we have covered the different ways to convert MBOX to PDF file in a seamless manner. While the free method has its own advantages and limitations for exporting MBOX file to PDF format. On the other hand, the automated solution excels at retaining the attachments and email properties during MBOX file to PDF conversion.