Outlook for MAC
How to Convert Outlook Cache to Contacts on Mac Smartly?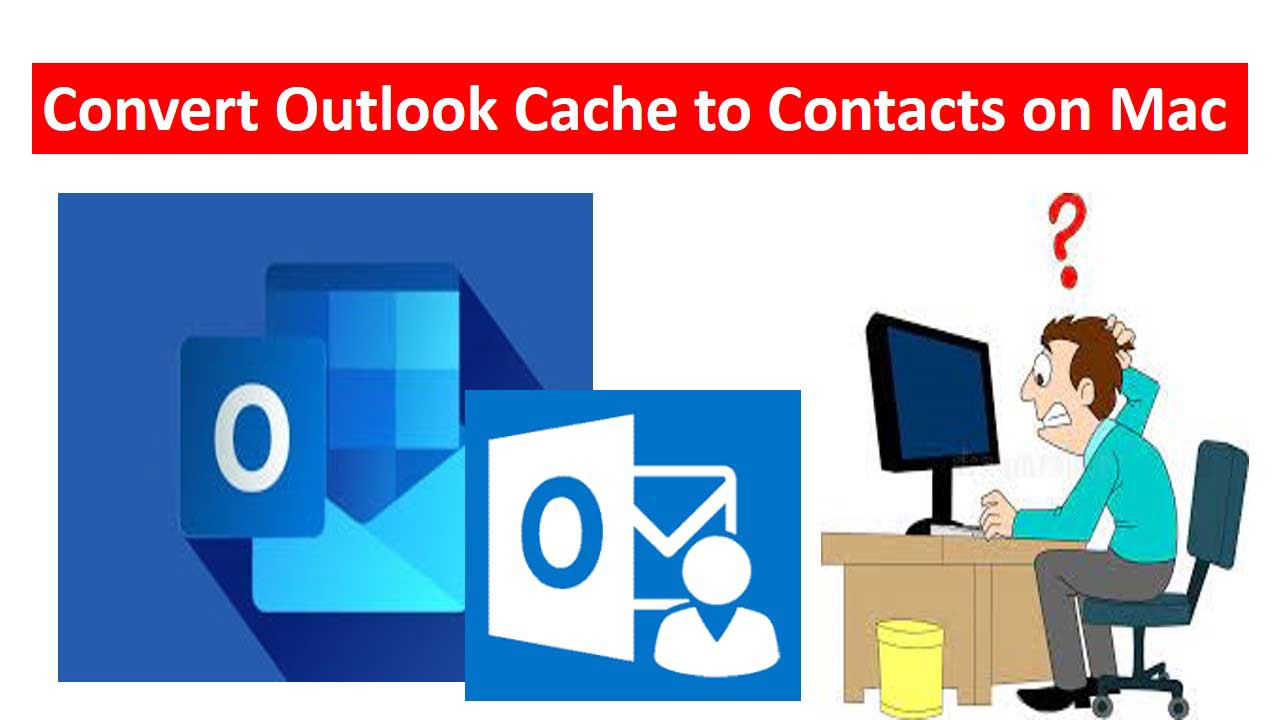 Do you want to know how to convert Outlook cache to contacts in Mac Outlook? Then hang on with this article till the last!
Here, we are going to educate you guys on how to do this task in the easiest way possible using an automated tool. You can use this tool when there is a large number of Recent Addresses that you want to add in your contact list.  And the most unique thing about this software is that it is a 'Unique tool' in itself. Yes, you read it right.
Here's why – This Mac Outlook cached contacts recovery software is designed to convert and fix only Mac Outlook cached contacts. So, this is a kind of a tool that is dedicated to only Outlook cache.
Now, there are other converters and recovery tools in the market. But this tool was created for users who just want to convert Mac Outlook cached contacts. As a result, this will be a cost-effective software and a smart investment for these kinds of users.
Note: OLK & OLM are the file formats used in Outlook for Mac.
In this blog, we will show you a step-by-step solution on how you can transfer your Mac Outlook cached contacts (Recent addresses) to your main contact list.
Here, you will get to know the tool's features and other functionalities. Also, you can download its Free demo edition that will convert 10 items. 
Let's dive right into its working!
How to Convert Outlook Cache to Contacts on Mac OS?
The mentioned tool offers to convert Mac Outlook Recent Addresses to multiple file formats on your Mac based computers. Using this software you will be able to get the files and recover all Mac Outlook 2019, 2016, 2011.
Moreover, during the entire process it will not affect any of the contact from the list. So, you will get the exact data after the procedure as it was before. The best thing about this self operated tool is its compatibility, means you can easily handle it on any latest or earlier versions of Mac machine.
In order to transfer your cached email addresses to contacts of Mac Outlook, you will have to convert cached contacts to VCF file format. Then you can import this VCF file into your account.
Let's see how it works.
Transfer Mac Outlook Cache to Contacts
First of all, download the software on your Mac based computer. After that, just run the tool and follow the given steps as given-
Now, just select the way you would the tool to locate your Mac Outlook profile or identity. You can use the 'Auto-Locate' option or manually browse the accounts using 'Let me browse'.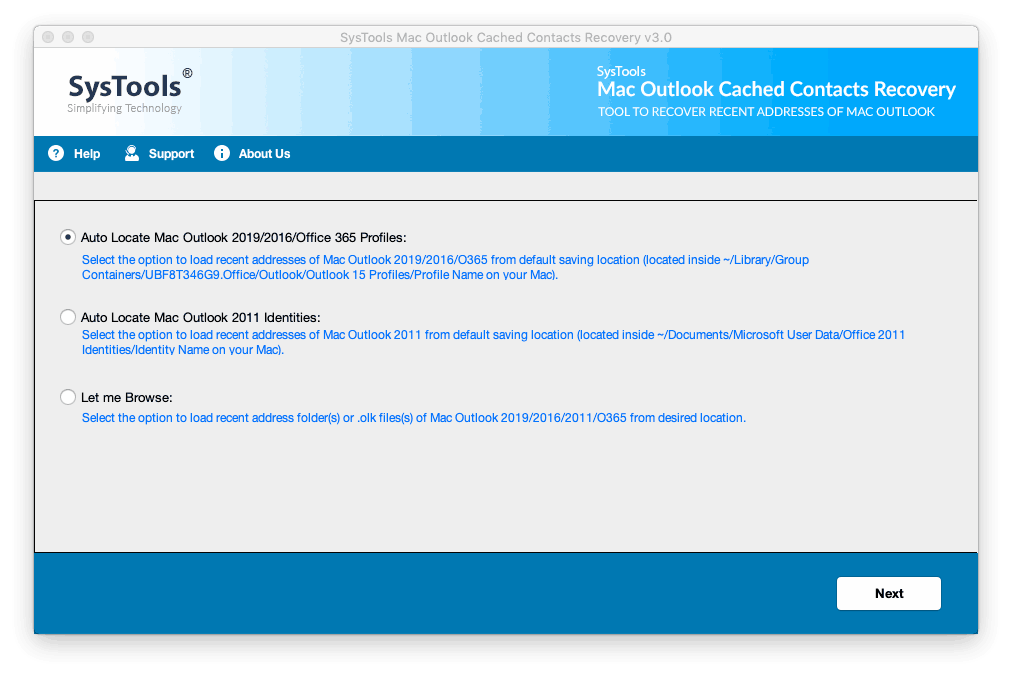 Select Identity/ profile from which you want to convert Outlook cache to contacts. Then, click on Scan.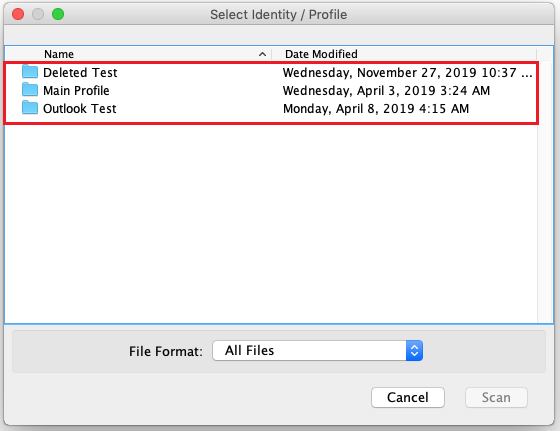 Choose the VCF radio button to convert. By default, the tool will create individual VCF files for each cached contact. To create a single VCF folder for all cached contacts tick the 'Create Single VCF File' option.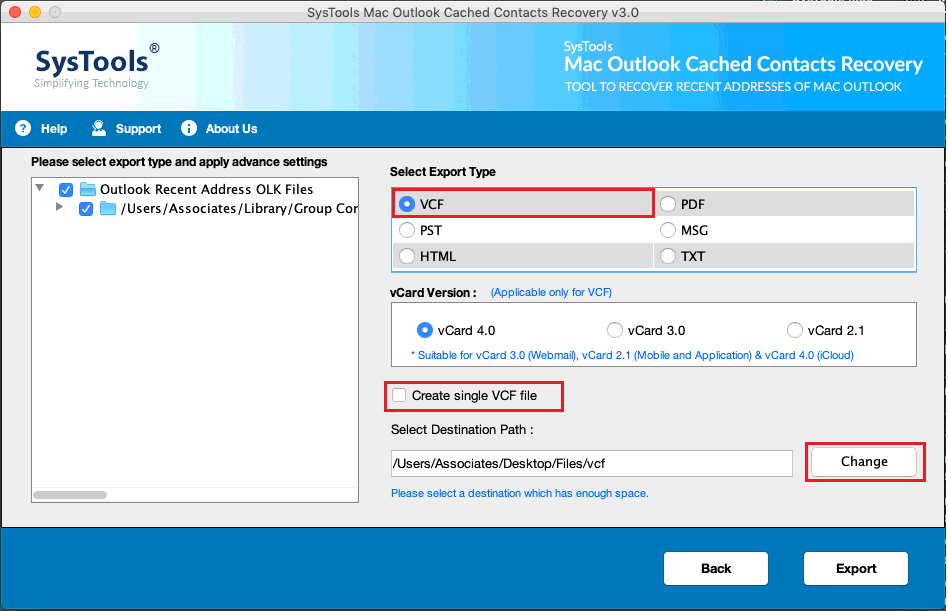 In this step, you can select any vCard version from the given options for Mac Outlook
At last, you can click on the 'Change' button to give the location to save this file. Then click on the 'Export' button.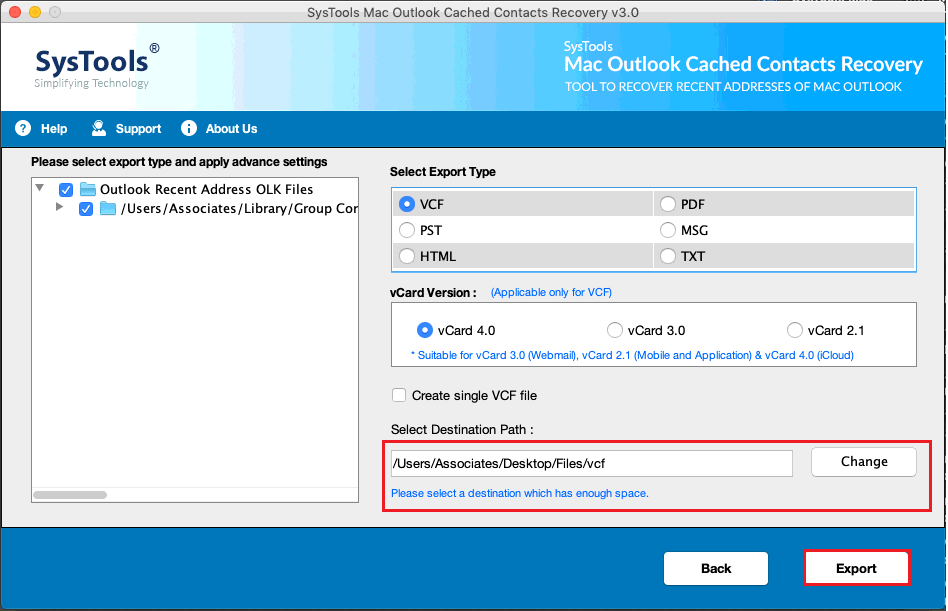 You will get a VCF file(s), now import this file into your Mac Outlook account. To execute this task, follow the steps as given in the next section.
Import VCF file in Outlook for Mac Contacts
If the vCard or .vcf file is saved on your desktop or any other location on your computer double-click on it to open it. You can also Ctrl+click or right-click the VCF file, select Open With, and then click Microsoft Outlook.
It's done! You have finally transferred the Mac Outlook cache to your main contact list.
Note: Outlook 2016 for Mac does not support the bulk importing of multiple individuals .vcf files nor .csv files. So try to import less number of files at a time.
For more information on importing VCF files kindly visit: https://support.microsoft.com
Additional Features of this Advanced Tool for Mac
This is a top-notch solution for all problems related to convert Outlook cache to contacts on Mac.
Save your efforts by using Auto-locate feature to search cached contacts from profiles and identities of Mac Outlook 365 / 2019 / 2016.
Moreover, it will quickly retrieve disappeared cached contacts from Mac Outlook files.
Additionally, it creates digital business cards to share anywhere by exporting to VCF. It can create any of your desired version of vCard.
Also, you can simply preserve all cached contacts in different file formats.
Fully compatible with all the versions of Mac Outlook and Mac operating machine to operate this tool.
Conclusion
In this article, we have provided you a better solution to figure out the tactic to this query. Here, we have shared a professional software which can easily convert Outlook cache to contacts in Mac. Moreover, you can experience all its amazing features with its free demo edition. Make sure you have JAVA JDK & JRE 8 installed in your Mac system. If you would like any other feature that should be added or any other export option or customize the tool.