Backup
How to Delete Multiple Emails in ZOHO Mail with Attachments?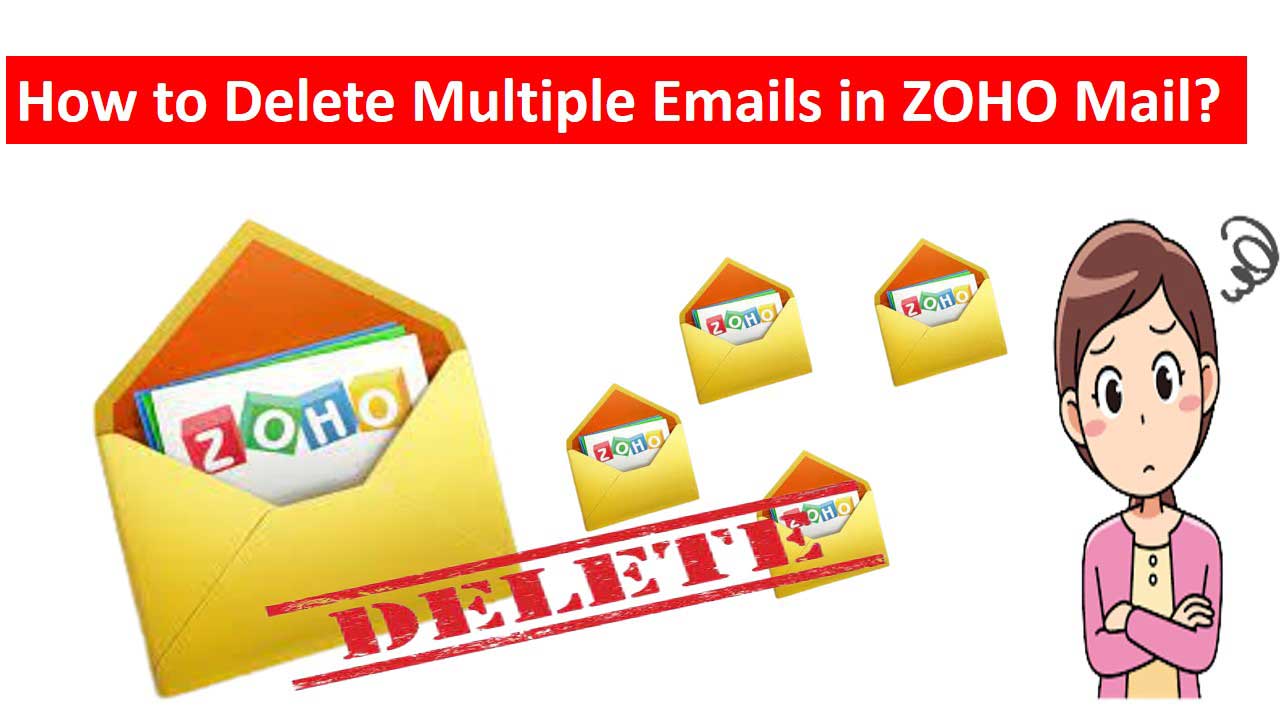 There can be different reasons when you want to free up the ZOHO account mailbox. Hence, you like to delete multiple emails in ZOHO mail. But to make the mailbox cluttered free you must have to perform the task carefully, otherwise, you may lose your important emails. For this concern, we have come up with this article where we will provide you with all possible solutions.
First, let's take a look at some user queries for the same-
User Query: Hi, I am Kashish. I have been using ZOHO mail for a long time but due to constantly receiving emails its mailbox is full now. So, I barely get a new email in ZOHO mail. Moreover, there are even multiple emails along with attachments in sent and another folder. So, I want to make it free. That's why I want to know how to delete multiple emails in ZOHO mail. Please refer me to a reliable to clean ZOHO mail.
How to Delete Multiple Emails in ZOHO Mail with Manual Method?
Here, we will provide you with a few manual solutions to free up the storage space in ZOHO Mail, like-
1. How to Delete Multiple Emails from ZOHO Mail?
To perform this task on a large basis, just select all the emails that you need to delete
Press on the Delete icon for moving forward with the process.
2. Delete the Entire Folder in ZOHO Mail
This option will help you to make the clutter-free ZOHO Mail folders easily. As this option will delete an entire folder along with all the data residing in it.
So, just right-click on the folder that you want to remove
Afterwards, just Delete this Folder Option from the list that appeared.
Note: Just remember once you delete the particular folder, all the sub-folders and along with their attachments will be removed to the trash folder. Hence, to delete the sub-folder, right-click on the sub-folder and press on Delete Folder.
Limitations of Manual Method for Cleaning Emails
This entire method to delete multiple emails in ZOHO mail is a time taking process.
Moreover, there is no security in getting back those emails if you delete an important email accidentally.
Likewise, you will have no backup copy of your ZOHO mail emails on your PC for future requirements.
How to Delete Multiple Emails in ZOHO Mail Directly?
When it comes to choosing a secure solution then the Mac ZOHO Mail Backup Software is the best one. This program is helpful not just deleting emails even their attachments and all selected folders. But as there is a saying "Precaution is better than cure" therefore we recommend you to archive ZOHO mail emails. Best thing is you can run this automated software on any version of Mac machine.
By doing this, not only you can prevent any future uncertainties if you will ever feel the need for any email. But you will be tension free that you have clean ZOHO mail and you will receive or send emails easily.
Moreover, before moving forward to delete folders in ZOHO mail process you can simply export ZOHO to PDF, PST, MBOX, HTML, etc.
Step by Step Guide to Clean ZOHO Mail Properly
Before anything, just download the above software on any Mac operating machine, after that, follow the steps given below-
Run the software and provide active credentials of your ZOHO Mail then, hit the Login button to proceed
Select any file format as required from the Select Export Type section to take out the emails from the necessary folders
Afterwards, check the Delete After Download option to delete multiple emails in ZOHO mail
Then, for saving the file at any location on your PC, select the path by clicking the Change button
Eventually, press the Start Backup icon to begin the procedure for cleaning the ZOHO mailbox.
Conclusion
To make the ZOHO mail cluttered free we have discussed how to delete multiple emails in ZOHO mail. Here, we have provides you with all the possible solutions that are helpful to know how to clean ZOHO mail. However, to prevent any uncertainties we recommend you to go for the automated method that is best to delete folders in ZOHO mail in one go. So, choose as per the basic need.