MAC OS
,
Outlook for MAC
Export Outlook Contacts to CSV Mac: Quick Solutions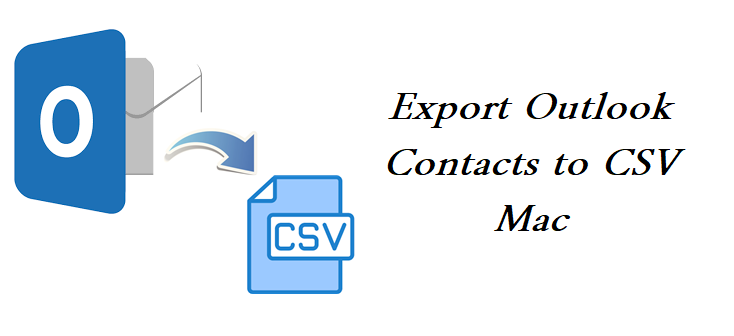 Are you a Mac user and want to export Outlook contacts to CSV Mac? Do you need to extract contacts from the PST file and save them in CSV? If you have these or any other related queries, this is the right blog. This write-up will explore different methods to export PST Contacts to CSV.
"I have an Outlook PST file and need to export Outlook contacts to CSV Mac. I do not have Outlook for Mac installed, so there is no manual way to access the PST file data. Is there any other way to save the Address book data in CSV from the PST file? Kindly help!"
PST files store complete data items of Outlook including the contacts. But, this file is only compatible with Outlook (Windows and Mac). To access the address book information without Outlook, users need to save the contact data in a CSV file. Read this blog to learn how you can extract contacts from PST files on Mac and save them in CSV format.
Table of Content
Manual Method to Export Outlook Contacts to CSV Mac
If you have Outlook installed on a Mac machine, then you can try this manual method. But, let us warn you that this method is a lengthy one and requires technical expertise. Transfer PST file to Mac machine to export PST contacts to CSV.
Open Outlook for Mac and click on File -> Import.
Choose Outlook Data File and then PST.
Navigate to select the PST file and click on the Import button.
After the file is imported, click on Contacts of Mac Outlook.
Go to the Tools menu and Export.
When the dialogue box asks you which items you would like to export, check Contacts.
Select the location and click on the Export button. You can open this file in Excel and then save it again in CSV format.
Export Outlook Contacts to CSV Mac Professionally
If you want to export contacts from PST files in CSV format on Mac without Mac Outlook installation, using Mac PST Converter is the most suitable option. This application runs on all the latest Mac OS versions and is capable of exporting data from any kind of Outlook PST file. Running this tool also very easy to export Mac contacts to CSV. To export the contacts from Outlook to CSV, users just have to follow these steps:
Important Note: If you have an OLM file exported from Mac Outlook, then you can take help of OLM File Converter for Mac to export Mac Outlook contacts into CSV format.
Step 1: Download the software and launch it.
Download Tool Purchase Now
Step 2: Click on Add Files and select the Outlook file you want to export contacts from.
Step 3: Choose CSV as the target format.
Step 4: Choose file saving location.
Step 5: Click on the Export button to save Outlook contacts to CSV Mac.
Prime Features of the Tool
Here are some advantages of using this tool to export Outlook contacts to CSV Mac:
Convert All Items of PST: With this tool, users can convert all items of PST file on Mac including emails, contacts, calendar, journal, notes, and tasks.
Mac OS-based Tool: This software is developed for Mac machines. It supports Mac OS 10.8 and the above versions including 10.15.
Exports All Contacts Fields: This smart software exports complete contact data from the PST address book. All the Contact fields are exported into a CSV file when you choose to use this program.
Suitable for Any PST File: Users can extract contacts from any PST file (ANSI and Unicode) on Mac with this application. File size also does not matter for this application to M

ac export contacts to CSV

.
Process Data from Bulk PST: With this program, users can export Outlook contacts to CSV Mac in bulk. With the Add Folder option, the PST files can be added in bulk.
No Chance of Data Loss: Being developed using the best technology, this utility ensures zero data loss while exporting contacts from Outlook PST on Mac.
100% Reliable Tool: This application does not contain any virus or malware and hence, is completely reliable. It also complies with GDPR and does not store or sell any of your data.
Download the Demo Version for Free
The best part about this application is it also comes in a free demo version. Users can download this version without spending any money and test the functionality of the software. The only limitation of this version is it can convert only 25 items free. If you need its full version to export Outlook contacts to CSV on Mac file format then you can buy the full version of this tool.
Conclusion
Switching platforms, data extraction for investigative purposes, and various other reasons give rise to the situation when people want to export Outlook contacts to CSV Mac. For the people with the same requirement, we have described two different methods in this blog. Go through the steps and choose the method that fulfils your needs.
FAQs
Q1. Can I save the converted files with a date?
A1. Yes, users can save the files with dates, they need to use the naming conventions with dates. Also, users can save the required data file with a date.
Q2. Which Mac OS versions are supported by this software for Mac export contacts to CSV?
A2. PST file Converter for Mac is compatible with Mac OS 10.8 and all the above versions. It also supports MAC OS X 11.0 (Big Sur).
Q3. How do I export Outlook contacts to CSV Mac?
A3. Yes, you can export contacts from your Mac Outlook profile as in a VCF file or a CSV file by choosing the option from the file menu then Select Open & Export > Import/Export. Select Export to a file > Next. Select Comma Separated Values > Next.
Q4. Is it possible to convert Outlook data files in a batch?
A4. Yes, this above-mentioned tool offers the option to add and convert multiple PST files at once. Users need to use the Add Folder option to upload bulk PST files into the tool.