Outlook for MAC
A Perfect Way to Extract PDF Attachments from Outlook Mac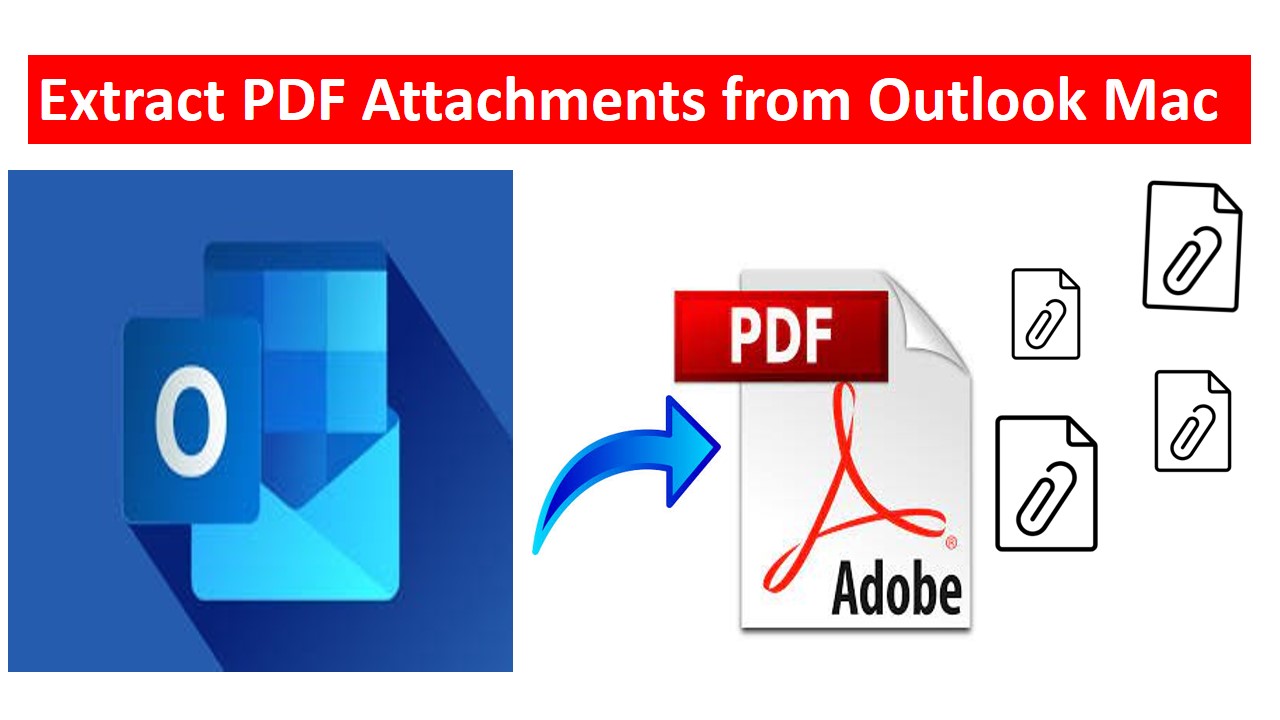 Summary: Do you want to extract PDF attachments from Outlook Mac? But the thing is that you have no clue on how to extract multiple pdf attachments in a single click? If yes, then it is time to rejoice!
Here in this article, we are going to explain to you the best way to extract specific attachments file from Mac Outlook. So keep reading the blog because very soon you will able to resolve your query in a very effective manner.
Well, Outlook is one of the emails clients that come for Mac and Windows OS both and both OS users use this email client to fulfill all their email needs. Also, users use this email client to share documents, files, and other stuff. Basically, it is one of the most advanced ways to share documents and files.
But sometimes users need to extract only specific files like one of the users faced this problem while extracting specific attachments from Outlook. So, let's see their user query!
Hello, I am working on the project and I have to submit the report to my senior team. But the thing is that will work on the project we have shared lots of files through emails and all are in PDF format. Now, I have to attach all of the files PDF files to the report. Now, I don't know how to extract multiple attachments from multiple emails at once and the one-by-one method takes lots of time. So if anyone knows the effective way to complete this task then please suggest it to me.
Now, we know the users' case and also the requirement why users want to extract only specific attachments from Outlook. So now with ado let's jump towards the method to extract multiple PDF attachments from Outlook.
How to Extract PDF Attachments from Outlook Mac?
Well if you talk about the manual method to then it is very tedious if you want to extract specific attachments from multiple emails. Because in the manual method you have to open the particular email one by one and then you can able to download the attachments.
So to make the task easy for this type of user here in the section we are going to introduce one of the most trusted and tested tools i.e, Mac Outlook Attachment Extractor. This tool helps you to download all attachments from multiple emails Outlook in a minimal time span. In addition, the tool comes with a feature that helps you to extract specific file format attachments.
Also, the tool gives option to automatically save attachments in Office 365, Mac Outlook emails, calendars, tasks, and journals. For more user convenience it allows you to extract attachments in Outlook OLM files as well.
Steps to Getting Mac Outlook Attachments Instantly
Now let's see the working steps of the tool to extract attachments from Outlook on Mac.
1. First, download the tool from the above download link on your Mac machine
2. Once the download is complete just install the software and open it to initiate
3. Now choose the Auto Locate Mac Outlook 2019/2016/2011/Office 365 Profile radio button.
4. To preserve the folder hierarchy of attachments select the Folder Options
5. Then, to specific naming convention for attachment select the Naming Convention option.
6. Now, click on the Advanced Filter option to apply
7. After that, choose the Categories option like Mails, Calendars, and Contacts
8. If you want to extract attachment for any specific date range then choose the Date Filter option
9. After that from Attachment File Type & Size Filter select File Type option and enter PDF in the given space and then click on the Save button
10 . Now, click on the Change button to select the destination location for saving the file
11. At last, click on the Export button to initiate the process to extract PDF attachments from Outlook Mac.
A Free Method to Extract PDF Attachments from Outlook Mac
Well if you have fewer PDF attachments to extract for Mac Outlook, then you can opt for this option. Because as we said earlier that you have to extract particular attachment one by one from every email. It is not feasible if you have a huge number of attachments to extract.
Now, let's see the manual steps
1. First open Mac Outlook and open the email that containing the attachments
2. Now open the email and click to open
3. After the select the attachment and click on the Save All Attachment
4. Now, select the destination location to save the file
5. At last, click on the Save button to complete the process of extract attachments from Outlook for Mac.
Why Automated Solution Over Manual?
Well we know that the manual method does not provide any features to you but the automated solution comes with many features like:
The tool is capable to save attachment from Outlook OLK, PST, Outlook 2019, 2016, 2011, and also from Office 365 profile
Provide multiple options to maintain folder hierarchy
Facilitate naming convection option for attachment and for attachment folder
Option to specify the file size according to your requirement
Support all Mac Outlook version and also support all the Mac versions
Conclusion
Well, whatever be the reason for extract a particular attachment from Mac Outlook. if you are seeking a solution to extract PDF attachments from Outlook Mac, then here in the above blog we have discussed the two best approaches. Now, it is totally on you to choose the right solution for you.