Gmail
,
MAC OS
Gmail Not Working on Mac Mail | Top Three Solution
Gmail and Apple the two titans in technology and when they come together they serve you a perfect product. But recently some of the Mac Mail users reported that "Gmail not working on Mac Mail". If I said more clear then there are various users not able to authenticate their Gmail account in Apple Mail.
To clear the issue let's take look at a real-time user query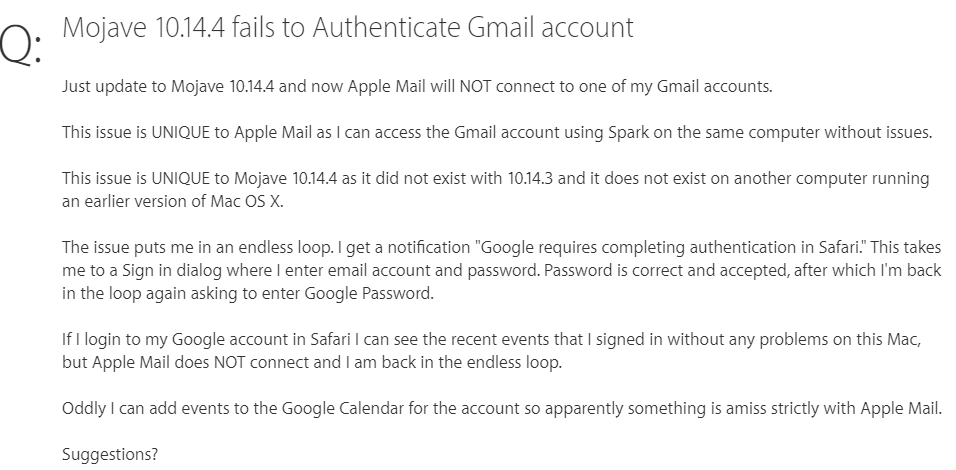 Now, if you are also facing this issue in your Mac machine, and keen on the right solution to fix it? Then here in this blog, we are going to discuss the best solution to fix Gmail not working on Mac Mail. But before going towards the techniques to let understand the reasons why it happens.
Reason For Gmail Account Not Working on Mac Mail
If we talk about the reasons, then there are numerous reasons why Google account is not working with Mac Mail. As there are a lot of reasons, you cannot fix them all in a single go. But knowing these reasons would help you solve it accordingly.
Email Server Issues – Sometimes this type of authentication issue happens due to a server issue so be sure that the servers are working fine.
Poor Internet Connection – We know that Gmail is a web-based email service so it needs good internet connectivity. So, if you are facing Gmail not working on Mac Mail issues then first check for a stable and good network connection.
Enable IMAP Settings in Gmail – To sync Gmail account in any other email client first you have to enable or turn ON the IMAP settings in Gmail, otherwise, you can not able to sync Gmail account.
Update the Applications – Most of the time we are using outdated applications and due to bugs and errors, we have to face this type of issue. So, make sure to update the applications to successfully syncing the email client applications.
Manual Solution For Gmail Not Working on Mac Mail
After knowing the reasons it might be clear for you that what is the sector we have to work. So, here we will discuss some manual methods and tricks that will help to resolve the Apple mail not syncing with Gmail.
#Methdo 1: Update Mac Version
There are lots of users using the outdated Mac Mail and we know that the updated version always is better than the previous one. Because in an updated version they try to fix all the issues. Before doing anything else first check for the update and if an update is available then simply update your Mac Mail. And to do this follow the below steps:
Go to Apple then System Preference
After that choose the Software Update option
Now, wait for the new update search
#Method 2: Change Gmail Security Settings
It might be possible that your IMAP settings is not enabled in your Gmail account. And solving them can help you to fix the Gmail not working on Mac Mail and to do this follow the below steps:
Open any web browser and enter the URL https://mail.google.com/
Click on the Settings in the top right, and then See all settings.
After that click on the Forwarding and POP/IMAP tab.
From the IMAP access section, choose Enable IMAP.
At last click on the Save Changes.
#Method 3: Delete the Account and Setup Again
If after performing the above methods, the problem still exists, then you can try this method. In the method first, you have to remove the account, and once the account removes from Mac Mail, then set up the same account again with the mail. This method will permanently eliminate all the traces of the account configuration. And If you are worried about the Gmail messages and mailbox data, then no need to worry. All your data and emails will be safe.
Alternative Way to Open Gmail Email On Mac Mail
If you don,t have that much time to do this manual method or you think that removing the Gmail account would affect your data and other mailbox items then before removing the account you can create a backup of your Gmail email
And for the Gmail backup, you can try Mac Gmail Backup Tool. It is a tool that gives you an option to save all your Gmail emails in MBOX. So you are facing Gmail not working on the Mac Mail issue, then you can simply import this MBOX file to Mac Mail. In fact, the tool also gives you the option to save Gmail data into PST, MSG, EML, and EMLX.
The backup software is well capable of backing up every single email message from your Gmail without losing a single bit of data. For the test, you can try the free demo version of the tool which backups the first 100 emails for free.
Wrapping Up
In this blog, we have discussed free and best solutions on Gmail not working on Mac Mail. Because there are lots of users who reported this issue on various In addition, we have also discussed the alternative way to open Gmail emails on Mac. So now, it is up to you to choose the right solution for you