MAC OS
How to Clear / Delete Mail Storage on Mac without Affecting Data?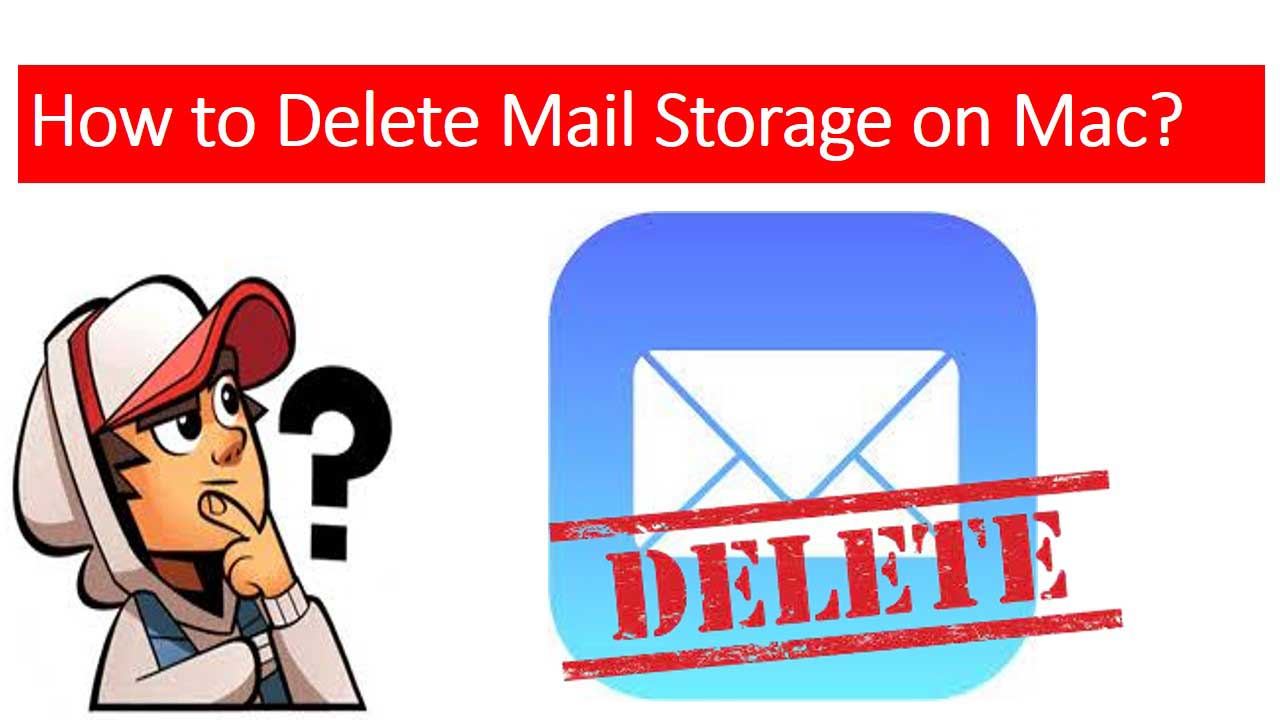 All the Mac OS users have an account of the Mac Mail which secretly takes up a lot of space. This causes the users to find methods on how to clear mail storage on Mac. However, emails are an important part of our lives as professionals, students, novice users. But we are always afraid of losing them and the attachments these consist of. Therefore, we keep finding the safe way to delete mail storage on Mac without affecting data.
When talking about attachments, they are of many types like images, videos, documents, spreadsheets, logos, etc. Even the images in the email signature are attachments and these take a lot of space in our mailbox. So, if you download these images, they are anyway going to take space somewhere. You can only do one thing in this scenario which is to delete these emails to clear up the space.
Now, there are a lot of queries on how to free up mail space on Mac which is why we are writing this blog. We have brought in the most useful methods that a user can undertake to clear the storage space. You will find these methods as explained one-by-one in the upcoming section. Find these out and checkout which one meets your requirements.
How to Delete Mail Storage on Mac by Removing Attachments?
As we all know, it's not the emails that take up most of the space in a mailbox, it's always the attachments associated with them. Since these attachments are of all kinds, it is important to keep your mailbox free of them to save storage space. Here is how you can free up mail space on Mac by removing these attachments from your mailbox:
1. Open Mac Mail and click on the emails you want to delete attachments from. If you can't find the emails, click on the View menu and choose Sort by > Attachments.
2. Now, open the email with the attachment and click on the Message menu.
3. Select the Remove Attachment option from there and the attachment will be removed.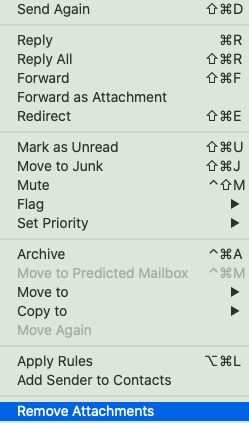 4. If you want to remove mail storage from Mac Mail by removing multiple attachments manually. Then, you can click on the message you want to remove attachment from to get more space. After that, just press Shift + Mouse click on the email till where you want them to be deleted.
5. Choose the Message option and click on the Remove Attachment option and all the attachments from the selected emails will be deleted.
Now, you must be thinking what if there are some emails that are important to you and can't afford to lose, what to do in such a case? Don't worry. We have a solution for that as well. Checkout the next section to know what this solution is to learn how to clear mail storage on Mac without actually losing the attachments.
How to Free Up Mail Space Before Deleting?
You can download the MBOX Attachments Extractor Tool that will help you to save only the attachments of your choice. By doing so, you will be able to delete mail storage on Mac at anytime. As using this software you can simply get all the attachments and save them at any location on Mac machine.
You can even use this advanced tool to know how to extract attachments from Thunderbird application on Mac OS. As it is quite handy and useful for each type of users either novice or technical user. So, if in case you're wondering in what Mac machine it will be easy to use this tool. Then, it won't create any issue while working with any version of Mac operating system.
To ease the task, this tool provides you multiple features that helps to free up mail space on Mac easily.
Steps to Get Attachments Before Removing from Apple Mail
Before anything, download the software to remove mail storage from Mac. Then, follow these simple steps to get the task done quickly and safely on Mac machine.
1. Install and run this advanced utility and click on the Add File(s) or Add Folder(s) option.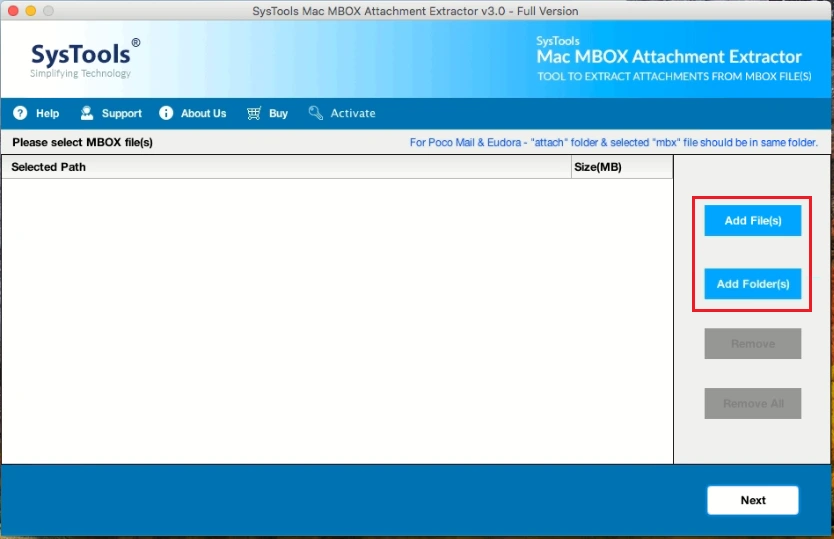 2. Select the Folder options and apply Naming Convention as per your desire to delete apple mail storage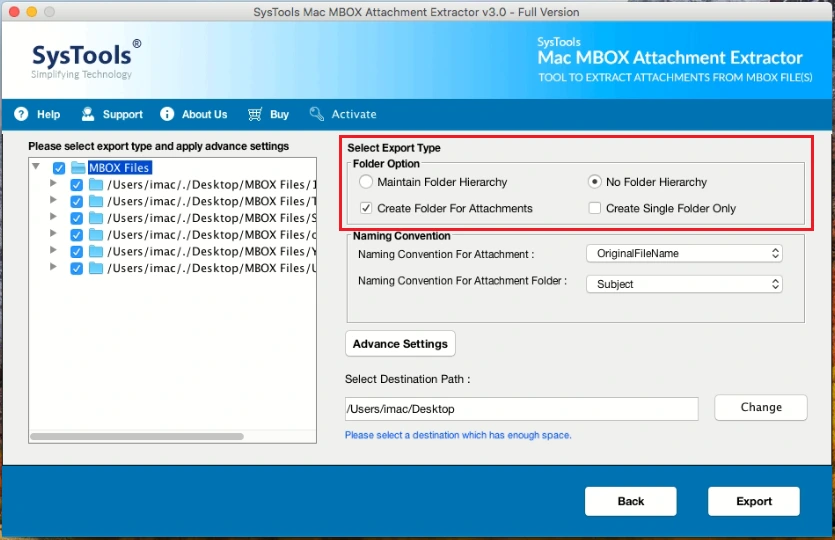 3. Here, you can apply filters and Advance Settings to save attachments according to the needs.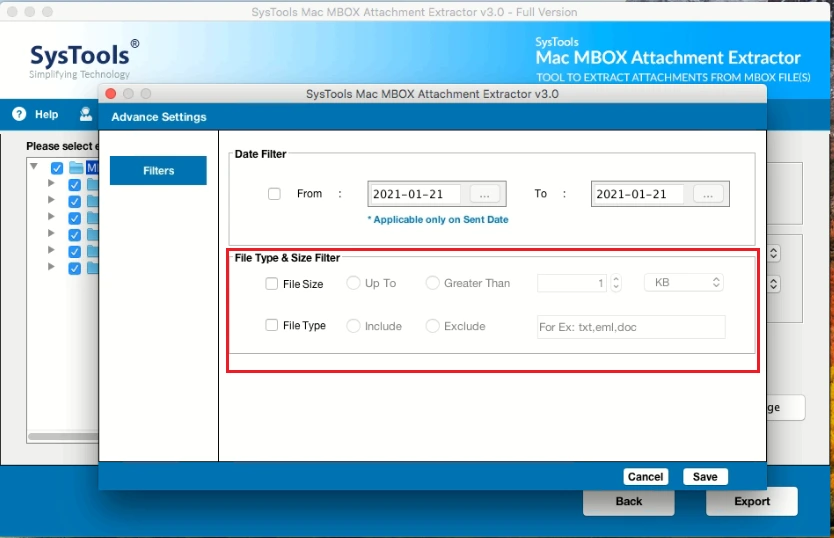 4. Eventually, set a destination path and hit Export button to get attachments on Mac OS.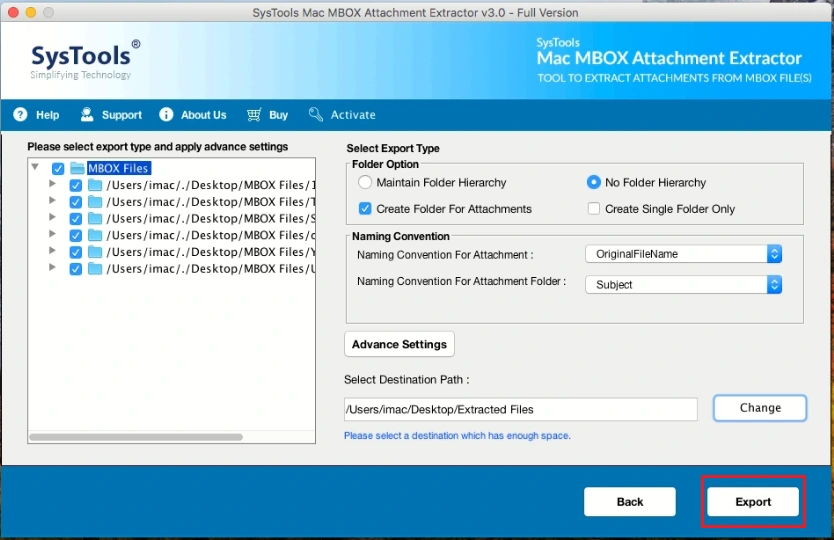 Now, once you have all the required attachments, you can remove mail storage from Mac by deleting all the attachments from mailbox.
How to Clear Mail Storage on Mac by Deleting Attachments Altogether?
It has been seen that the new versions of Mac OS provide a feature to the users that allows you to free up mail space on Mac. Following are the steps for doing so-
1. Select the Apple Menu and click on the About this Mac option.
2. Now, press the Storage tab where you have to choose the Manage option.

3. Choose the Mail button and there you will be able to see how much space the attachments are taking up.
4. Mark the attachments to be removed and click on the Delete button.
Now, once you have deleted the attachments, you can clear out the space by removing emails from the junk folder as well.
Free Up Space from Mac Mail  by Clearing Junk Mail
The emails that you have deleted from the mailbox are stored in the Junk Folder for a certain time-period. You can delete mail storage on Mac by removing these emails as well by following steps:
1. Go to your Apple mail account and click on the Mailbox you want to remove junk emails from in the upper menu.
2. Now, you will find two options here; Erase Junk Mail and Delete Items.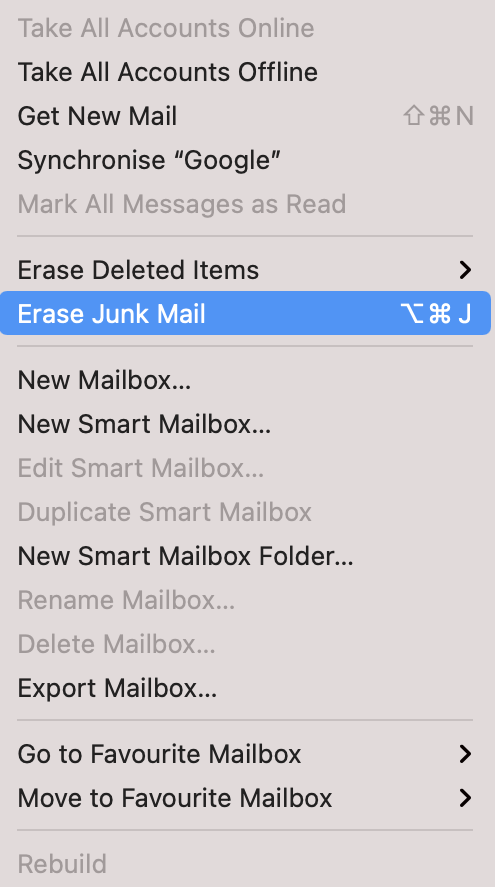 3. Click on either of them to remove the emails from junk to free up mail space on Mac.
This way, all the emails and the attachments that you want removed will be gone from your mailbox.
Parting Words
Not many people know how to clear mail storage on Mac which makes it a difficult job for them to keep the space free for future emails. Therefore, we have discussed the ways especially for those users who have no idea on how to delete mail storage on Mac. Here, all the Apple mail users can use the given methods without going through related troubles. So, if you want to get attachments, you can get them with the help of the tool as mentioned software. Eventually free up space by deleting them along with the emails.