Gmail
How to Delete Gmail Messages at Once in Bulk on Mac Computer?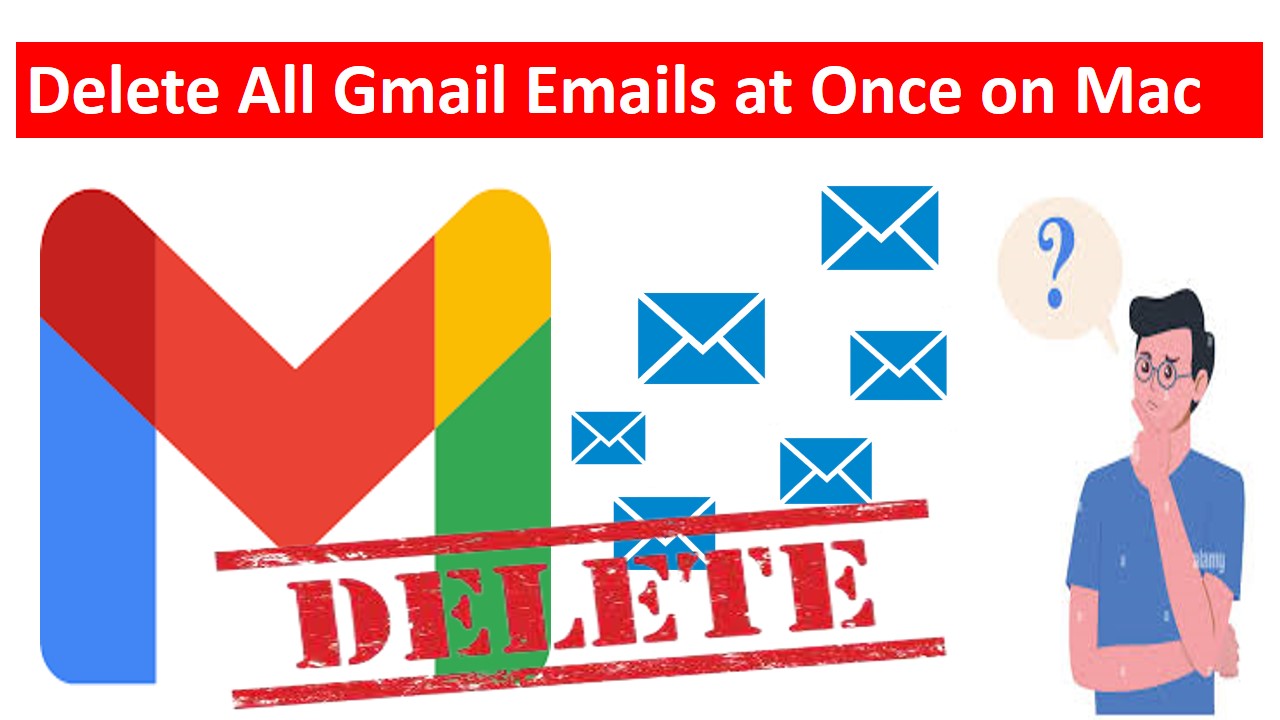 Many users have a habit of making their Gmail account too big. This is because they do not have a habit of removing unnecessary emails from their inbox at regular intervals. Emails that are not urgent at that time tend to build up over time resulting in the mailbox storage being filled up. And once storage approaches 100%, you may want to know how to delete all Gmail emails at once on Mac computer.
There are multiple solutions available using which you can mass delete Gmail emails easily. This article explains multiple ways that will help you to remove bulk emails under different scenarios like deleting all emails, removing Promotional Gmail emails, etc. It will help you to maintain your Gmail account storage and make the best use of it.
An Overview of Gmail Storage-
Gmail provides a large pooled storage allocation to each user. This storage is extremely useful for you if used with proper management otherwise it can cause issues if you are not expert in using and handling labels. However, the introduction of Gmail tabs has really helped a lot in categorizing emails.
Google provides 15 GB of free storage for each free Google account which is your total storage. But that storage is shared with all other Google components as well as Google Drive, Photos, etc.
How to Delete All Gmail Emails at Once on Mac Automatically?
If you have been using Gmail for a long time, you must have surely faced the situation where you want to delete more than 50 emails in Gmail at a time. There are many users who do not remove unnecessary emails when they arrive in their inbox. It keeps eating up your mailbox storage and can lead to hundreds or even thousands of emails.
So, for this situation, you must delete Gmail emails in bulk on Mac as soon as possible. But, removing them all can be a problem if in future you will need any email. Even there might be chances of losing important email messages.
Thus, we recommend you to save Gmail emails to computer to prevent any uncertain situation. Therefore, before deleting Gmail messages in bulk you can take a help of Gmail Mail Backup Tool for Mac. There is an option of "Delete after Download" in this tool which will make your task quick. You can try the demo version of utility for free.
Using this automated tool you will be able to archive Gmail account in PST or multiple other formats. Later on you can just use those resultant file formats into their supported file formats on Mac or Windows OS.
The best thing about this software is it will allow you to keep all the attachments of Gmail emails on your system. It is suitable utility to get EML file from Gmail account if in case your Gmail not working on Mac.
Instantly Remove Multiple Messages from Gmail
To delete all Gmail emails at once, first download the software on your Mac machine. Just after that, install the tool and follow the steps-
1. After installing, run the tool and enter your Gmail account credentials to sign in, hit Login
2. From the next screen, you can choose any given format from Select Export Type section, such as EML
3. Afterwards, tap on the Apply Filters option and set the category as well as date filters as per your need
4. Press the Delete after Download option to free up the space in your Gmail account. Hit Yes when prompted with a warning to delete Gmail emails in bulk
5. Now, to keep this file on your Mac machine, hit the Change button and choose any Destination Path
6. Finally, hit Start Backup to initiate the procedure for creating a backup of your Gmail account data.
Manual Guide to Mass Delete Gmail Emails on Mac OS
So, let's follow the steps mentioned below to for removing emails-
1. Click on the given checkbox to select 50 emails that appear on first screen in Gmail inbox folder.

2. Now, to select all the emails stored in your Inbox folder, click on Select all XXXX messages in Inbox. This will help you to select all the emails from Inbox which you received months or years ago.

3. Finally, delete all Gmail emails at once by clicking on the Delete icon available in the bar. But we suggest you to check that you are not deleting your important emails while performing this action.

Many users who are not technically sound don't know this option to delete emails from Gmail. This checkbox option lets you select multiple emails present on the current page. Usually, the default setting of Gmail is 50 messages per page. So, you can either delete 50 emails per page or select all the emails present in Gmail Inbox.
Read More: Easy Way to Export Emails from Gmail to Mac Mail
Delete Promotional Emails in Bulk in Gmail
Since Google has introduced predefined tab for categorization of emails, it made the management of emails much easier. All the important emails directly come in Primary Inbox and other Promotional and Social emails go into those tabs automatically. Usually, these emails are not important ones and it is a good place to start from.
Click on the Promotions tab in the Gmail inbox.
We will suggest you to first go through the list and unsubscribe to emails if you can. You won't get emails from that sender again in the future.
Check if any important emails are not there. If there are any, drag those emails to another tab.
Enable the empty checkbox to select all the emails in the Promotion tab on the first page.
Now, click on Select all XXXX messages in Promotions option if you want to delete all Gmail emails at once.
Hit Delete icon and it will remove all the messages from it.
Major Drawbacks for Removing Messages Manually
There are a few limitations that you will face while deleting emails from Gmail account on your Mac system-
It will be a tedious method if you try to remove emails from one page at a time from Gmail account.
Moreover, there is a high chance of data lost while deleting all messages.
In order to use this manual method, there is no backup option of your deleted Gmail messages.
Also, it only offers you to select the 50 messages per time, in short, it is time taking process.
Conclusion
Nowadays, almost every single user is using a Gmail account either for email communication or as a registration account on multiple websites. Many users use it as a primary account and end up using 100% storage space offered in a free Google account. But sometimes, its storage space gets full and Gmail stops receiving any email. So, in this case deleting or removing unnecessary emails becomes an important task. Thus, many users like you want to know how to delete all Gmail emails at once. Here, we have introduced a smart tool to help you for bulk deletion messages from Gmail account on Mac. The suggested method is short and simple to execute this deletion process from mailbox. Also, it gives you a facility to securely backing up the Gmail mailbox locally.