Gmail
Want to Fix Gmail Storage Quota Exceeded Issue? Get Solution Here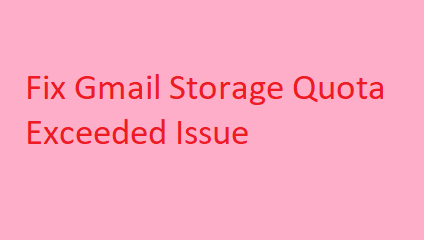 Gmail being the most liked email application among the users, it is used by millions of users. The free Google account provides only 15 GB of storage space to its users. So, many users face Gmail storage quota exceeded issue while working on their email account for few years.
In such situations, users are unable to send and receive emails any more due to storage issues. So, users are recommended to take a backup of their data and store it on local system. In this article, users will get the steps to perform backup and save Gmail emails to computer in simple steps.
"My Google account has reached its 15 GB storage limit. And, I am unable to receive any more emails. I searched for solutions on the web but didn't get any trusted solution. I am looking to save my online data in my local system so that I can delete that data from Gmail. Can anyone please provide me a secure and quick solution to carry out the process?"
Resolve Gmail Storage Quota Exceeded Problem Using a Third Party Tool
The best way to resolve the storage related issues is by taking the complete data and storing it on local system. It will help you to free up the storage so that you can continue Gmail services again without any issue. You can try this utility to Gmail Backup Software in just few clicks. It offers multiple export options to save data and provide multiple features as well that makes whole process hassle-free.
Step by Step Guide
Step 1: Download this software to fix Gmail storage quota exceeded issue.
Download Now
(Mac OS) Purchase Now
(100% Secure)
If you are a Windows user, then you can download the Windows based version of the tool below.
Step 2: Login to Gmail by entering your Gmail ID and Password.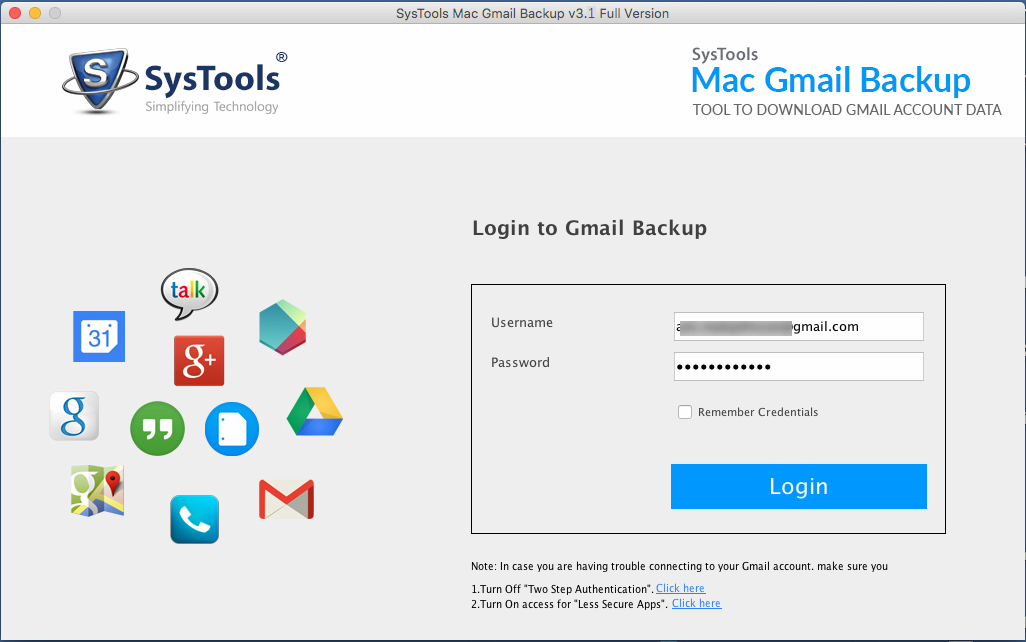 Step 3: Here, you can select any desired output format to save your data.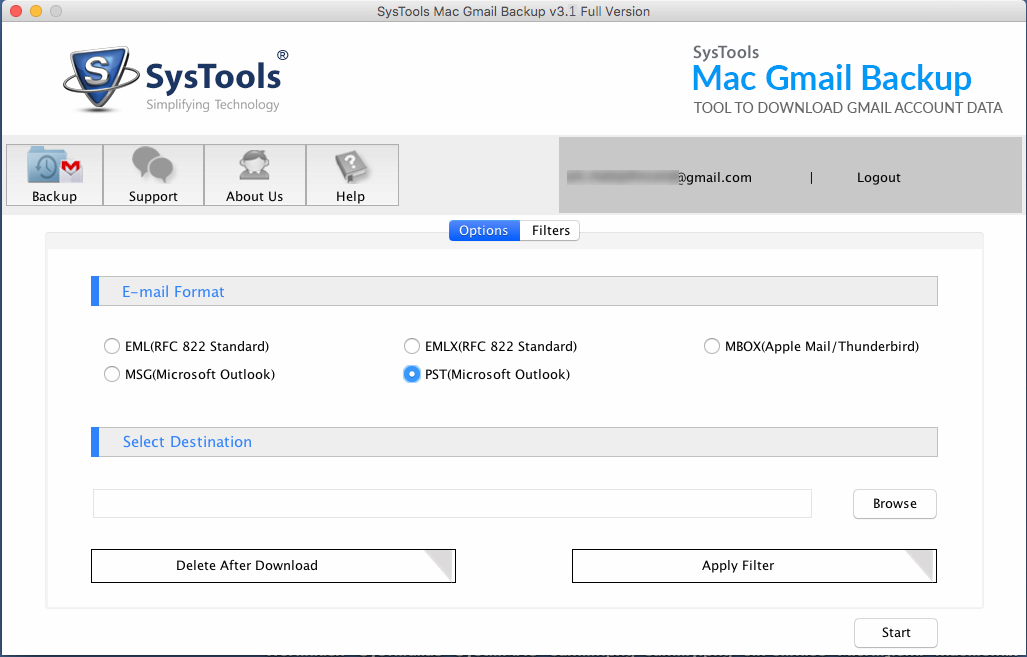 Step 4: You also get the option to apply filters and export only crucial data into system.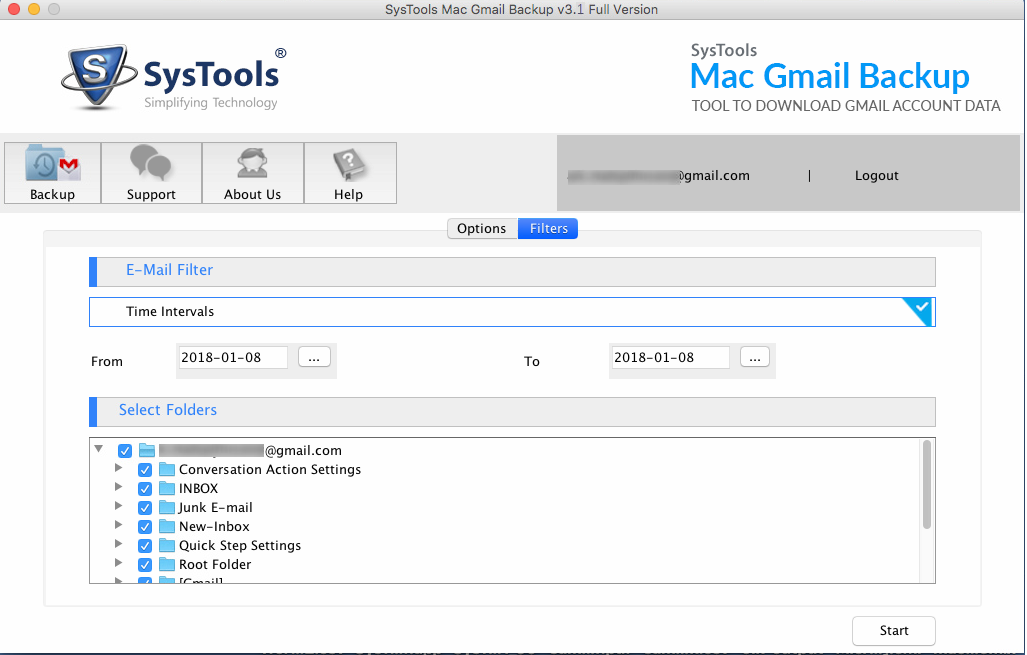 Step 5: Now, Click on the Start button to download emails.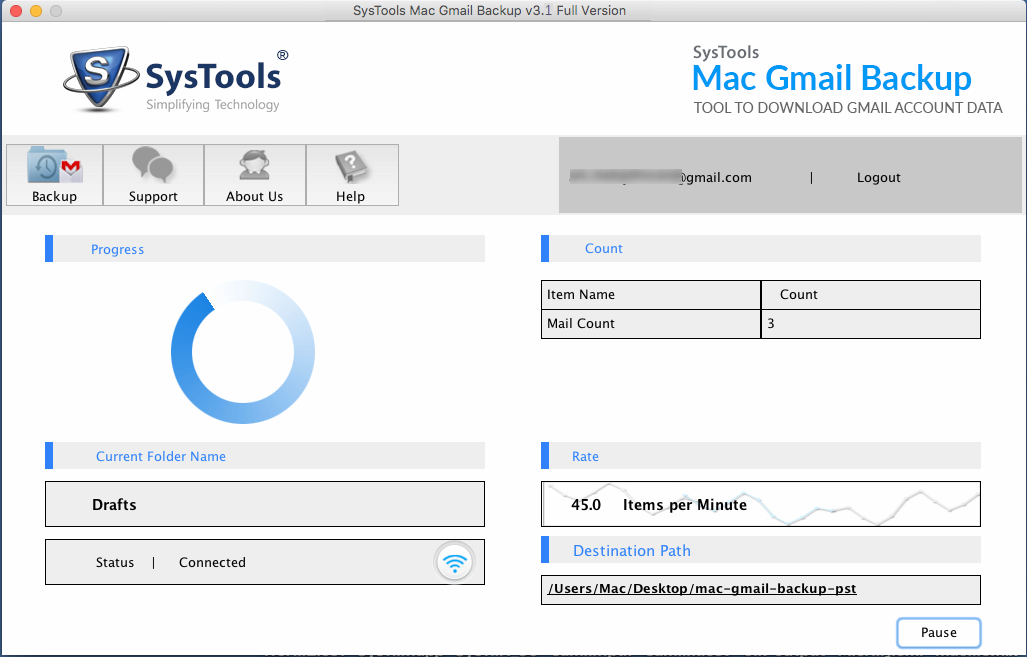 Salient Features of the Utility
As many as 5 Export Options to Download Data
Option to select folders during export process
Date filter option saves data within a specified date range
Delete Gmail emails after backup from tool directly
Select any desired location to save data on your system
You also get the option to pause and resume the task if required
Resolve Gmail Storage Quota Exceeded Problem Using Google Takeout
Google Takeout is a solution to backup and export Google data in zip folder. Users can perform the complete procedure by following the steps mentioned below:
Visit this URL – https://takeout.google.com/settings/takeout to open Google Takeout window.
In Select data to include section, the tool displays multiple Google services on the user screen.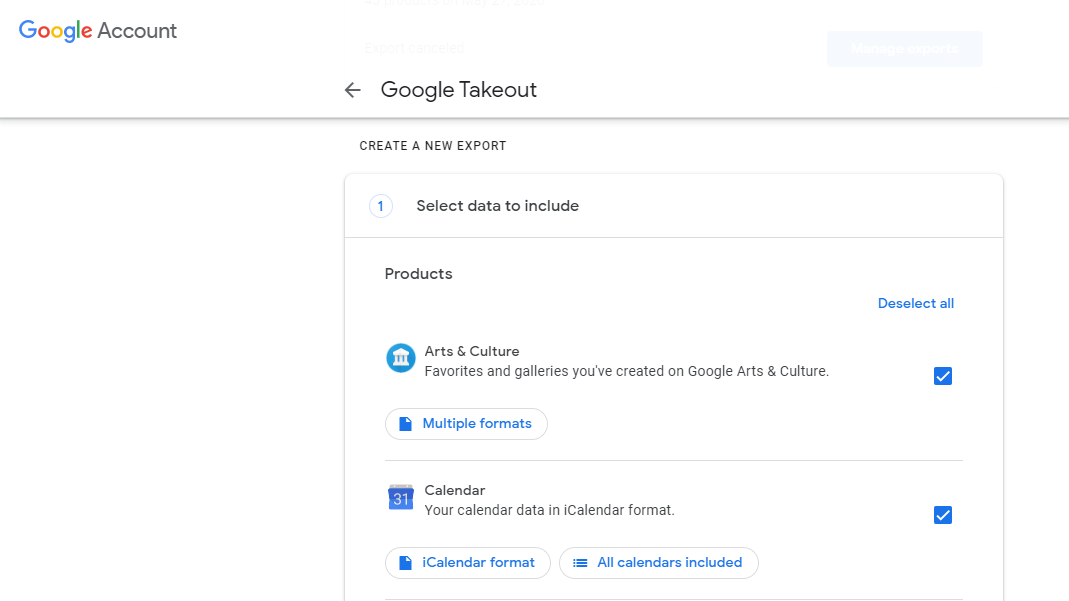 Enable Mail icon and disable all other data items. After that, hit Next button.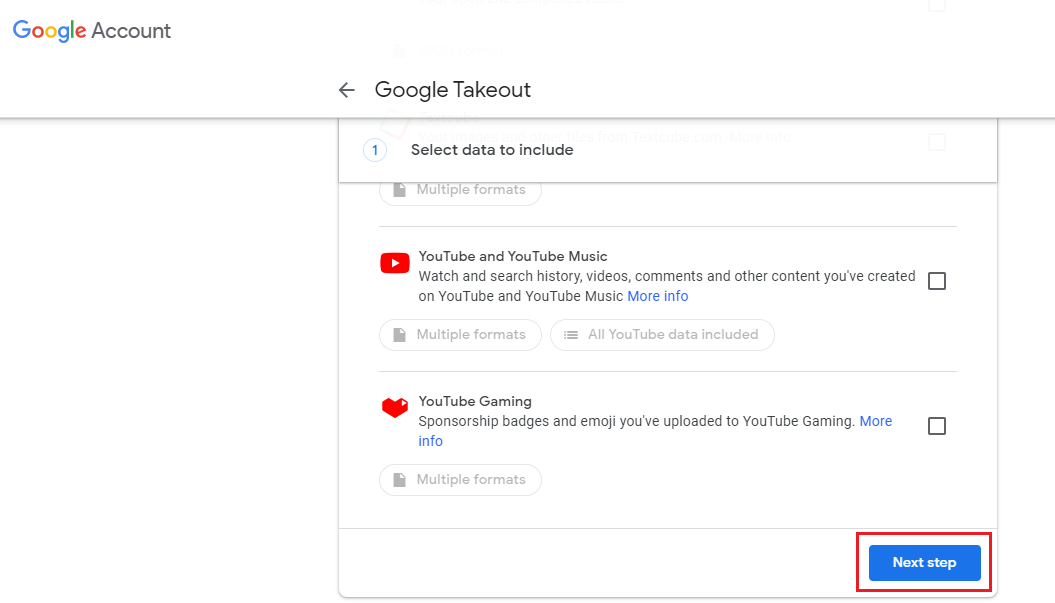 Select the delivery method as Send download link via email option.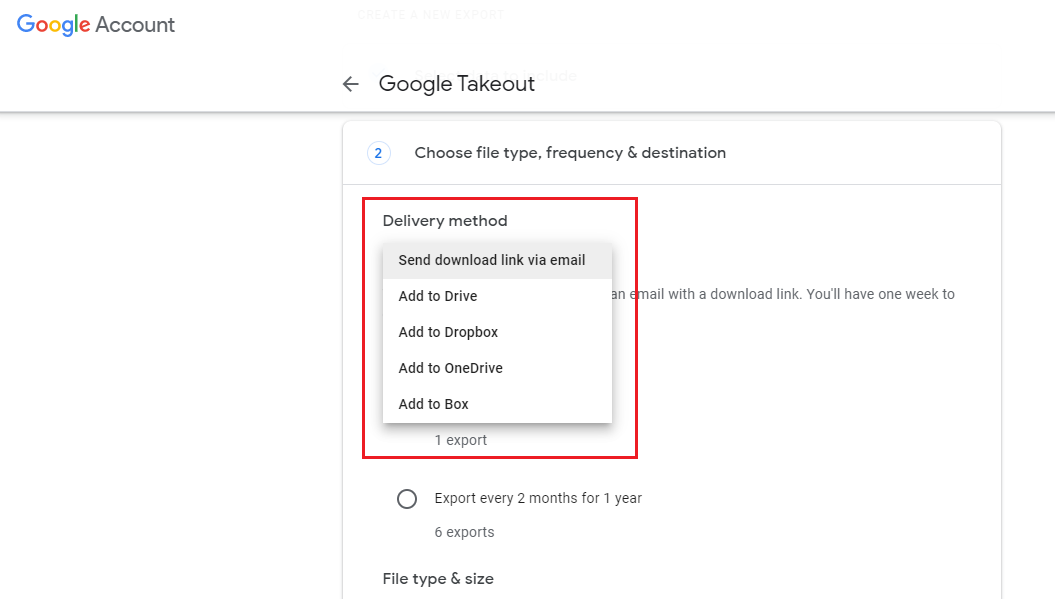 You can also select the frequency of downloading data.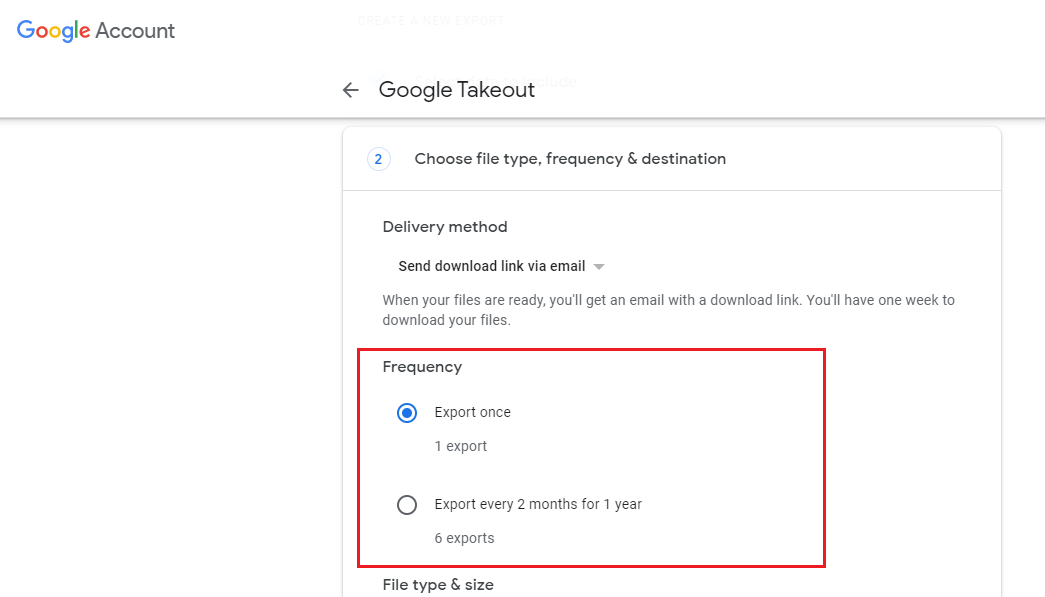 Now, choose the File type and Archive file size.
Finally, click on Create export button to initiate the process.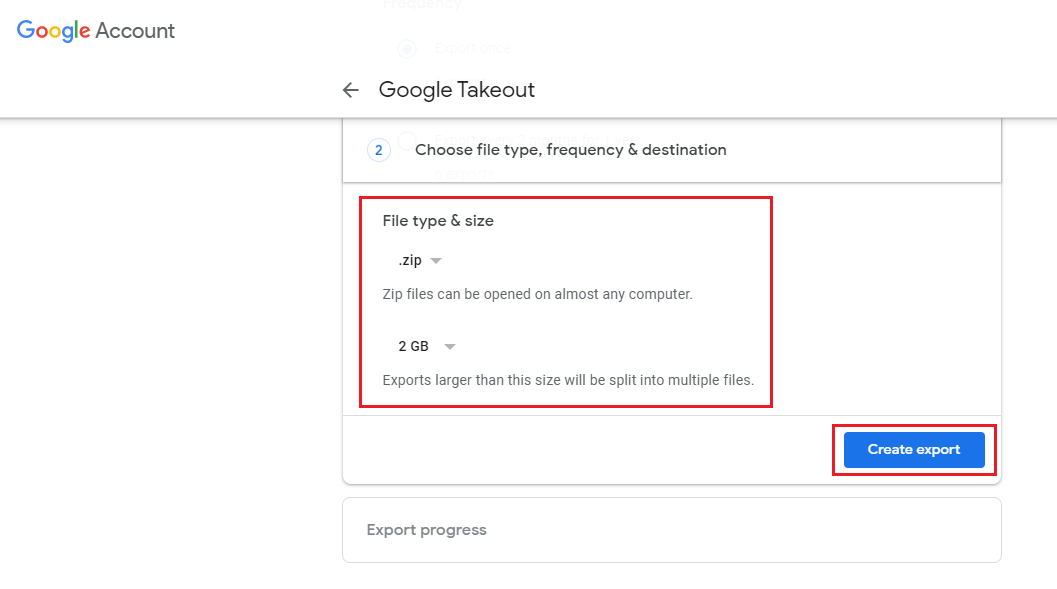 Why Google Takeout is not Recommended to Users?
There are multiple reasons due to which, we would suggest users to go for third-party solution over the manual method. Some of the reasons are mentioned below:
Archive of Gmail can only be saved in MBOX file format.
Users cannot delete data that they have download using Google Takeout.
This process takes a large amount of time to complete the archival task.
If the internet connectivity is slow, then archive download can fail and you to restart the process.
Non-technical users can find this process difficult to perform.
Conclusion
Although, Google offers Google Takeout Tool which can help users to resolve Gmail Storage Quota Exceeded problem. But, the tool is quite complex and can only provide data in MBOX format. So, we recommend the users to try an efficient solution to extract all attachments from Gmail emails. Moreover, users can save their sensitive data in various file formats. So, a user is free to save emails in any of the preferred file formats and access their emails on any supportive email application.
Commonly Asked Queries
Q. How do I fix Gmail over quota?
A. If your Gmail quota is exceeded, then the best option is to save entire mailbox data to local system and delete data from Gmail storage. That will free up space in Gmail.
Q. Does deleting some emails will free up space in Gmail?
A. Yes, it will surely free up some space in your Gmail account. But, it is always recommended to first take backup of your account before deleting emails.