Outlook for MAC
A Detailed Guide on How to Save an Outlook Email as a PDF on Mac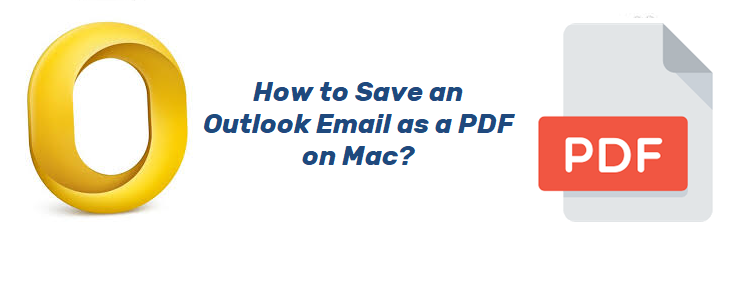 When you're involved in work that involves electronic information, then it is always helpful to have everything in one place. And due to this type of need users prefer PDF file format. Because it is universally supported by all devices. So if you are looking for a way on how to save an Outlook Email as a PDF on Mac, then you are on the right page. Here we are going to discuss the same.
Basically users most of the time users choose those file formats that are easier to work with. And PDF is the right choice for them because it is the most convenient way to share files with others. Along with that PDF files can be stored in a regular document folder, and can be shared with and viewed by others regardless of any OS and device limitations Also, PDF files can also be protected with passwords permissions
How to Save An Outlook Email as a PDF on Mac for Free?
If you want to save the emails for free in Mac, then in this section we are going to discuss the free manual method. And the best part is that you don't have to spend a single penny to perform this method. In order to complete the task follow the below steps:
1. First, open Mac Outlook and then select the email that you want to save in PDF file format.
2. Now, double-click on the email to open it in a reading pane.
3. Click on the File menu option and then choose the Print option
4. From Print Window select Save as PDF option from the drop-down menu
5. Now, enter a file name and click on the Save button to save Outlook email as a PDF on Mac
Drawbacks of the Manual Method
The above-mentioned free process is not that must effective for exporting a large number of Mac Outlook emails to PDF because it is only capable to save fewer mails in PDF. The one-by-one processing of this manual method makes this process very lengthy.
But if in case, if you want to save multiple Outlook emails as PDF on large scale, then it is recommended to use an automated solution. And keep reading this blog because you are so close to knowing the best method to complete this task.
How to Save an Outlook Email as a PDF on Mac Using Automated Way
If you are tired of the one-by-one method to save all Mac Outlook mailboxes to PDF, then Mac OLM to PDF Converter is the best solution for you. It is capable to convert multiple emails from Mac Outlook in PDF without any data alteration & corruption.
Not only emails this tool is capable of saving contacts, calendars, tasks, notes into PDF format from Mac Outlook. While exporting Outlook emails into PDF format, the utility provides various advanced options to set PDF files such as page margin, page layout, page size, bates number, and date stamp. It supports all Mac Outlook versions such as Mac Outlook 2019, 2016 & 2011.
Short Working Steps of the Tool
1. Download and install the tool from the above download button
2. After installation click on the Add File button to add Mac Outlook 2016 OLM file
3. Select the PDF radio button, the user can select the Maintain Folder Hierarchy option.
4. Click on the Advance setting button and choose the settings as per your requirements, then click on the Save button
5. Choose the destination location to save Outlook emails as a PDF on Mac
6. After all settings click on the Export button
Why the Software is Better Method Than the Manual?
The tool comes with some amazing features that make this tool very outstanding and better than the manual method. Some of the features are mentioned below:
The tool gives you two options to add OLM files such as Add Files or Add folder. So you can convert multiple files at once.
There is no need for Mac Outlook users can also save emails as a PDF from orphaned Mac Outlook OLM files
This software support all Mac OS from Mac OS version 10.8 to 10.15.
The tool comes with a date filter so users can save multiple emails at a time based on a date range that is not possible in the manual method.
Also Read: How to Archive Outlook.com Emails on Mac
Conclusion
If you are looking for a solution on how to save an Outlook email as a PDF on Mac, then in this article, we were discussing the two different ways to convert Mac Outlook emails in PDF file format. So you can choose the method as per your requirements or need.