Hotmail
How to Save Hotmail Emails as Adobe PDF on Mac OS?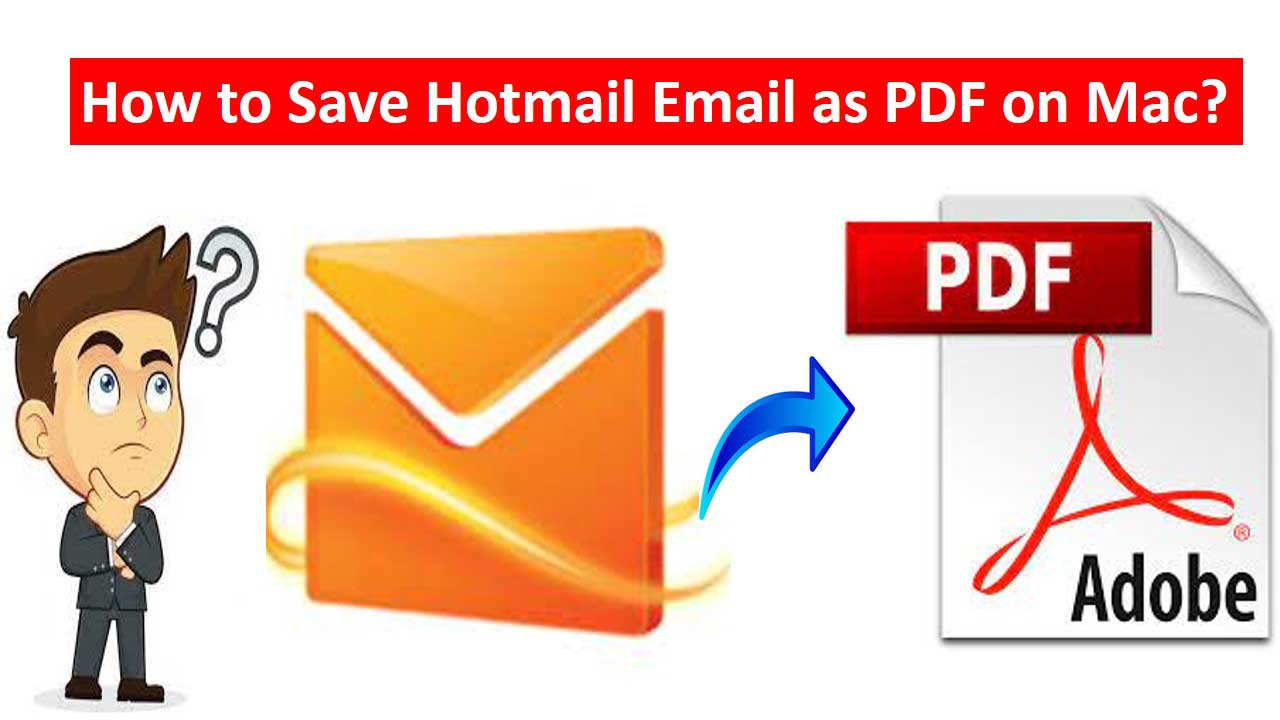 Are you looking out for how to save multiple Hotmail emails as PDFs on Mac OS? If it is so, you can stay with this article and find some simple tricks to download Hotmail emails in PDF format.
Table of Content
This post describes the techniques to save Hotmail emails as PDF documents. Here, we have discussed the multiple ways of saving emails as PDFs with their benefits and shortcomings. Understanding the difference between several methods will assist users to pick the right way to solve their issue. Before going ahead, we will discuss the advantages of PDF files.
Advantages of PDF Files
Adobe PDF is a cross-platform supported portable file format that can be used over any email application, smartphone, web browser, or other devices.
It can protect the contents of the file as it has password protection (User & Owner level protection)
Courtrooms and law prosecution agencies admit digital proof submitted only in PDF format as its contents cannot be different or deleted.
Print Hotmail Email as PDF with Manual Method
Hotmail offers a print option that lets users directly save the email as a PDF file, which can also be printed if needed. However, this way may work well. If users have to save only some selected emails, but if users are looking to export the complete Hotmail mailbox to PDF, then manually this is just impossible. To do so, you just need to perform the following steps procedure.
Firstly, Login to Hotmail account
Open the email and click on the More (…) option
Click on the Print option and choose the option Save as PDF
Browse a location and click Save to copy the Hotmail email in a PDF file
 This process will easily save Hotmail emails in Adobe PDF format to the local system individually. Furthermore, it is the most efficient solution when you want some emails to be saved in PDF format. But we cannot rely on this process while the email count gets bigger and as a result, the process becomes messy.
At that moment, what we can do to accomplish the task of saving emails in PDF documents on a Mac system? We know, not all sorts of applications are compatible to work on the Mac system. To release your effort, we suggest you add Hotmail account to Mac Mail and then perform the PDF conversion process. This process will not require any internet access and your email will be converted to Adobe PDF easily.
In case you are searching for a professional utility, you can try an expert-tested tool for Mac OS. To know more about what are we talking about just go through the next section.
How to Save Hotmail Email as PDF File in Bulk Automatically?
The Hotmail Backup Tool is efficient to work and save data in file formats. It gives a wide range of functionalities to give the best security while converting the Hotmail email into PDF. In addition, there are some other functions available to filter emails within a folder or between a date range. In short, it is convenient to forward multiple Hotmail emails on your Mac system with all attributes.
The application is capable to download all the Hotmail emails into a PDF file in a single instance. Moreover, this utility is quite useful to back up the entire data of Hotmail not just into PDF but into other formats as well, such as EML, HTML, MBOX, etc. After choosing the PST format you can easily migrate Hotmail emails to Outlook application is required. 
In case, if you go for other formats, then you will be able to save all emails easily without data manipulation. As it provides you with full security and keeps all data intact. Or if you ever free up the space of the Hotmail mailbox then this smart utility provides an option to delete emails from the server.
Also read:- How to save hotmail emails to hard drive
Working Steps to Save Hotmail Email as PDF
Download the mentioned software on your Mac machine of any version. After that, you just need to follow the steps shown below, and the rest is done without any human effort.
First of all, download and install the tool 
Then log in with your Hotmail account, tap Login
Now, just select the PDF option
In this step, make sure to browse a Destination path to save the Hotmail email as PDF.
Eventually, mouse-click on the Start Backup option for the completion of the process.
This will download all the emails of the Hotmail account converting each email into PDF file format. You can access this PDF file on Mac after porting the email data to the Mac machine using a USB device.
Conclusion
In this article, we had a discussion on the methods you can choose to save Hotmail email as PDF on Mac. However, the process may seem lengthy but it is easy to execute. Moreover, there will be no data loss throughout the process of email data into PDF format. Moreover, the best thing is you can simply execute this entire process in any version of a Mac machine.
FAQ's Questions Asked by Users
Ques. Can I move Hotmail to PDF on Windows OS?
Ans. Yes, by using the automated solution users can transfer Hotmail emails to PDF on Windows 10 OS. Because above mentioned software is compatible with Mac and Windows OS.
Ques. Do I need to Save Hotmail emails into PDF file format one by one?
Ans. Yes, if you are using the manual method then, you need to save Hotmail emails into PDF file format one by one. But by using software users can export Hotmail emails into PDF file format in bulk instantly without any hassle.
Ques. Is it possible to save 1000 Hotmail emails into PDF file formats?
Ans. Yes, in the above section, we have explained a reliable solution. It is capable enough to download unlimited emails into PDF file format without any restrictions.