MAC OS
Import Outlook Contacts to iCloud: Top Techniques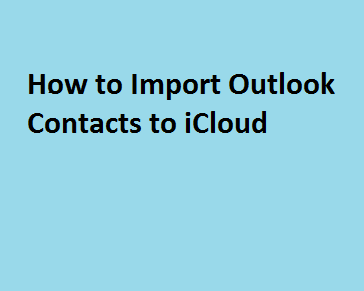 Due to the increasing number of ransomware and other security threats, people are becoming interested in saving their valuable data and files in various cloud storage services. iCloud is a globally popular cloud-based storage service offered by Apple. Both Mac and Windows users choose iCloud for storing data securely.
Do you know that you can also import Outlook contacts to iCloud for 24/7 access? Not only that, but you can also use iCloud to backup Outlook contacts for any unforeseen corruption. For both situations, this write-up will be helpful to the users. This blog will provide solutions to transfer contacts from Outlook to iCloud for both Windows and Mac users.          
"Hi All. Usually, I use Outlook in my office but while traveling, I use Mac machine OS version 10.15 Catalina. I was looking for a way to access Outlook PST contacts from anywhere. One of my friends suggested me to import Outlook contacts to iCloud.  But I do not know how to. Can anyone share any viable technique to me?"
"I have been using Outlook 20119 for quite some time but recently, facing some errors while opening Outlook. I do not want to lose my contacts in case some severe PST file corruption appears. That is why I want to back up my Outlook contacts in iCloud. Any suggestions?"
How to Transfer Contact from Outlook to iCloud on Windows?     
If you are a Windows user and need to import Outlook contacts to iCloud, you need to go through quite a lot of steps.
1. Open Outlook and click on File -> Open & Import – > Import/Export.
2. Click on Export to a file and then Comma Separate Values (CSV).
3. Choose Contacts folder and then select Browse to choose the file saving location.
4. Click on OK & Finish to save the contacts in CSV format.
5. In Windows Search box, type Contacts.
6. In Contacts window, click on Import -> CSV Comma Separated Values.
7. Select the CSV files and import into this folder.
8. After the files are imported, click on Export button and select vCard format.
9. The files will be saved as vCard format. Remember that this method will save each contact in separate files.
10. Open iCloud and click on Gear icon from the bottom left corner of the screen.
11. Click on Import vCard button and select all the vCard files.
12. Within a few minutes, all Outlook data will be imported in iCloud account.
How to Import Outlook Contacts to iCloud on Mac?
Suppose you are a Mac user with an Outlook PST file that you need to import in iCloud. What to do in such a situation? The easiest method is to use Mac PST Converter. This application can extract Outlook contacts from PST file and convert them in iCloud supported vCard v4.0. Then users can seamlessly import the data in iCloud without any compatibility issue. This is how you can perform the import process in two stages:
Stage 1: Convert PST to vCard on Mac
Step 1. Open Mac PST Converter on Mac machine.
Step 2. Click on Add File button to add PST file.
Step 3. Select vCard as the output file type and Maintain Folder Hierarchy option 
Step 4. In the Advance Settings section, select naming convention and vCard version as 4.0.
Step 5. Select the Destination location and then the Export button and the tool will convert the contacts data in vCard in a few minutes.
Stage 2: Import PST Converted vCard into iCloud
1. Access your iCloud account on Mac using correct credentials.
2. Click on the Gear icon and choose Import vCard option.
3. Browse and select vCard file that you want to import
4.  Thus you can import Outlook contacts to iCloud.
Added Benefits of Using Mac PST Converter
Import from Multiple PST: This software allows users to add and import multiple PST files at the same time using Add Folder button. Thus, it saves time and effort compared to the other methods.
Naming Convention: While converting the Outlook PST contacts into vCard, users can choose the naming convention for the contacts. This will ultimately help them find the contacts during and after import.
Generate iCloud Supported vCard Format: If users use this software to import contacts from Outlook to iCloud via vCard, they can choose version 4.0 as their output file. iCloud supports vCard 4.0 so it will easily import the vCard files.
Create Separate or Consolidated vCard: This tool offers two options for the users while Outlook PST contacts import. By default, all the contacts will be saved in separate vCard files. But, if users want, they can also save the complete address book in a single vCard file.
Also Read: How to Convert PST File with Mac PST to HTML Converter Instantly
Conclusion
For the people who want to secure their Outlook contacts in some Cloud platform, or want to access PST contacts from anyplace, anytime; iCloud is a great option. Since it is a cloud storage, users can access it from any Windows or Mac system with the help of Internet connectivity. In this blog, we have discussed reliable methods to import Outlook contacts to iCloud on Mac and Windows. Users can choose the method of their choice and implement the steps as mentioned here to transfer contacts from Outlook to iCloud.