Outlook for MAC
Mac Outlook Cannot be Opened Because of a Problem? What to Do Now?
Summary: This blog post describes how to resolve an issue due to which Mac Outlook cannot be opened because of a problem. In addition to manual methods, it also provides you with one of the best third-party repair solutions. Read on for more information.
If Microsoft Outlook won't start, don't despair. Recovering and using your email client might be easier than you think. The correct solution depends on your situation and the version of Microsoft Outlook you are using. The following article shows you how to fix the problem if Outlook for Mac keeps crashing at startup.
Try Following Solutions if Mac Outlook Cannot be Opened Because of a Problem
Solution 1: Ensure that you are Running Updated Outlook and Mac OS
Carry out the following steps to update Mac OS version:
Go to System Preferences and then click Software Update option.
If you are running Mac OS High Sierra or other earlier version, then the process will change. You have open App Store and then update Mac OS version.
Steps to Update Mac Outlook
1. Open Microsoft application and then navigate to Help menu and click on Check for Updates option.
Now, the AutoUpdate feature will check for updates. Hit the Update button if there are any pending updates.
2. If you update Mac Outlook, then it will result in better performance, updated features and might also remove error messages as well.
Solution 2: Disable Add-Ins Available in Outlook for Mac
There is a possibility that the reason Mac Outlook cannot be opened because of a problem is that some add-ons might create problems. In such cases, it is suggested to disable or remove these plugins and then try to open the application. You also need to make sure that all these plugins are updated to the latest version.
Several users have tried and proved to be successful with this solution when their Outlook 2016 for Mac was not opening. The application does not display any error messages and works smoothly as it should.
Solution 3: Check if Outlook Profile is Corrupted & Resolve it
If you are still having problems with Mac Outlook, try the following steps to see if there is a problem with your configured profile. Therefore, you can use the Outlook Profile Manager application to create a new profile. After that, set this profile as the default profile and start Microsoft Outlook. If it works without a problem, then it is your old profile due to which Mac Outlook cannot be opened because of a problem.
There might be a possibility that your old profile is corrupt, and Mac Outlook cannot access the profile content. This can cause serious problems, and you will not be able to open Outlook until the profile is fixed, and you have your data intact. Hence, to fix corruption issues, it is suggested that you use a third-party tool i.e. Mac Outlook Database Rebuild Utility and export your complete data in the accessible state.
The program is compatible with Mac OS 10.15, 10.14, 10.13 up to versions 10.8. It is very easy to use and compatible with Outlook for Mac versions 2019, 2016, and 2011.
Working Guide of the Software
If your Mac Outlook cannot be opened because of a problem, then you can perform the following steps:
1. Launch this software on your system and select the Mac Outlook version that you are running.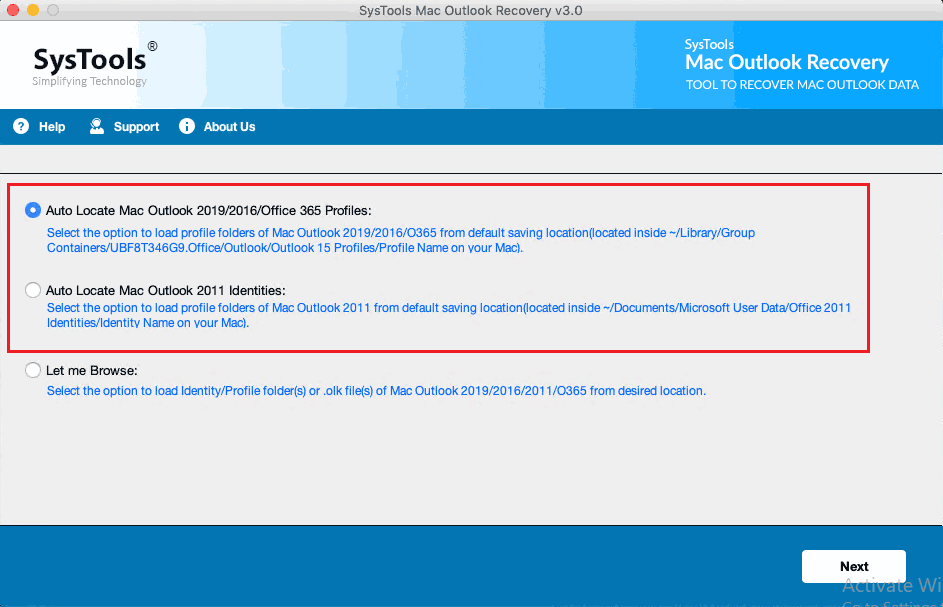 2. Choose the output format from 10 export options to export database in healthy format.
3. The software also provides you with the option of Advance Settings and select destination location.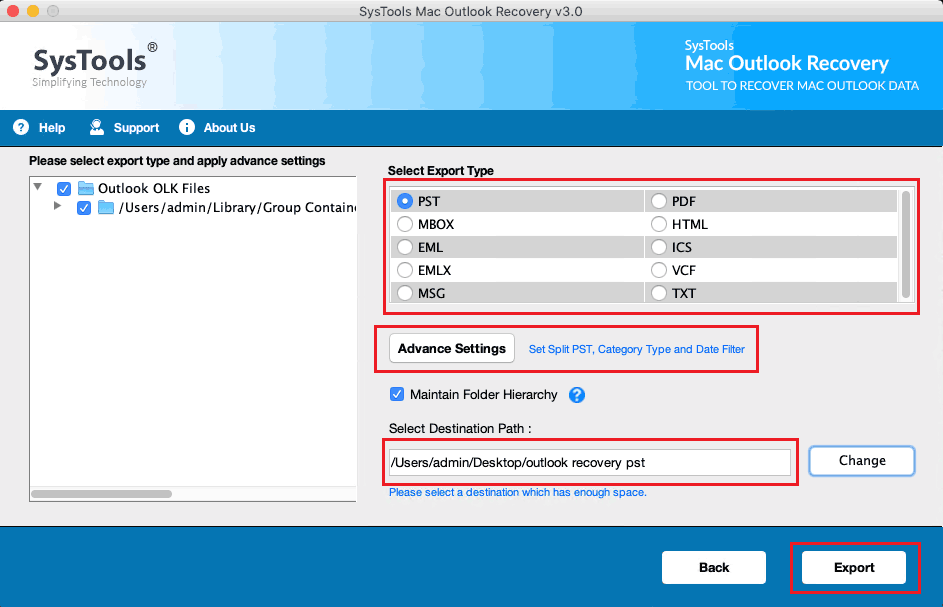 4. Click the Export button once you apply all the required settings.
Solution 4: Run Following Commands
The commands and steps below will help you disable the preview of the encrypted emails that may be the cause of Outlook freezing.
Close Outlook for Mac and open Terminal App.
Enter the command mentioned below and then press Enter.
defaults write com.microsoft.Outlook DisablePreviewForSMIME 1
Then, execute the below command:
killall cfprefsd
Finally, quit Terminal app and restart your machine. Then, launch Mac Outlook.
Final Words
The above article describes the four ways that will help you to resolve the issue if your Mac Outlook cannot be opened because of a problem. There could be several reasons which could be causing this problem. So, it is suggested that you try the above solutions and check which one works for you. You can opt for the third-party tool if the database is corrupted.