Outlook for MAC
Outlook for Mac Keeps Crashing at Startup on your System? Fix it Here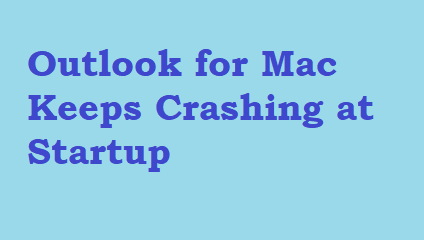 Although Outlook for Mac is a great email application to use, but many users can run into problems when using it. The most common issue that the users face is that Outlook for Mac keeps crashing at startup. In this article, let's take a look at the solutions to fix Outlook crashing on startup. Here are some simple and effective solutions to solve this problem.
Outlook for Mac Keeps Crashing at Startup? Try the Below Solutions
Here in this section, we are going to discuss some of the troubleshooting techniques to fix the Outlook Mac Outlook crashes on startup. So, go through the techniques to resolve the issue.
Solution 1: Make Sure that Mac OS and Outlook are Updated
To update Mac OS, implement the below steps:
1. Open System Preferences >> Software Update.
If you are using Mac OS High Sierra or its previous version, then you have to go to App Store and update the Mac OS version.
Implement the following steps to update Outlook for Mac:
1. You can update your application by opening Microsoft application >> Help >> Check for Updates. Then, the AutoUpdate feature will check for updates and if an update is available, click on Update button.
2. Updating Mac Outlook will also remove many other error messages. It will also help you in improving performance and get updated features.
Solution 2: Disable Add-ins of Mac Outlook
There are chances that the reason why Outlook for Mac keeps crashing at startup is some Add-in might be creating trouble. In such situations, you are suggested to disable or remove those Add-ins and then try opening the application. You also need to ensure that all these Add-ins are updated with the latest version.
Many users have tried this solution and they were successful in it. The application does not show any error message and works smoothly as it should work.
Solution 3: Run Following Set of Commands
The below commands and steps will help you to disable the preview of encrypted emails which can be the reason of freezing Outlook.
Quit Mac Outlook.
Now, open Terminal App.
Here, enter following command and press Enter button.
defaults write com.microsoft.Outlook DisablePreviewForSMIME 1
After that, enter the below command:
killall cfprefsd
Now, close Terminal app >> Restart your system >> Open Mac Outlook.
Solution 4: Resolve Profile Issues
If Mac Outlook still has problems, please try the following steps which will help determine if there is a problem with the configured profile. For that, you can use the Outlook Profile Manager app to create a new profile. Then, set that profile as your default profile and start Microsoft Outlook. If it runs smoothly, then it was the old profile due to which Outlook for Mac keeps crashing at startup.
There might be chances that your old profile is corrupted and Mac Outlook is unable to access the contents of the profile. It can cause serious troubles and you won't be able to open Outlook until the profile is fixed and you get your data in a healthy state. Thus, to fix corruption issues, you are suggested to use a third-party tool to rebuild Mac Outlook database and export your complete data in healthy form.
The software is compatible with Mac OS 10.15, 10.14, 10.13 till 10.8 versions. It is extremely simple to use and supports Outlook for Mac 2019, 2016, and 2011 versions. Even novice users can run this application who are not technically strong face issues while implementing manual methods.
Guide to Run the Tool if Outlook for Mac Keeps Crashing on Startup
Step 1: Open this tool on your system and choose the Outlook version that you are running.
Step 2: Select the output format in which you want to save your data.
Step 3: You can use Advance Settings and select the destination path as per your choice.
Step 4: Hit the Export button and the software will start the recovery process.
Step 5: Once the whole process is completed, you will get the completion message then click on the OK button.
Conclusion
The above article shows the 4 different ways keep Outlook not working if the Outlook for Mac keeps crashing at startup. There can be various reasons which could be the reason for this problem. So, you are suggested to try the above solutions and check whichever works for you. A third-party software is also discussed if your Outlook database is damaged and it is unable to access it.