Outlook for MAC
Outlook for Mac Slow to Download Attachments | Know the Fix Here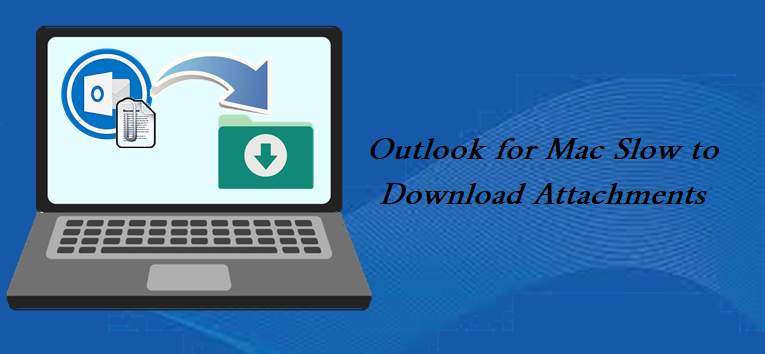 An Outlook is a part of Microsoft Office applications and it's one of the most popular email clients on both platforms Windows and Mac. But there are many Outlook users who experience that their Outlook for Mac slow to download attachments and they do not know why it happens.
So here in this blog, we are going to discuss some techniques that help to speed up your Mac Outlook while downloading email attachments.
Well, we know that a sluggish or slow Outlook can affect the whole working experience and there are many Mac Outlook users reporting the issue on the various forums. However, let's see one of the users' queries to know what the real problem is.
Hi, I am using Mac Outlook for a very long time. But from few days I have noticed a strange problem in my Outlook while downloading the attachment. My Outlook getting lots of time while downloading 80 kb attachments. Now, I have to save lots of attachments to download. So if anyone knows the fix then please help me.
How to Fix Outlook for Mac Slow to Download Attachments?
Well, we know that the main function of any email client is sending and receiving emails. Also, send and receive attachment is one of the most used features but if any issue occurs then it affects the user's experience.
Hence, here in this section, we going to cover some techniques to fix the same issue. So follow the below technique.
Solution 1: Delete Cache of Mac Outlook
Sometimes when our Cache memory full due to cache files then you will delay in the attachment downloading process. Basically, the cache file stores all the files which we have open once. So to clear the cache memory of Mac Outlook follow the below steps:
Select the navigation pan and right-click on the account option
Click on the properties option and then click on the empty cache option
After that right-click on the folder that contains the attachments that are not downloaded yet
At last, click on the Synchronize Now option
Solution 2: Update your Older Mac Outlook
If you using the older version of Mac Outlook the update it. Because sometimes due bug in recent versions hence the company release the update to fix it so check for the update and if it is available simple update it.
Open Office app like Outlook
After that click on the Help menu
And then choose the Check for Update option
Solution 3: Reset Your Mac Outlook Account
If you are still facing the issue of Outlook for Mac slow to download attachments, then you can try the reset option. So in order to reset the Outlook email account first, you have to do remove your current Outlook email account and then re-add the Outlook emails account again. Follow the steps below to complete the reset of the Mac Outlook account.
Firstly open Mac Outlook and go to the tools option
Select the current Account from the tool option
Now choose the Account which you want to reset
Click on the delete button and confirm your choice to reset the account
After removing the account add the same account again.
Solution 4: Solution Disable Antivirus
Sometimes antivirus program also affects the Outlook program and slows down it. Because it blocks malicious attachments. So, to make it fast you can disable your antivirus program.
Instant Alternative Solution
There is no doubt the above-listed solutions will definitely going to fix your Outlook for Mac slow to download attachments. But if any reason nothing will work or if you do not want to spend your time in the manual method, then you can try Mac Outlook Attachment Extractor tool. This is one of the best attachment management toolkit that is capable to download the attachment from email contacts calendars tasks and journals.
Also, that tool is capable to extract attachments from OLM, OLK, and from orphaned PST files. The tool supports all versions of Mac Outlook as well as Mac OS
Let's Wrap Up
Outlook for Mac slow to download attachments is a very common problem, and there are so many users facing this issue. So here in this write-up, we have discussed the top four manual methods to fix this issue. Additionally, we have also mentioned an alternative solution too. So now, it up to you to choose the right solution for you.