Outlook for MAC
Outlook Mac Export Specific Folder – Expert Guide on Outlook for Mac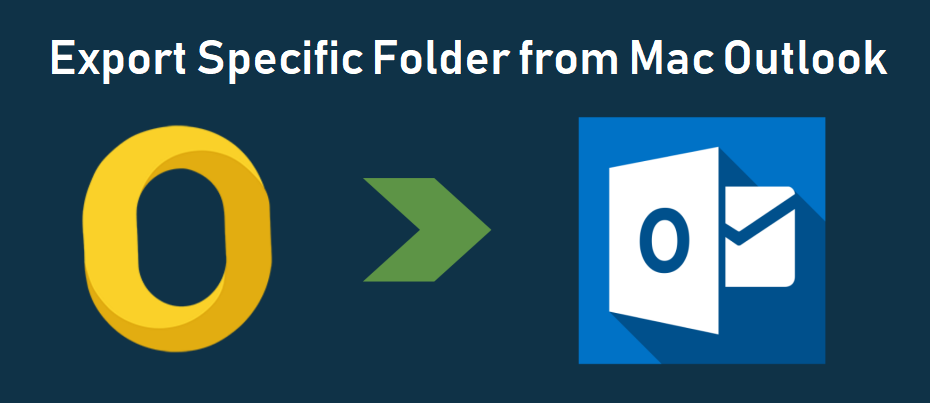 Many users look for Outlook Mac export specific folder as there could be emails or data stored in a folder that is specifically more important. So, everybody knows Outlook is a well-known email client which is used by a good amount of users worldwide. Various users are working on Outlook for Mac and have a lot of data stored in their inboxes.
It is not a difficult task to perform, only the right methods should be used. Here, we will give you explanations of the solutions for Outlook Mac export specific folder. Also, we will tell you which solution would be the best for you to undertake.
Learn the methods to export on my computer folder Outlook Mac in the upcoming sections. Stick to the blog for detailed information on the working of the methods.
Important Note: If you want to transfer the data without having to go through any troubles and as quickly as possible keeping the entire data integrity and folder structure maintained, you can use the instant solution. Check it out and understand why it is the best method to perform the exportation process.
Methods for Outlook Mac Export Specific Folder Query?
In this blog, you will find two methods to transfer the data that are easy to learn and help in the best way possible. The first one is the manual method to export the data files that we will be explaining next. Although, it is important that the user understands that the file they will get at the end will be OLM file including entire data.
The second method is the instant solution which is capable for Outlook Mac export selected emails from the exported OLM file and saving it into 6+ file formats including Outlook for Windows. Let's now take a look at both the methods to Outlook Mac export specific folder.
Export Specific Emails from Outlook Manually
Following are the instructions to perform the process:
1. Open Mac Outlook and click on the Tool tab.
2. Select Export and an Export to Archive File(.olm) window will appear on the screen.
3. Choose the folder you want to export containing the data and hit Continue.
4. Go to the Save as box and select the Downloads folder. Click Save.
5. As soon as the data is exported, you will receive a notification, hit Finish and the process will be completed. And easily you can solve export on my computer folder Outlook Mac issue manually. 
This is the manual method to export the data from Mac Outlook. Remember, this method will only save the data in a single OLM file and not selectively. So, if you want to save data specifically, you should go for the next solution and make sure your requirements are fulfilled.
Instant Solution for Outlook Mac Export Specific Folder
The method to save only selective emails from the exported files is the Mac OLM File Converter Tool that can easily make sure all the data that you want to export is safely being transferred. This is a reliable solution and also offers a free demo version for the users to use it for satisfaction first. With the help of this utility, you can even open Mac OLM file in Windows Outlook.
The software allows Outlook Mac export selected emails in various file formats such as PST, EML, EMLX, MBOX, ICS, MSG, CSV, HTML, VCF, and PDF. Also, the on-disk hierarchy of the folder is preserved and the data integrity is maintained well. This tool is compatible with all the new versions of Mac OS X for exporting calendar from Outlook Mac OS. Also, if you want to convert data in PST format, you can choose to split the files into small parts as well.
Let's now understand how this tool to Outlook Mac export specific folder works.
How Does the Tool Help in Exporting Data?
Learn the steps for Outlook Mac export selected emails as mentioned below:
1. Download the software and choose Add Folder(s) option to select the folder containing the OLM files.
2. Choose the folder and hit Open. Click on the Next button to skip to the next step.
3. Now, choose between Export All Folders or Export Selected Folder(s) option as per your requirement. We are going for Export Selected Folders option.
4. After that, select the file format of your choice, we are selecting PST format. Mark the Maintain Folder Hierarchy check box.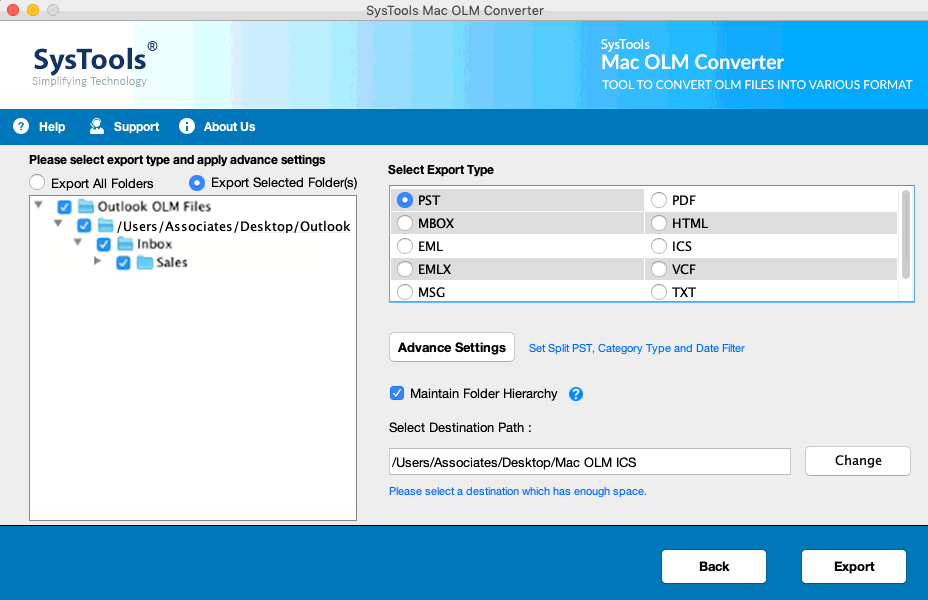 5. Apply Advance Settings and set the filters according to your needs and press Save.
6. Select the Change button for a destination location for the end result, click on New Folder option and hit OK.
7. Finally, press the Export button to complete the process.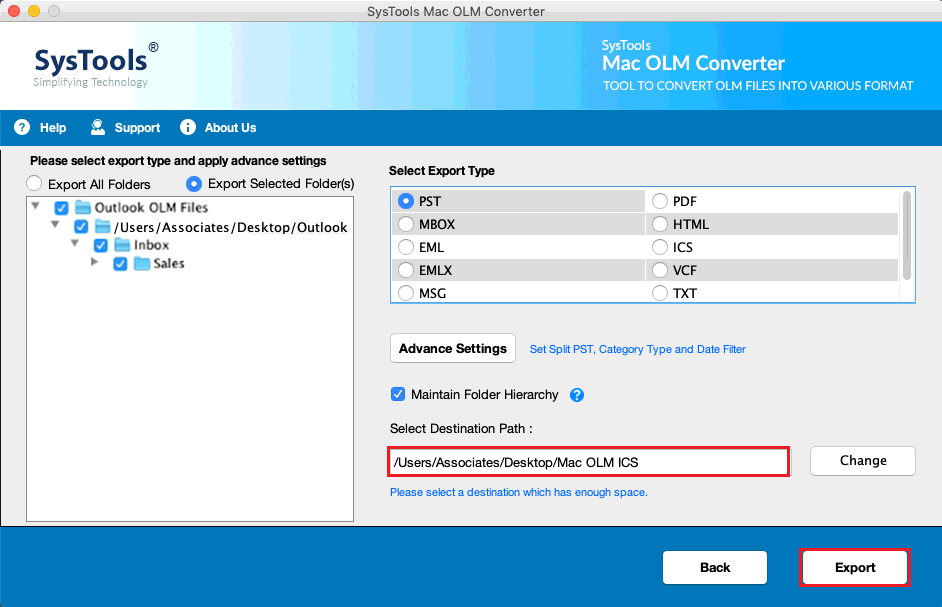 With the help of this method, users can easily understand the process for Outlook Mac export specific folder issue. The advance settings for PST file help to choose the size of the PST file after you want to split it into smaller parts.
During export on my computer folder Outlook Mac tool gives the categories to export data from and the date-range from which the files are to be exported by selecting a From and To date.
Special Case: If you are facing problems while exporting OLM files from Mac Outlook due to any possible reasons and you want to export a specific folder from Mac Outlook. In that case, you can drag and drop that particular folder from Mac Outlook in Finder Window in MBOX format. After getting that MBOX file, you can use MBOX to PST Converter and convert your data into PST format.
Ending With a Note
Sometimes, users want to move their data also because of storage space query. If that's your case, then the solutions mentioned here are perfect for you to Outlook Mac export specific folder. Make sure you choose the best one that is suitable for you. So that, you will have a great experience with the exportation process. Moreover, the manual method works well but in case of Outlook Mac export selected emails it is not good to go.
This is why, we have mentioned an amazing solution that can easily convert specific data to any of the mentioned file formats. As a result, you can use them in other email clients as well easily. So, learn the features and working of both the methods for Outlook Mac export specific folder query and go for the right solution for your situation.
FAQs
Que-How to convert OLM files on Mac using tool?
Ans-Here are the steps to export OLM files in batch:
Step-1: Download OLM Converter for Mac.
Step-2: Add OLM File/Folder.
Step-3: Select Export Type and Provide Date Range.
Step-4: Click Export Button to Start OLM Conversion.
Que- How to export Mac Outlook OLM to PST.
Ans- Follow these steps-
Step 1: Create an IMAP Account
Step 2: Set up an IMAP account in Mac Outlook.
Step 3: Export MAC Outlook Mails to IMAP Account
Step 4: Adding the IMAP account to Windows Outlook
Que- Will this tool for Mac make any changes to the meta data of email messages?
Ans- No, this tool is developed using advance algorithms which makes sure that the data integrity is maintained throughout the process.
Que- Does its demo version work?
Ans- Its demo version convert 25 files of Contacts, Calendars, Notes & tasks.