Import & Export
How to Open OLM File in Windows Outlook Instantly?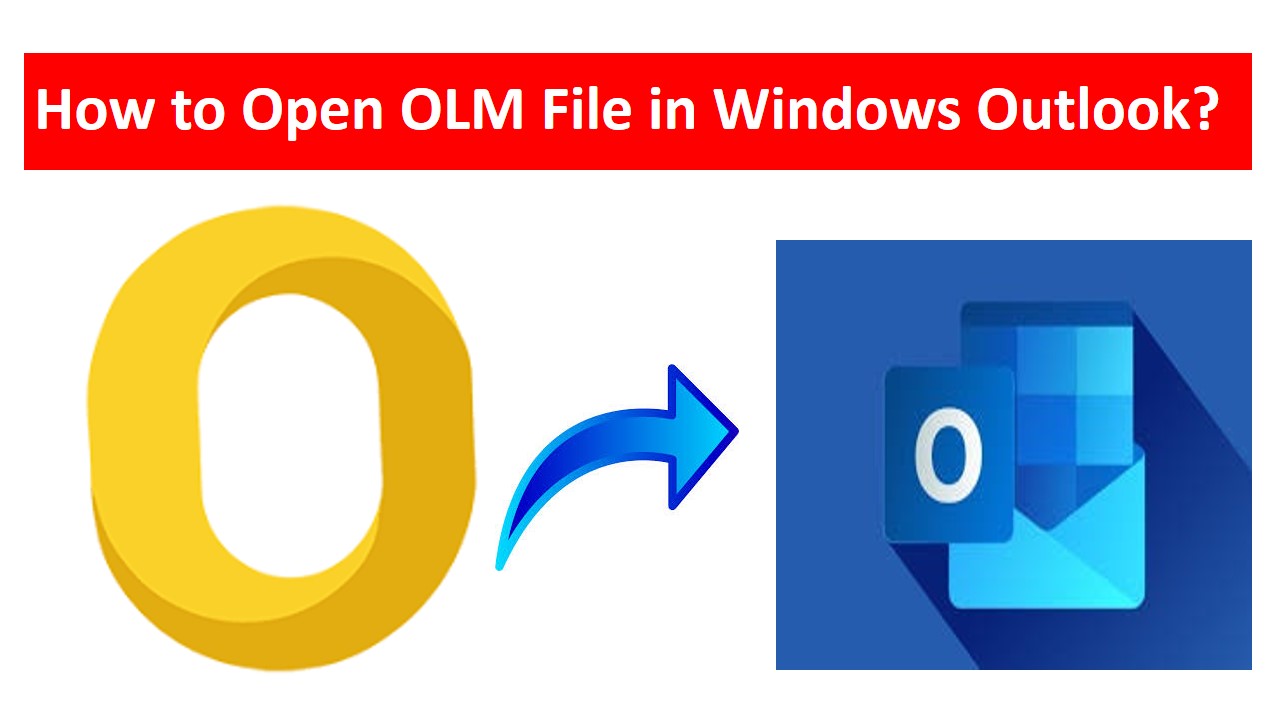 Outlook is a cross-platform email client that runs on both Windows and Mac machines. Outlook users can change their platform without changing their email client. However, the problem arises when they need to open OLM file in Windows Outlook. As we all know, Mac Outlook saves data in OLM format while the data file type for Microsoft Outlook is called PST. To resolve this tricky issue, this write-up will share how to open an OLM file in Windows. Here we will learn to open OLM files not only in Windows Outlook but also in other Windows email clients.
Open OLM File in Windows – User Queries
"I became kind of bored with the Mac machine and therefore, planning to switch to the Windows system. However, I will continue using Outlook even in Windows OS. But my real worry is about the Mac Outlook data. I want to transfer that data to my new Windows Outlook, but OLM is not compatible with Windows. Please tell me how can I open OLM files on Windows Outlook?"
"I came across some OLM files that I need to open and investigate. But I use a Windows operating system and do not have Outlook installed either. It would be really helpful if I can open my Mac OLM files on Thunderbird. In order to do that, I have to convert MAC Outlook OLM file to Thunderbird MBOX. I have no clue how to do this. Can anyone help me by letting me know ways to open OLM file in Windows?"
Open OLM File on Windows – Manually
If user wants a free method to import OLM to Outlook Windows, then this manual method beneficial for them. They need to use IMAP Server to work as storage device  between Mac and Windows.
This method work in 5 steps, so lets have look how this method work to open OLM file on Windows:
Step 1. Create IMAP server email account
By selecting an old account to complete this task.
Then enable the IMAP settings.
Step 2. Configure this Email Account in Mac Outlook
Open Outlook in Mac. Then Select Tools>> Accounts.
To add account from Windows, Click on + button from left side.
Click on email address pane and enter the details: (Email Address, Password, Gmail Account Username).
Now, enter "imap.gmail.com" as an Incoming Server.
Choose the "Use SSL connect" option and enter "smtp.gmail.com" as an Outgoing Server.
In the Outgoing port, enter 465 and click on the Add account button.
Now, a yellow button turns green that's means connection has been made.
Step 3. Import Data from Mac Outlook OLM to Email Account
Click on the mailbox folder that you want to import from OLM to Windows Outlook and click on the Copy option.
After that, select the folder destination in Gmail.
After uploading desired data uploaded successfully, you can Refresh the Gmail account.
Step 4. Configure the Same Email Account in Windows Outlook
Open Outlook File >> Info >> Account Settings.
Click on the New icon from the currently opened window
Now, select the Additional server type option
Check the Internet E-mail option and fill the details: (Email address, Password, Username).
Here, select IMAP as an account type.
Now, enter imap.gmail.com as an Incoming server.
Then, enter smtp.gmail.com as an Outgoing server.
Now, select my Outgoing server requires authentication option in the Outgoing Server tab.
Now enter Incoming Server Port as 993 in the Advanced tab.
Now, select  SSL as an encryption type.
In the Outgoing Server Port, enter 465 as a port number.
Then, choose the Test Account Settings >> Finish button.
Step 5. Transfer OLM data from Email Account into Windows Outlook mailbox
After successful email account configured with Window, you can easily import OLM to Outlook Windows.
Limitations of Manual Method
This is only possible way to import OLM to Outlook Windows but this method is not suitable in possible every situations. Users should have Mac Outlook to perform this method. Moreover this method involves a lot of configuration and technical skills.  Which makes this process lengthy and time consuming and is not guaranteed to succeed.
How to Open OLM File on Windows Outlook?
OLM files cannot be opened in Windows manually. Therefore, users need to take the help of different third-party tools. Here, we will show you how to open OLM file in Windows Outlook by importing Mac Outlook OLM file into Windows email client file formats.
For that, the Mac OLM File Converter is the best program you can go for. This will help you to import Mac OLM file in Windows Outlook or any other Windows supported email client. For that, just download it on your operating machine of any version. After that, it's easy to use GUI will initiate the process without any interruption in your data.
Apart from that, there are multiple features that will allow you to import OLM file into Mac Mail. You can even use this self-operated tool for importing .olm file into Microsoft 365. On top of this, if you just want to export calendars from Outlook Mac in batch then it is also possible.
Guide to Import Mac OLM Files into Windows Outlook
Download and install the mentioned utility on your Mac machine. Follow this guideline to perform this entire procedure without any hurdle –
Then, launch the software on your operating machine.
After that, mouse-click on Add File or Add Folder button depending on your need.
Select the OLM file or folder from its location and click on Open option.
The software window will show the added file on the screen. After that, click on the Next button.
On the next page, select the option depending on the supported file of your email client. For example, if you want to open it on Windows Outlook, select PST format. You can also choose to Maintain a folder hierarchy.
If you wish to import only selective OLM data, you can input the date range here. Apply Advance settings on the file, like categories or date filter, etc.
Select the directory path by clicking on the Change button.
Now, click on the Export button to open OLM file in Windows.
Users will get a confirmation message when the data process is done on the screen.
If users want, they can click on View Report and view the complete report that has been saved already.
Users can go to the location and find the PST file.
They can later transfer the PST file to the Windows machine using a USB Pen drive.
Import PST to MS Outlook for Windows
Open Windows Outlook on your Windows PC/ laptop.
Click on the File ribbon. Select Open & Export >> Import/ Export.
After doing this, the Import and Export Wizard will appear. Choose Import from another program or file >> Next
Just after that, tap on the Outlook Data File (.pst) >> Next.
Later on, click on Browse to go to the location where you have that imported PST file stored. Select that PST file and you will see it got included in the wizard. Choose the option according to your choice and click Next.
Now, select the radio button beside Import items into the current folder option.
At last, mouse-click the Finish button and the PST file will get imported into Windows Outlook. Now you can open these files on your Windows system.
Open OLM File in Windows – Wrap Up
In this write-up, we discussed how to open OLM file in Windows Outlook. Users can follow the guideline mentioned here and perform the conversion seamlessly. Though there are many similar applications available, this tool contains the most useful features. The best thing is that you can run this tool on your Mac machine of any latest or old versions. This tool allows users to import the Mac OLM file into different Windows based email clients. If you want to open your Mac Outlook OLM file in Windows Outlook without any trouble, choose this software.