Backup
Best Rediffmail Backup Tool for Mac to Download Emails with Attachments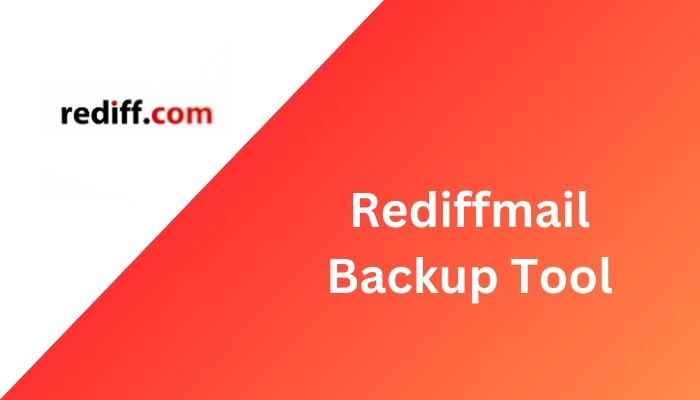 Overview: In this article, we're going introduce the best Rediffmail backup tool for users. Using this they can easily and quickly download/export their important emails in any file format they want. So, stay tuned till the end to find more information on the tool.
Nowadays, we can't think of any other option than emails for formal electronic communication. Whether used for personal or professional reasons, emails have become an integral part of our lives. One such emailing platform is Rediffmail which has gained popularity with time. However, the importance of data security and safeguarding vital information regardless of email client has increased significantly. And, having a reliable backup solution is now more necessary than ever. Since our center of discussion is Rediffmail, here we'll make you familiar with the best tool for Rediffmail backup. 
Introducing MacWareTools Rediffmail Backup Tool.
It is the best powerful and user-friendly software designed to simplify the process of securing and preserving your valuable Rediffmail data.
Table of Content
What Can You Do With The Rediffmail Backup Wizard?
One can use the tool to save emails without any data loss from the Rediffmail account. So, you can download Rediffmail backup software and operate it to backup emails in multiple formats. Such as PST, PDF, MBOX, HTML, EML, TXT, EMLX & MSG from Inbox, Sent items, and Drafts folders.
This is the ultimate software that is quite well-organized. With the help of this application, you can simply backup multiple emails from a particular Rediffmail account. The entire backup process will be executed without losing any information. To save time and effort it provides a bulk option for archiving required emails in one go to a computer hard drive.
The Rediffmail email backup wizard provides a simple user interface to operate which makes it a popular one among other tools. Through its simple GUI, even non-technical users can opt for this utility and take backup from Rediffmail. Moreover, the entire process will be safe and secure without any data modification. In short, it is a hassle-free way to take out emails from the Rediffmail account of users.
Top Integrated Features of the Rediffmail Backup Tool for Mac
Backup New RediffMail Emails- To prevent any trouble or duplicates it is very important to backup only new data. Therefore, this standalone application has an Incremental Backup option feature. It provides the facility to only download newly arrived emails from the Rediffmail account on the computer. It is applicable from the second time of the backup process that you can go for.
Easy Backup in Different Formats- In case, if you are confused to download the data from the Rediffmail account in a particular format. Then, here, you can browse multiple file formats as this tool has multiple functions. And different file formats are one of them, so you can choose any PST, PDF, MBOX, HTML, EML, TXT, EMLX & MSG, format and make a backup copy easily on the desktop.
Facility of Advance Filters – To preserve time most of the users prefer selective backup using the Rediffmail backup wizard. Therefore, there is a feature "Advance Settings" option that you can users go for and only select the necessary emails for backup. In this way, the user can filter out unnecessary emails from the backup process through this Rediffmail email backup tool.
Maintain Folders Structure of Rediffmail Account– This Mac Rediffmail Backup Software is coded with the advanced technologies and algorithms. So, it helps to take backup of Rediffmail account to any suitable file format while keeping all the folder structure. Not even just folder structure but it retains all the email properties intact. Hence, all the properties like receiver information, subject, signature, HTML links, text formatting, header, date, time, and year will remain the same.
Detailed Working Steps of the Rediffmail Backup Tool
Download Mac IMAP Email Backup Software first on your any Mac-based machine. Follow these 5 steps to take backup from Rediffmail mailbox –
Choose Other option from IMAP Host and User Id and Password. Then, tap Login
Select any File Format from the Select Export Type section in Rediffmail backup tool
Tap on the Advance Settings for adding Range Based filters
To preserve the output file hit the Change icon
Finally, hit the Start Backup icon from the software's screen
Why Choose Only Rediffmail Backup Tool for Mac? Pros and Cons
This smart Rediffmail backup software is designed to keep multiple user's needs in mind. Here, you will get to know multiple pros to take a backup of a Rediffmail account. Because of its self-operated nature, any technical and novice user can backup emails without any application. This is pre-tested by the top technical experts and compared with other applications for all Mac operating systems. It is the best software to go for because it provides multiple advantages, its Pro and Cons are-
Pros
Backup of RediffMail Emails to Multiple Formats

Perform Archive Process without Duplicates
Secure Software to Backup any Number of Emails on the Machine
Reliable utility with a one-time purchase facility
Cons
This Rediffmail Backup Software user interface is only available in the English language.
Conclusion
So, to backup all the necessary emails from the Rediffmail account, the Rediffmail Backup Tool for Mac is the best choice to go for. In this article, we have described how this tool works and its benefits. Moreover, you can go further with its free demo version and try it out before moving further with the license version.
Frequently Asked Questions
Q. Why opt for a professional Rediffmail backup tool?
Ans. When you use the professional tool for taking the backup there is a negligible chance of data loss or process failure. Furthermore, with its advanced features, you can backup emails of multiple accounts at the same time.
Q. Does the tool backup all my emails and attachments?
Ans. Yes, the tool is designed in such a way that it allows the download of both emails and attachments.
Q. Can I backup newly-arrived emails using the tool?
Ans. Yes, you can. With the incremental option, you can easily backup the newly-arrived emails without any duplicates.
Q. Is it possible to use Rediffmail backup wizard to take backup of other email clients?
Ans. The answer is Yes. You can take backup of other IMAP-based email client data using the tool.
User Reviews
"My friend recommended trying the Rediffmail backup tool. So, downloaded the demo version to test its features before purchasing the full version. I must say I'm really impressed with the neat interface and smooth functioning of the tool. Now, I can fearlessly go for the paid version to backup all my emails from Rediffmail. ~ Ron, London, UK"
"Lately I have been searching for a solution through which I can backup the last 2 years' Rediffmail emails. Luckily I found this backup wizard and downloaded the emails using its amazing Date Filter option. If you want your Rediffmail emails safely backed up then look no further than this tool. ~ Michael, North Carolina, US"
"I recently tried the tool for the first time to backup my emails with attachments from my Rediffmail account. It's a true magic. I didn't have to do much. Just provided my email account details and the rest, the tool did it all. I'm satisfied with the result and definitely recommend this tool to everyone out there. ~ David, Ohio, US"