Outlook for MAC
This Identity Cannot be Opened with this Version of Outlook 2011 Mac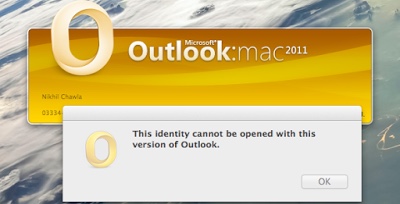 Microsoft Outlook is considered the most liked application when it comes to email communication. No matter if users are using a Windows system or a Mac-based system, users prefer MS Outlook over any other email client. But there are some error messages which are faced by the users while accessing Outlook for Mac. One such message is This Identity Cannot be Opened with this Version of Outlook 2011 Mac.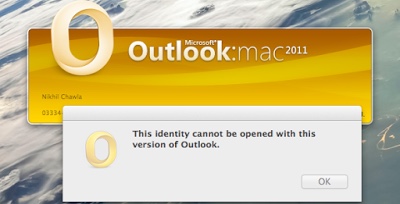 Many users who are using Mac Outlook for a long time now, must know what are identities. They play an important role in handling user's account data. If these identities get damaged or corrupted due to any reason, then they become inaccessible. There can be many possible reasons why users are unable to access these identities. Let us find out why that happens.
This Identity Cannot Be Opened with this Version of Mac Outlook – Why it Happens
There are some situations when some users delete or uninstall Microsoft Office from their Mac system. Then, when they re-install MS Office again in their system, then they encounter this error message. Users can also face this issue when they use the older version of Microsoft Outlook.
In some scenarios, we have noticed that this issue occurs when the identity of Mac Outlook gets corrupted. Corruption or damage issues make the identity inaccessible which creates performance issues in the email applications. Thus, it becomes important for users to remove corruption issues and make an identity in a healthy state. In the next segment, we are discussing steps to resolve the issue in simple steps.
Solutions to Fix This Identity Cannot Be Opened in Mac Outlook Issue
The above-mentioned error can occur due to corruption issues in Mac Outlook 2011 identity. It is recommended to use a third-party application i.e. Mac Outlook Database Rebuild Utility and make the identity in healthy state again.

It offers 10 export options to save the data in healthy form so that users can access their crucial data again in any of the supported applications.
Microsoft Outlook is the widely used email application nowadays and offers a number of solutions to fix its own error messages. It is integrated with a wide range of features that allow the users to make the communication process efficient and a disaster recovery plan helps in removing minor issues as well.
There are various solutions that are suggested by experts to make the Mac Outlook identity accessible again.
Solution 1: Install & Update the Latest Update of MS Office
The first step which is recommended to fix This Identity Cannot be Opened with this Version of Outlook 2011 Mac is to update Microsoft Office to the latest version of the update. It is noticed that this issue can occur if you are running an older version of Mac Outlook. The steps to update the same are mentioned below:
Open any Microsoft Office application on Mac OS.
Click on Help Menu >> Check for Updates.
Now, select Automatically under the "How would you like to check for software updates?" option.
The application will start checking for updates if there are any.
If you have already performed these steps and using the latest version, then you can try the following methods as well.
Solution 2: Close All Microsoft Office Applications
Implement following steps to close all the applications along with Microsoft Outlook on your system:
• First of all, open Force Quit window from Apple Menu or press Command + Option + Esc.
• Here, select each application that you want to close.
• Click on Force Quit button.
• Repeat Step 2 and 3 until you close all the Office applications from the window.
Solution 3: Try the Rebuilding Technique
Important Note: Please create a backup copy of your identity before implementing the following steps.
• Press Option key on keyword and open Mac Outlook 2011.
• It will open the Database Utility window on system.
• Select the database in which you are facing issues and click on Rebuild button.
• A new window will appear which will display the progress status.
• Once the process is over, you will get the process completion message window.
• Click on Done button and check if the issue is resolved.
Also Read: Outlook 2016 Mac Does Not Open
Conclusion
There are many possible reasons due to which users get This Identity Cannot be Opened with this Version of Outlook 2011 Mac error message. Some of the reasons behind this issue are discussed in this article. The solutions for this error are also discussed in a step by step process. If the Microsoft Identity is corrupted, then it is recommended to use the third-party application mentioned in the article.