MAC PDF
,
PDF
How to Convert PDF File to Word Document on Mac Desktop?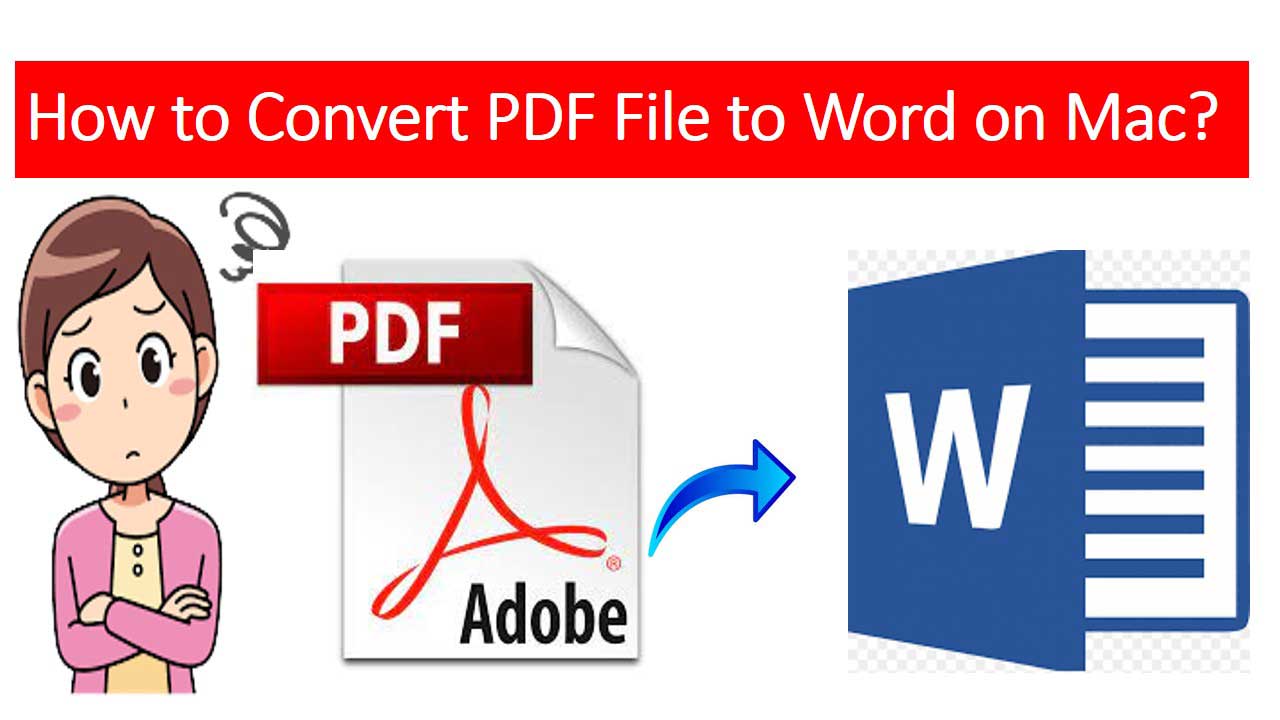 Do you want to convert a PDF document to a word file? And looking for an exact solution on how to convert PDF to word on Mac? Here is the perfect blog for you. In this article, we will introduce the best and reliable solution that helps you in changing from the PDF files to word doc on Mac without losing formatting.
2023
As we all know that PDF is the most common file format that is being used for sharing and storing data. But if you want to edit or modify the data in PDF then the process is quite complex. Because to make changes in the PDF data, first, you need to change PDF to word file.
Whereas, in Word document you can simply edit any document and save the changed file securely. 
Read on to know the process in a detailed manner!
How to Convert PDF into Word Doc on Mac & Why?
Well, it's time for us to know the solution but there's one more thing still left. We first need to understand the reason why users want to convert their data files. As PDF is itself a very versatile document format, there are still some gaps left where users need to convert them.
Scope of Data Modification
Whenever users feel that the PDF data is not correct or requires addition of more data, they need to convert it to texts first. Then they can add the new data to make it complete.
Requirement of the Data & Statistics
Whenever, users want to get the data from a PDF file & they lack the source file. Learning how to convert a PDF to Word on a Mac is the only solution for users to get desired results. 
Platforms Not Accepting PDFs
There are times when an application or website does not accept PDF. They only support Microsoft document files. In such cases, users need to convert the PDF into Word file.
How to Change a PDF to Word Doc on Mac Instantly?
The PDF Text Extractor for Mac provides the functionality to convert PDF to word Mac. With the help of this tool, you can export data from multiple PDF files at the same time. After extracting the PDF file, the data will be saved in .txt file format and you can copy text to a word file.
Moreover, the software is capable enough to perform the conversion process on password-protected PDF documents. But, the valid password must be known to a user. It even allows you to extract images from PDF file on Mac system. The tool does not require any external program to extract text from PDF documents.
Tool Provides the Options to Apply Text Settings Filters
You can choose text settings by selecting any of the two options:
Maintain Formatting: You can use this option to maintain the formatting of the resultant document after convert PDF to word on Mac process.
Maintain Page Number: By using this option, you can assign the page number on the top or bottom page of the converted text document.
Besides these, it provides 5 different page options to extract text. It includes All Pages, Even Pages, Odd Pages, Page Ranges, and Page Number. You can select any of them as per your requirements.
Let's dive into the working of the tool!
How to Convert PDF File to Word on Mac?
It is an effortless solution to change PDF to word Mac without installing Adobe Acrobat. Download the software and follow the steps to get the PDF documents elements:
Step-1. Launch this automated utility on your Mac machine of any version.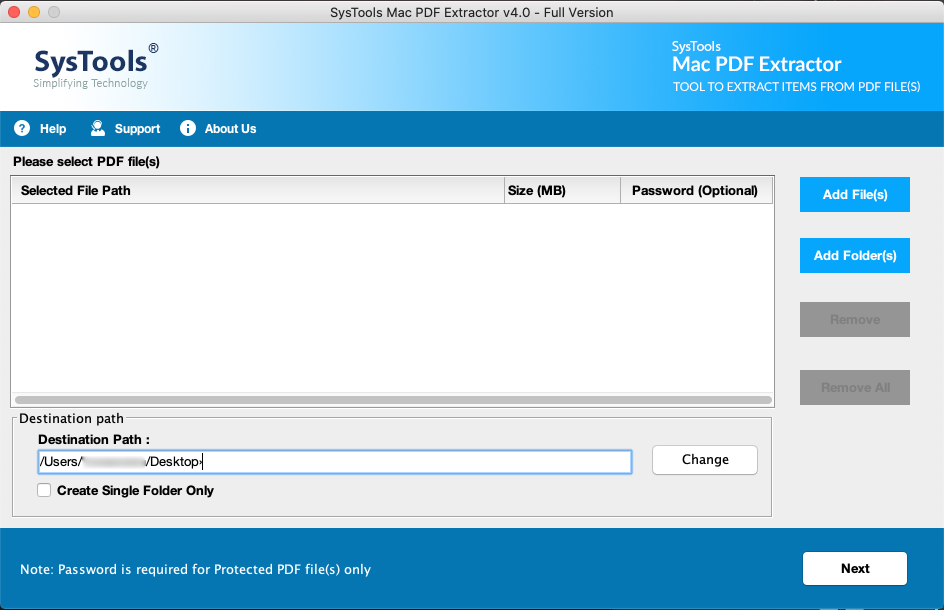 Step-2. Click on "Add Files" or "Add Folder" option to convert PDF files to word mac.
Step-3. Also, click on the Change button to select the destination location to secure the file on Mac desktop.
Step-4. Select the item type as "Text" from the given options, check or uncheck required options.
Step-5. Finally, click on the "Extract" button to start the PDF file to word conversion process.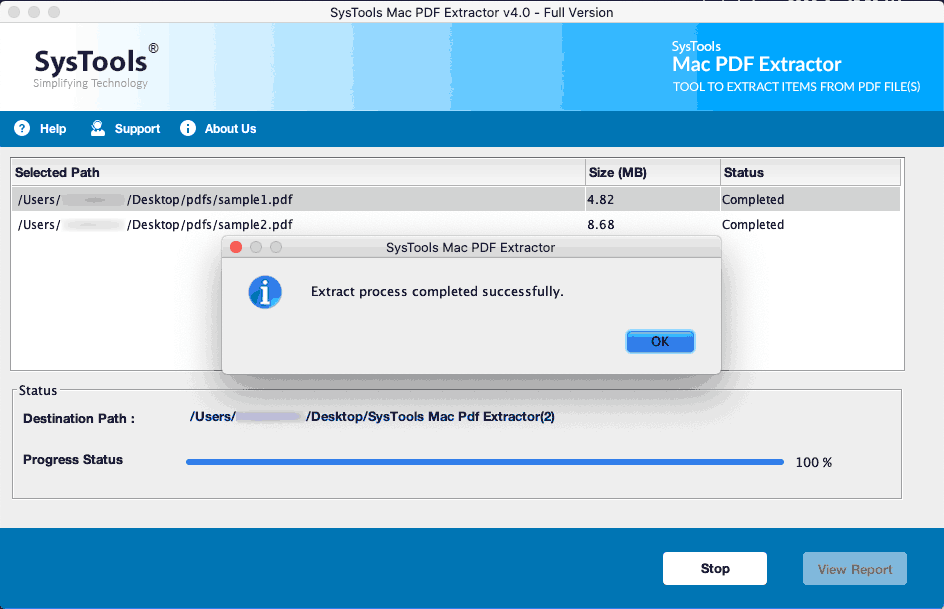 Once completion of the process, you will get the TXT file. Now, you can copy the text to a word document and save the word document at your desired location.
Now, you have learned how to change PDF to Word on Mac. Let's know more functionalities of this remarkable tool.
Some Advantageous Features of the Software
This advanced software is quite efficient solution to convert PDF to Word Mac, but it comes with multiple features-
Rapidly extract TEXT from multiple PDF documents on Mac machine.
Provide the functionality to convert inline images from PDF files. 
Moreover, it gives the option to change Text in a single folder or individual folder.
Allows to Apply Page Settings for converting text from selective pages.
Furthermore, this tool maintain the file formatting after completion of the

change PDF to word Mac

 process.
Likewise, this utility support known password-protected or restricted PDF documents.
Adobe Acrobat PRO Manual Solution
Now, we are going to talk about the manual solutions first. So if users are having the subscription of Adobe Acrobat Pro, then they can opt for this solution. Below are the steps mentioned for users to learn how to convert PDF file to Word document on Mac device:
Open Adobe Acrobat > Go to Tools > Select Export PDF > Add Files for Export.
Go to "Convert To" option & Select Microsoft Word Document to continue further.
Set the Document Language here & Hit the Export to Word option to save your file.
Drawbacks:
Dull & Complex Interface of the Software.

Require Premium Subscription of Acrobat.

No Advance Features Included for Export.
How to Convert A PDF to Word on A Mac Online
Nowadays, there are online solutions available for users to learn how to turn PDF into Word document on Mac devices. However, there are plenty of disadvantages to switching them. Still, if the data file is not so important, users can search for PDF to Word on Google & get the websites where they can upload their PDF files & then convert them into PDFs.
Drawbacks:
The data integrity of your PDF files does not remain safe. Users might lose some crucial data from confidential data files this way.

There is a higher chance that the user might get an online bug or virus through such websites. Cases of the same are rapidly increasing.

This solution is not ideal for multiple PDF files. After a few attempts, these websites will pitch their subscription plans. With so many drawbacks, purchasing such subscriptions is not an ideal decision.
Bringing It All Together
The blog is a complete tutorial on how to convert PDF to word on Mac. If you are looking for a cost-efficient and reliable tool to change PDF to word on Mac desktop, you should definitely go for the mentioned software.
The utility provides an option for the data conversion in text form and after that you can copy the data in a word file. Also, the tool can process multiple PDF documents at once for this entire conversion process for Mac machine.