MSG
Learn How to Perform the Mac MSG File to Excel CSV Conversion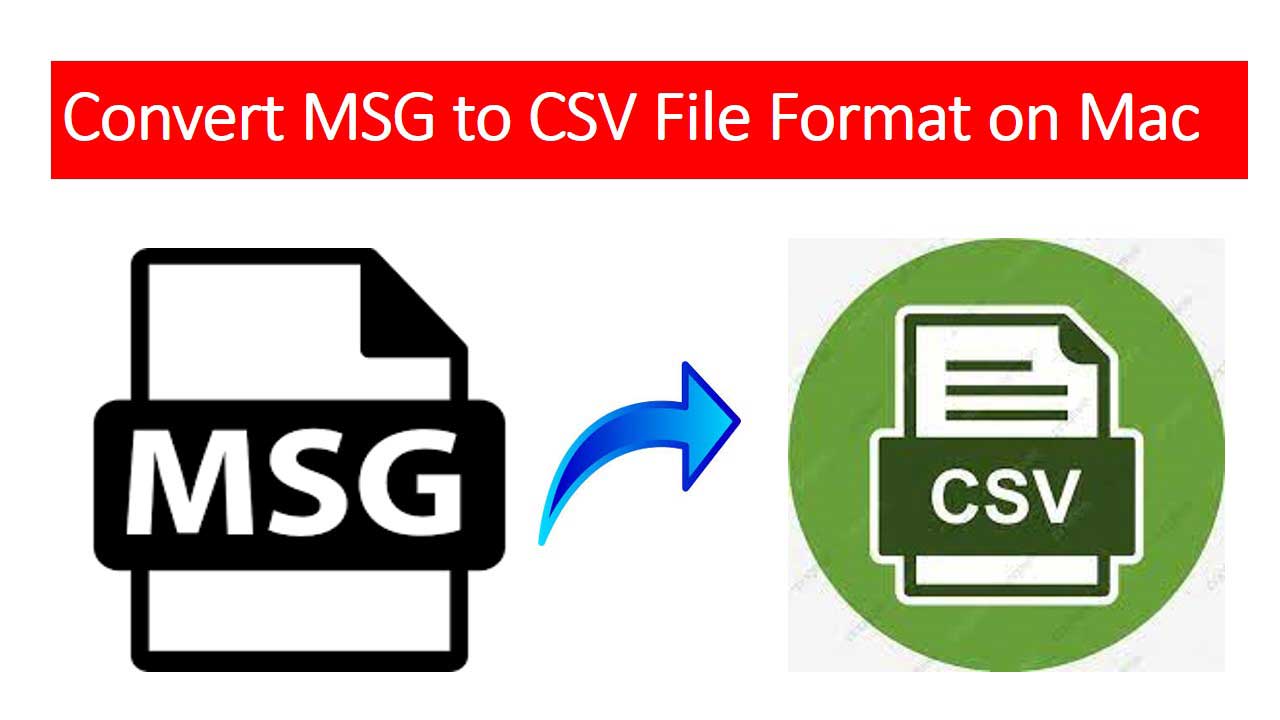 A systematic way is better than a cluttered way to store the data. That's why most of technical users or experts prefer Excel spreadsheets to maintain the same. But if the same situation you are in then this article is best for you. However, the data can be anything that you want to store or manage in an Excel sheet. But, today, in this blog, we will talk about how to convert MSG to CSV files on a Mac system.
So, when it comes to MSG files that means either you are an Outlook user who needs to export the data in a CSV format. Or if you got some MSG files from others that you need to manage in a CSV format. So, whatever the case is, you need to go for the message to CSV conversion.
To do this, there are some users queries let's focus on them first-
User Query: Hi, I am an Outlook user though, but I got some data that my manager asked me to share with him in a tabular form. So, for that, I need to convert MSG file to CSV format on Mac machine. However, I have plenty of MSG files, so I can't go for any manual method for this task. Therefore, I am looking for an MSG to CSV converter I can rely on. So, if anyone knows about it then do share it with me asap.
Trustable MSG to CSV Converter Mac to Export Bulk Messages
In case, you have no Outlook application installed on your Mac system then MSG File Converter Mac Software is the best to go for. The main thing is that it helps you to perform the Outlook message to CSV conversion with all data intact.
Moreover, it even provides you with other options than just a CSV format, such as EML, PST, PDF, HTML, VCF, MBOX, and more. Hence, you will only need to download this software and you can export all your MSG data in any suitable format.
If you are working on a Mac machine but with the latest versions, then no need to worry about to convert MSG to CSV with this tool. As you can execute this task easier because it supports Mac OS X 12.0, 11.0, and all the earlier versions.
How to Convert MSG to CSV Format on Mac Instantly?
Download and install the MSG to CSV converter software on any version of the Mac machine. To execute this task safely, just follow the below steps-
To begin the process, you need to add MSG files using Add file or Add Folder option for bulk Outlook message file to CSV conversion
In this step, select the CSV file format from the given options for exporting the required data
You can even apply Advanced Settings as necessary for the output CSV file, tap Change
Eventually, just hit the Export button to convert MSG file format to CSV file on Mac.
At last, you will get notified with the successfully process of the conversion on software panel, tap OK.
Why Choose Only This Software for Bulk Conversion on Mac?
This suggested MSG to CSV converter software is good to go because of its multiple features to perform the file conversion-
When you initiate the process, this advanced software maintains the file hierarchy with all the data intact on the Mac desktop.
Moreover, it even has multiple naming conventions for storing the file after the Mac MSG to CSV conversion.
This described converter for Mac has multiple file formats to export the bulk messages.
Not just this, but this software helps to convert the attachments as well, it allows you to convert them with the selected MSG files.
However, you will not need to install any supported email client because it works smoothly without Outlook.
Also, to execute this file format conversion on Mac OS, you can just work with the Mac OS X 12.0, 11.0, 10.8, and below versions.
Conclusion
The tabular format makes it more convenient to manage the task. As uncluttered or systematic data is way better than a cluttered one. So, for that, we have discussed the best way to convert MSG to CSV format on Mac machine. To perform this task, you should go for the MSG to CSV converter for Mac desktop. It is suitable to perform the batch conversion on all versions of Mac machines without interrupting the data. So, try this tool for free and maintain the Excel sheet with all the data.