MSG
How to Batch Convert MSG Files to HTML on Mac Computer?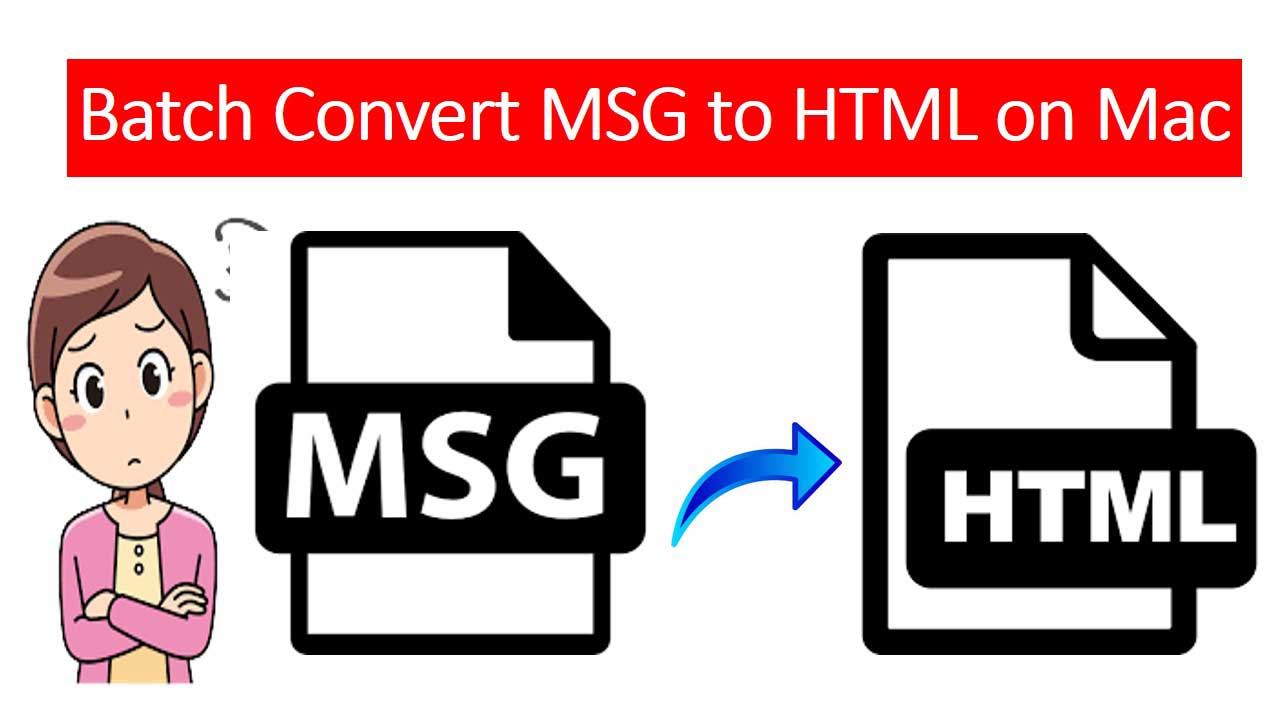 If you have any number of saved MSG files on your computer and if you want to open them separately on any browser. Though HTML is light weighted and easy or quite fast to load. So, in this article, we will share the best solution to convert MSG to HTML format on Mac.
Users Query: I have been working on an organization, where I got multiple outlook message files on my Mac system. However, there are plenty of MSG files saved on the computer, so I thought to make them secure. For that, I have decided to convert MSG to HTML file format on Mac machine. But doing this task seems quite hectic as I have countless MSG files. Is there any professional MSG to HTML converter that could help me with batch conversion?
Why Do Users Prefer HTML Format?
Just like you, there may be many users who want to batch convert MSG to HTML format because of plenty of reasons, like-
We all know it is quite easy to read any number of HTML files even without internet connectivity.
Moreover, you can simply do any edition in an HTML file with any editing application.
The fact is all the web browsers are fully compatible with all the HTML files to open them with all the data.
When it comes to storing the file on the computer, the HTML file takes less space as compared to other formats.
Best Solution to Convert MSG to HTML Format for Mac
For all the Mac users, we have come up with a great and professional solution. So, using the Best MSG File Converter Mac software you can easily export as many files into HTML format. This is the advanced solution that helps to batch convert MSG file to HTML format. So, if you have plenty of Outlook messages files and you want to convert them into .html then this software is best.
Moreover, it is quite good for all Mac operating machines, as it supports Mac OS X 12.0, 11.0, and all the below versions. The best thing is you can simply use it to export the MSG file into other formats as well, like PST, EML, PDF, MBOX, VCF, and more.
Or if you are worried about the data integrity while converting, then no need to worry about it. As this tool keeps all the data and folder hierarchy as prior.
For more, you can go through the working steps for bulk conversion.
Guide to Batch Conversion of Outlook Message into HTML
Download and install the Mac MSG to HTML converter software on any version of the Mac machine. After that, follow the steps to initiate the conversion-
To begin the batch conversion add MSG files using Add file or Add Folder option
After that, choose the categories that you need to convert into HTML format
Here, choose the HTML format from the given export options
In this step, you can apply Advanced Settings as you want for the resultant file
Lastly, hit the Export button to begin the process to convert MSG to HTML on Mac.
Best Features of the MSG to HTML Converter Mac
With this Mac-based utility, you get plenty of benefits for performing the conversion process, like-
This converter provides options to convert all the data of the MSG file, including emails, contacts, calendars, etc.
Moreover, if you are in need of the conversion of emails along with their attachments then this tool is good to go.
You can simply batch convert MSG to HTML file on Mac using the date filter options of this software.
While performing the Outlook message to HTML format conversion you don't need installation of Outlook application.
Along with these, you can get all MSG files into HTML converted files on all Mac OS versions, including Mac OS X 12.0, 11.0, 10.8, and below.
Conclusion
Irrespective of the benefits of the HTML file format, many users like you keep searching for the solution to convert the file. So, in this article, we have discussed how to convert MSG to HTML format on Mac machine. For this task, we have shared an ultimate solution that proves itself as the best program. So, to batch convert Outlook message files into HTML format just go with the professional solution. If in case, you want to try it first then the free demo of Mac MSG to HTML converter is also available to check out.