CSV
CSV to HTML Converter to Export CSV Contacts to HTML on Mac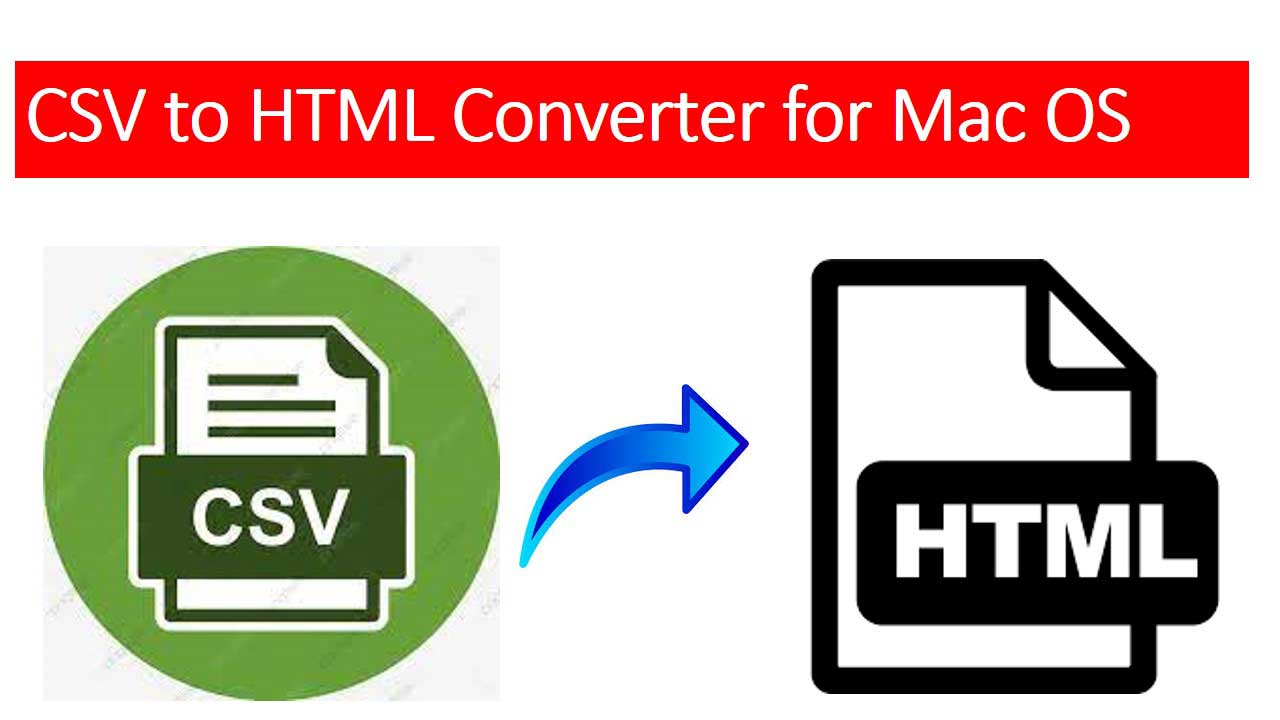 Looking for a safe and secure solution to convert CSV file contacts to HTML format on Mac OS X? Well, stop scratching your head because today we have come up with an ultimate solution for the same: CSV to HTML Converter for Mac. In this article, we will explore everything about this software including its features and working. So, here we go!
Best Features of CSV to HTML Converter for Mac
Export CSV file contacts into HTML file format
Allow to export more than 50 CSV contact fields
Auto-map option to map all contact columns at once
Manual mapping feature to map selected contact fields
Create separate .html file for each CSV file contact
Export CSV contact fields to HTML without mapping
Add File(s) option to add multiple CSV files in a single go
Convert unlimited contacts from CSV to HTML once
No File Size Limitation on CSV Contact Files Conversion
Supports Mac OS X 10.15, 10.14, 10.13, 10.12, 10.11, 10.10, 10.9, 10.8
What's so Unique About this Mac Software?
It is one of the most trusted solutions to convert CSV file to HTML and other formats. It comprise multiple amazing features that help users to perform CSV to HTML Contacts Conversion simply. For example:
Convert CSV Contact Files to HTML in Bulk: The tool to export CSV to HTML allows to add one or multiple CSV contact files at once in the software. After that, it converts all the added contact files into HTML file format in a single go. It is even available to convert CSV contacts to iCloud on Mac desktop.
Export CSV Contacts Without Mapping: Right after adding the file into the CSV to HTML converter software for Mac, it provides multiple option, to convert CSV to TEXT file, where you can select the HTML as the export option will provide you various other customization options. It can perform the conversion even without mapping contact fields. In such a case, the output file maintains the original CSV contact file hierarchy.
Include/Exclude Desired Contact Fields: This is another eminent feature offered by this Mac software. It allows users to perform manual mapping of CSV contact fields with HTML columns. Using this, one can exclude all the unnecessary CSV columns in the resultant HTML file. This will reduce the output HTML file size and exclude all the irrelevant contact information. 
Map All CSV Columns Automatically At Once: The free download is available for Mac to convert CSV to HTML. In case if the added contact CSV file comprises multiple CSV columns then, mapping each CSV column to HTML is tedious. Therefore, one can use its Auto-map feature that will map all the CSV contact fields to HTML in a single go and export it.
Export All Contact Fields of CSV to HTML: In case if there are multiple contact information of users in the browsed CSV file, then the tool will convert and export entire CSV columns to HTML without losing a single of data on Mac computer. Moreover, one can create Custom contact columns as well.
Supports All the Latest Mac OS Versions: CSV file to HTML Conversion tool is designed in such a way that it supports all the latest versions of MacOS X 12.0 (Monterey), MacOS X 11.0 (Big Sur), Mac OS X 10.15 and all earlier versions. 
How to Convert CSV to HTML on Mac Desktop?
Download and run CSV to HTML Converter on your Mac machine of any version, then follow the steps-
Click on Add File(s) button to add the contact CSV file in the software panel
After this, just select HTML as export option and enable mapping
Browse a saving location for the resultant HTML file on Mac machine
Click Export to convert all CSV contacts to HTML format.
Why Choose This Software Over CSV to HTML Converter?
This is so because it is properly tested and especially designed to convert CSV file to HTML in bulk on Mac. Besides, it provides other functionalities that makes it better and standalone from other software available in the online marketplace:
Supports to Convert All Type of CSV Files: This is an ultimate utility that supports to convert CSV contact files created by all the applications on Mac machine. For example: if the CSV is created by Notepad (or any other text editor), Microsoft Excel, OpenOffice, or Google Docs, it will convert the CSV file into HTML file format without losing a single bit of data.
HTML Supports All Web Browsers & Text Editors: After converting CSV to HTML (Hypertext Markup Language) file, the output contact file can be accessed with all the modern web browsers. For example Mozilla Firefox, Safari, Google Chrome. Besides, the resultant HTML file contacts can be opened with any text editor (like Notepad, Notepad++, or any other specialized HTML editor). So, you can access the contact HTML file from any of these applications of choice.
Frequently Asked Questions
Most Common Queries Asked by Users Related to the said conversion on Mac OS-

Q. Can I convert more than one CSV file at once?
A. Yes, the mac utility allows to add and export single or multiple contact files to HTML in a single go on Mac machine. You can use its 'Add File(s)' option to add and convert more than one CSV file at once.
Q. How many CSV contacts can I convert to HTML using this?
A. Well, there is no such limitation on the number of CSV file contacts for converting on Mac desktop. You can convert unlimited contacts from CSV file to HTML using this.
Q. Is it possible to exclude unnecessary CSV contact fields in output HTML?
A. Yes. CSV to HTML Converter provides a manual mapping option via which you can select and map desired contact fields only to HTML and exclude other fields.
Q. Can I create separate .html for each CSV file contact?
A. Yes, this software has a free download version and it will create individual .html file for every contact saved within the CSV file.