MAC OS
CSV to TXT Converter – Solution to Convert CSV Contacts to TXT Batch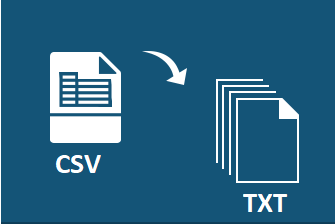 Previously, we talked about how to convert CSV to HTML and CSV to vCard. And…today in this article talks about contacts conversion from CSV to TXT file format on Mac OS X using the most trusted professional solution: CSV to TXT File Converter. The method we are going to disclose here will fix all the common queries related to how to convert CSV to TXT.
So, keep reading the article to perform CSV to text conversion safely.
CSV and TXT File Format: A Brief Introduction
CSV (Comma Separated Values) is a plain text file that allows to accomplish various business tasks. These files can be organized, edited, imported, and exported easily. Moreover, all the major platforms like MS Outlook, Google Contacts, Salesforce, MailChimp, Shopify, etc., use it to export and save their contact information.
TXT files are plain text documents, which can be edited, created, opened, and edited by several text editing programs developed for Windows, Mac, Linux, and other. TXT files can be accessed with almost all the smartphones using text editor applications. A .txt file does not include formatting information like bold, italic, size, font, etc. Basically it is a simple text file readable by multiple editing programs and devices.
How to Convert CSV to TXT File?
Expert Solution
CSV to TXT Converter is an ultimate solution that allows to convert CSV to TXT batch on Mac OS X. The CSV to TXT file Converter software is designed in such a way that it works well for both personal and professional use. Users can add one or multiple contact CSV files to the software in a single go and it will convert all of them into TXT or any other selected file format at once.
Also, no matter how many contacts are there in a CSV file, it will convert all the contacts CSV to TXT batch without resulting in any kind of contact information loss.
Moreover, the software is simple, easy-to-use, and highly responsive. This is why all the technical or non-technical users can operate it easily to perform CSV to Text conversion.
CSV to TXT File Converter: Best Features
Add and convert multiple contact CSV files to TXT at once
Export CSV contacts to TXT with or Without Mapping Columns
Auto-map feature to map all CSV columns with TXT automatically
Manual mapping option to map CSV columns with TXT manually
Allow to include or exclude desired CSV contact fields with TXT
Create individual .txt for each contact saved within the browsed CSV
Option to save the exported TXT file at desired system location
Supports all the latest versions of Mac OS X including 10.15 (Catalina)
How to Convert CSV to TXT?
In order to convert CSV to text document using CSV to TXT file Converter, follow the guidelines given below carefully:
The first thing you have to do is download CSV to TXT Converter and launch it
Click on Add File(s) button and add one or multiple contact CSV file to the software. Click Next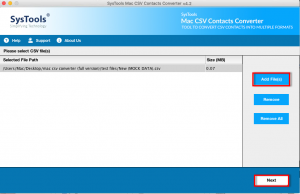 Select TXT as the export option and check Enable Mapping option (if you want to map CSV Contact Columns with TXT Columns. If you don't want to map columns, leave this option unchecked)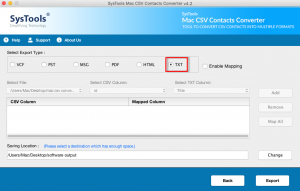 Next, map all the CSV contact fields with TXT columns or directly hit the Map All button to match all the CSV contact fields with TXT at once. Browse a destination location for the resultant file and hit the Export button to initiate CSV to TXT batch conversion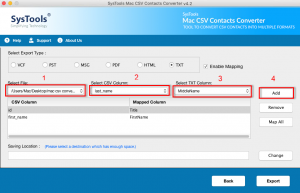 CSV file contacts will get converted into vCard file format right after the moment and let the CSV to text conversion process completed successfully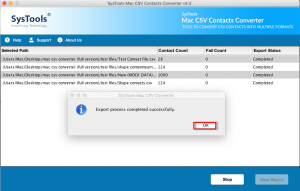 Once converted, navigate to the destination location and you will find separate .txt file for each CSV file contact and now you can access these TXT contacts with any Text Editor or supported application or device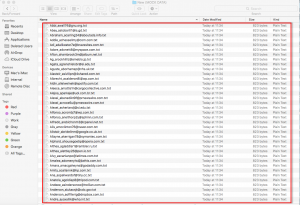 It is suggested to perform contact fields mapping like this
First Name — First Name
Middle Name — Middle Name
Last Name — Last Name
Organization — Company Name
Work Address — Business Address City
Home Address — Home Address City
Why This Software Over Others?
CSV to TXT file Converter free software comes with several unique and advanced feature that makes CSV files to TXT conversion on Mac simpler and hassle-free for the end-users. This CSV to TXT Converter software is recommended because it performs safev> and secure CSV to TXT file conversion which is important for the users.
Some of the unique software features as follows:
Convert and export multiple CSV files to TXT file format in bulk
Export multiple emails, addresses, contact number of a person
Ability to convert unlimited CSV file contacts to TXT at once
Mac oriented graphical user interface for safe CSV to text conversion
Generate and export complete live convert CSV to TXT report
Supports Mac OS X 10.8, 10.9, 10.10 and all above versions
Maintains original integrity of CSV file during CSV to TXT batch conversion
Conclusion
In this technical guide, we have learned how to convert CSV to TXT file contacts on Mac in a few simple steps. The CSV to TXT file Converter disclosed here allows to convert multiple contact CSV files to TXT in batch even without resulting in any kind of contact fields mismatching or data loss issues. So, read the article carefully and get rid of issues like CSV to TXT file conversion with the help of CSV to TXT Converter.