Gmail
,
MAC OS
How to Batch Export EML from Gmail Account on Mac OS Instantly?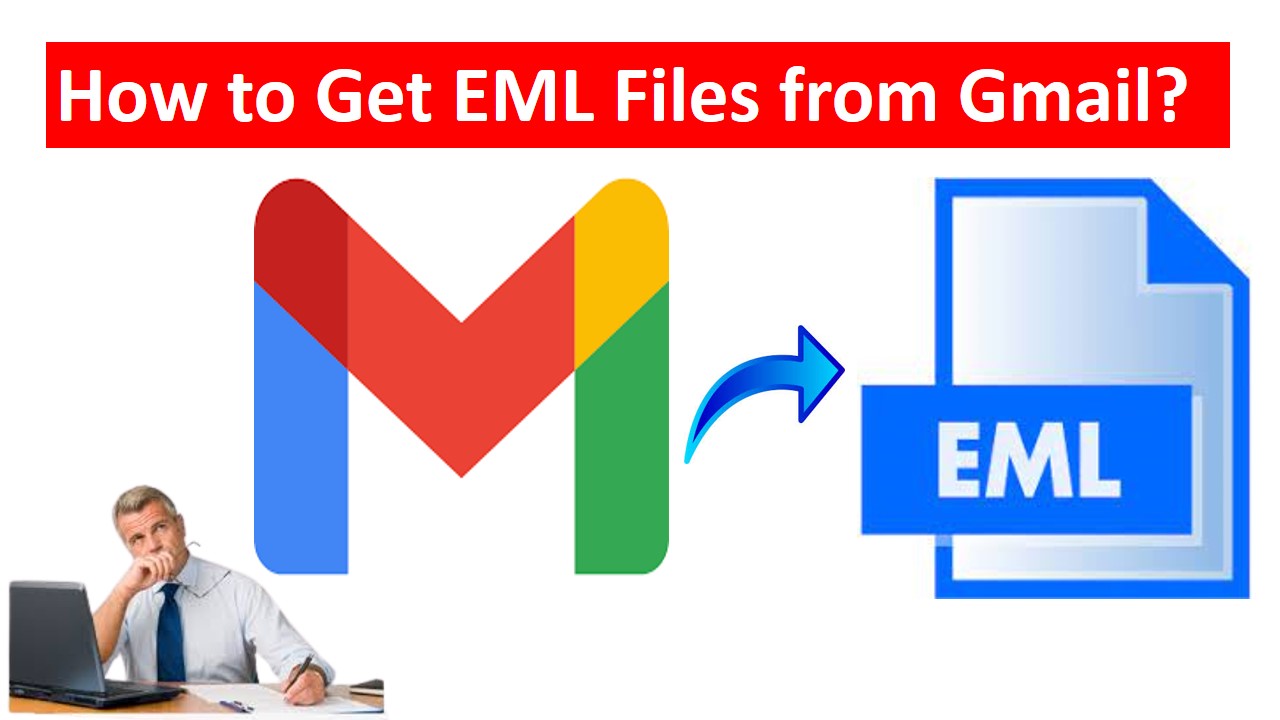 There are various email clients that support EML files format such as Mozilla Thunderbird, Outlook Express, Mac Mail, etc. Today, we are going to understand how to get EML file from Gmail so that you can access the files in various email clients of your choice. First, let's understand what an EML file is and what does it store.
EML file, an acronym for Email file, is a single message file that contains the entire message, attachments, email addresses, and header info of an email. These files can later be imported to almost all the email clients from the hard drive.
Here, we will understand the methods to get these files stored on local data in 2 easy ways. Let's find out how.
Manual Method to Get EML File from Gmail on Mac
There is only one way by which you can download EML file from Gmail to your local computer on your Mac machine. We are going to explain the steps to do the same in the following segment.
Warning: This solution will download the messages one-by-one. If you want to download emails in bulk, you should go for an instant solution for getting Gmail emails without any hindrances.
Follow the given instructions:
1. Open a web browse and log with your Gmail account on your Mac machine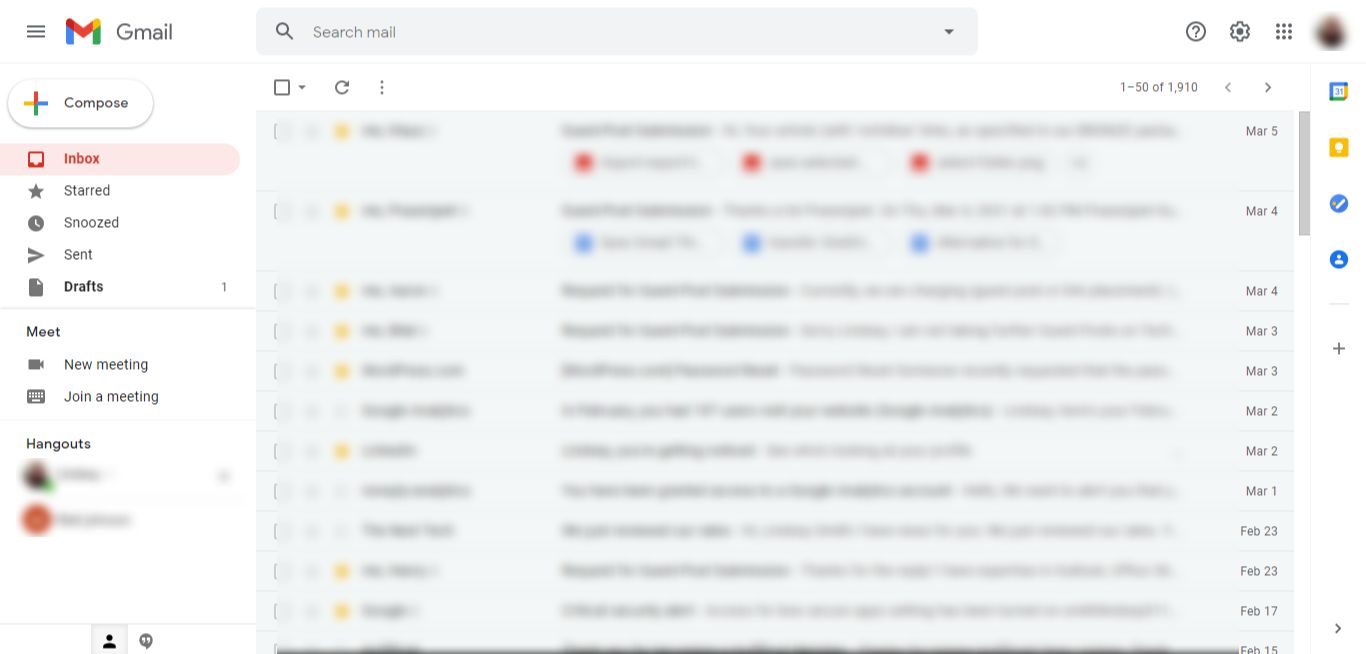 2. Go to the email message you want to download and click on it to open the message.
3. After this, click on the Three Vertical Dots and a drop-down menu will appear.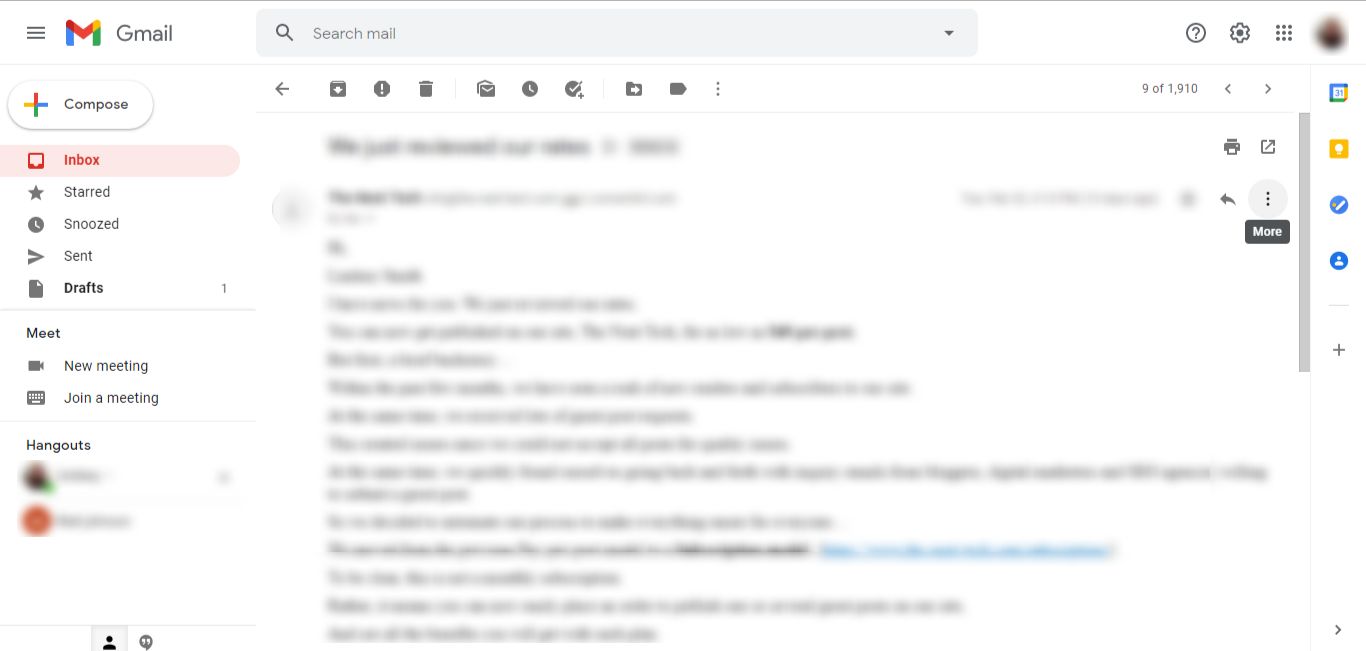 4. Choose Download Message option from there and a window will appear to download the message on your Mac machine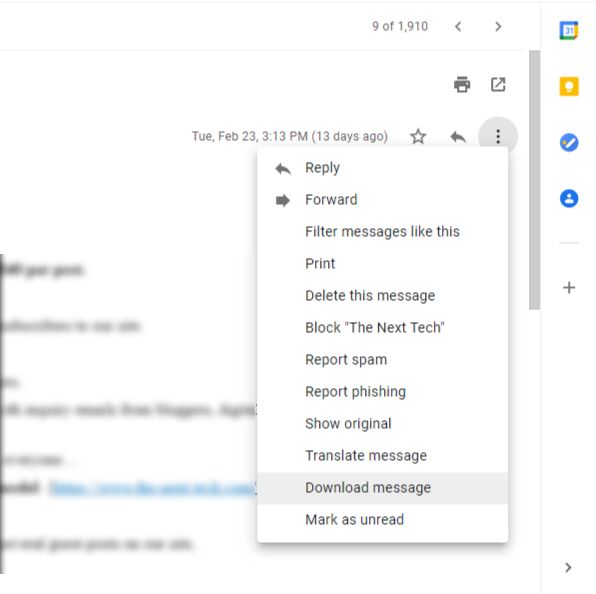 5. Finally, just select the desired location for your email message and click on the Save option.
Your message will be saved on the desired location. Repeat this process for other messages as well. However, there are a few limitations of using this method to export EML from Gmail as explained in the next section.
Demerits of Using Manual Method to Download Message
As simple as this method is, it is equally tiring and time-taking. Why? There is one major drawback due to which it causes a lot of trouble to the users. As we have mentioned, you can easily understand that this method can only download one Gmail email as EML at a time.
For downloading multiple email messages, you have to go though this process again and again. This makes the task a little more time-taking and performing the same procedure for every email also becomes annoying. Let's not forget, as easy it is, exporting messages one-by-one makes it a lengthy process.
To avoid this, you can go for a smart solution that is explained below. Learn what it offers and how it works for a better experience than at manual method.
How to Get EML File from Gmail in Bulk on Mac? Alternative Way
The only way to export multiple EML files from Gmail on your local device is by using the Mac Gmail Backup Tool.  This method allows you to secure data from Gmail account easily. You read it right, you can download EML file from Gmail in bulk on your desired location.
Even this tool is quite helpful when Gmail account not working on Mac machine. Also, make sure that the data integrity is kept intact with the help of this self-operating tool. Moreover, all the emails from the folders like Inbox, Sent Items, Drafts, etc. can be exported up locally. So, with the help of this tool you can backup Gmail emails to hard drive on your Mac machine.
There are multiple file formats that this tool has, so, you can archive Gmail to PST and other file formats. Later on, you will be able to view Gmail email in Outlook 2019, 2016, 2011. 
There are various features offered by the software that we will be discussing here followed by the working steps of the tool.
Multiple Advantages of the Automated Utility on Mac OS
Take a look at the benefits of using this wizard to export EML from Gmail as explained here:
There is an option that allows you to download attachments along with the emails.
Preserves the data integrity and folder hierarchy during the exportation process.
Use the Date-Filter to get EML file from Gmail account from a specific time-duration.
Using this software, you can easily choose certain emails from selective Gmail mailbox folders.
Moreover, this automated software provides option to Pause or Resume the process on Mac machine.
Delete after download feature to regain the storage space of your Gmail account.
Above everything, this tool is available in Mac OS 12.0, 11.0, 10.8, and above versions.
These above mentioned points are the key features of this software that allow an easy and effective exporting procedure. Another benefit of using this tool is that it downloads the data to users' local storage. So that, you will always have a backup of your data in case any mis-happening takes place on your account.
How to Export EML from Gmail Using the Wizard?
Run and Install the software on your Mac machine first. Go through the following order of steps to download EML file from Gmail account on your Mac machine.
1.  From the welcome screen, enter the Gmail account credentials to sign in. Hit Login button.
2. After that, choose EML as your export type for the end result
3. Select the Apply Filters option and set the category as well as date filters according to your needs and convenience.
4. Press the Delete after Download option to regain the space on your server and hit Yes when prompted with a warning.
5. For saving the file securely on your Mac machine, hit the Change button and decide any Destination Path
6. Finally, hit Start Backup to initiate the procedure for exporting your bulk EML files
Once the process begins, there is a Pause option in case if you want to pause the process in between due to any reason and resume it back.
Observed Points
So, to know how to get EML file from Gmail account and in bulk on Mac machine. You all should use the software that we have mentioned above. As this method has been considered the best one so far. Even the tech experts saying that this is an easy-to-use solution. Moreover, none of the users; technical or non-technical, will have any problem using this automated tool.
If you want to use the free solution for a few emails only, you can go for the manual method. However, it will export EML from Gmail one-by-one. As a result, it takes up a lot of the precious time of the users. Hence, choose the method according to your needs and download your all Gmail account emails in EML on your desired location.