MAC PDF
,
PDF
A Quick Guide on How to Convert PDF to Word on Mac
Do you want to convert a PDF document to a word file? And looking for an exact solution on how to convert PDF to word on Mac? Here is the perfect blog for you. In this article, we will introduce the best and reliable solution that helps you in converting PDF files to word doc on mac without losing formatting.
As we all know that PDF is the most common file format that is being used for sharing and storing data. But if you want to edit or modify the data in PDF then the process is quite complex. Because to make changes in the PDF data, first, you need to convert PDF to word file.
Read on to know the process in a detailed manner!
How to Change PDF into Word Doc on Mac? Try This Instant Solution!
The PDF Text Extractor for Mac provides the functionality to convert PDF documents into word. With the help of this tool, you can export data from multiple PDF files at the same time. After extracting the PDF file text the data will be saved in .txt file format and you can copy text to a word file. Moreover, the software is capable enough to perform the conversion process on password-protected PDF documents. But, the valid password must be known to a user.
Tool Provides the Options to Apply Text Settings Filters
You can choose text settings by selecting any of the two options:
Maintain Formatting: You can use this option to maintain the formatting of the resultant document.
Maintain Page Number: By usingthisoption, you can assign the page number on the top or bottom page of the converted text document.
Besides these, it provides 5 different page options to extract text. It includes All Pages, Even Pages, Odd Pages, Page Ranges, and Page Number. You can select any of them as per your requirements.
Let's dive into the working of the tool!
How to Convert PDF to Word on Mac for Free?
It is an effortless solution to convert PDF file to word doc on Mac without installing Adobe Acrobat. The tool does not require any external program to extract text from PDF documents.
Follow the steps to extract elements from PDF documents:
1. Launch the automated utility on your Mac machine.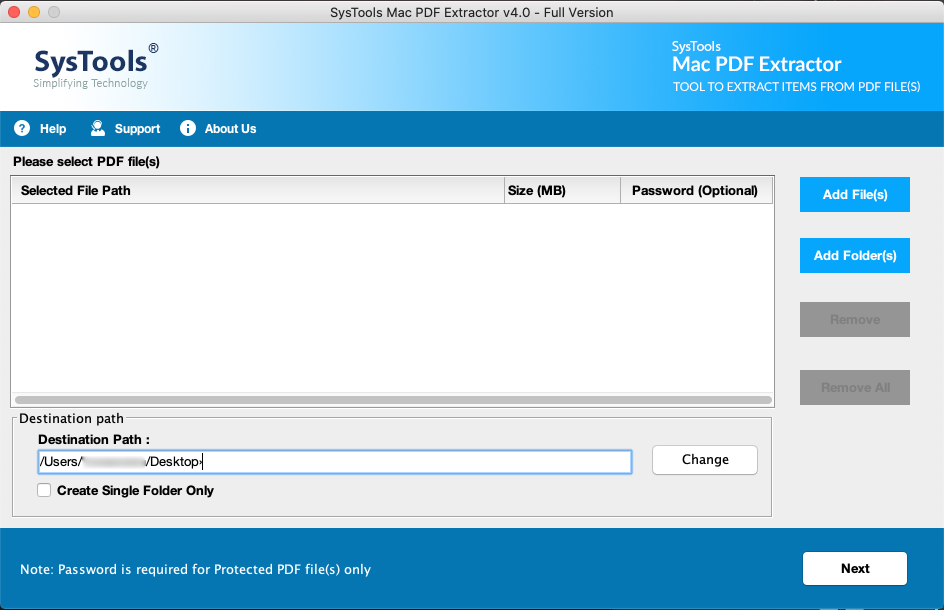 2. Click on "Add Files" or "Add Folder" option to convert PDF files.
3. Also, click on the Change button to select the destination location.
4. Select the item type as "Text" from the given options.
5. Click on the "Extract" button to start the PDF text extraction process.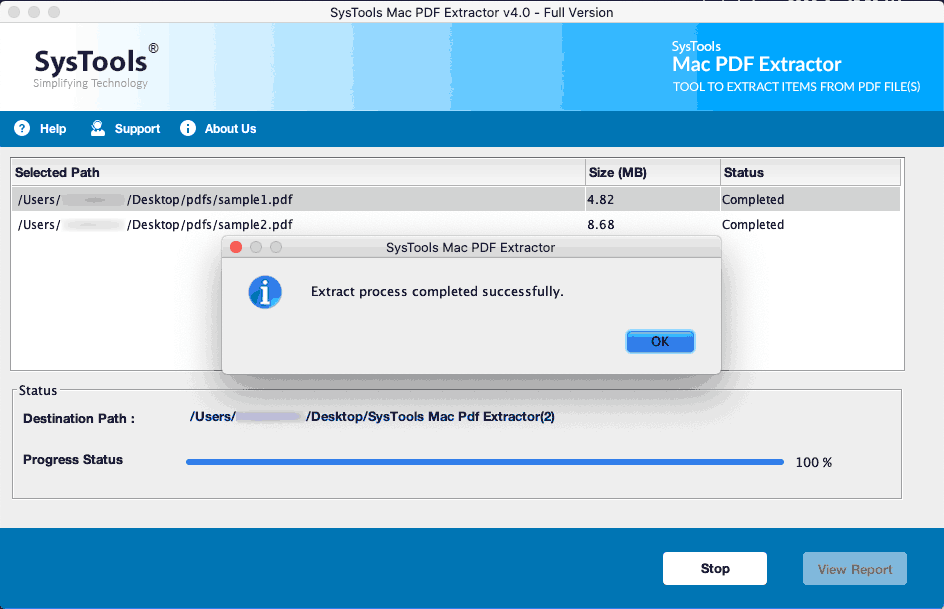 Once completion of the process, you will get the TXT file. Now, you can copy the text to a word file and save the word document at your desired location.
Now, you have learned how to convert PDF to Word on Mac. Let's know more functionalities of this remarkable tool.
Some Advantageous Features of the Software
Rapidly extract TEXT from multiple PDF documents
Provide the functionality to extract inline images from PDF files
Gives the option to extract Text in a single folder or individual folder
Allows to Apply Page Settings for extracting text from selective pages
Maintain the file formatting after the conversion process.
Support known password-protected or restricted PDF documents
Bringing It All Together
The blog is a complete tutorial on how to convert PDF to word on Mac. If you are looking for a cost-efficient and reliable tool to change PDF to word file, you should definitely go for SysTools PDF Text Extractor. The utility provides an option to extract data in text form and after the extraction process, you can copy easily the data in a word file. Also, the tool can process multiple PDF documents at once to convert multiple PDF files to word.