Import & Export
How to Import Outlook PST to Apple / Mac Mail Manually?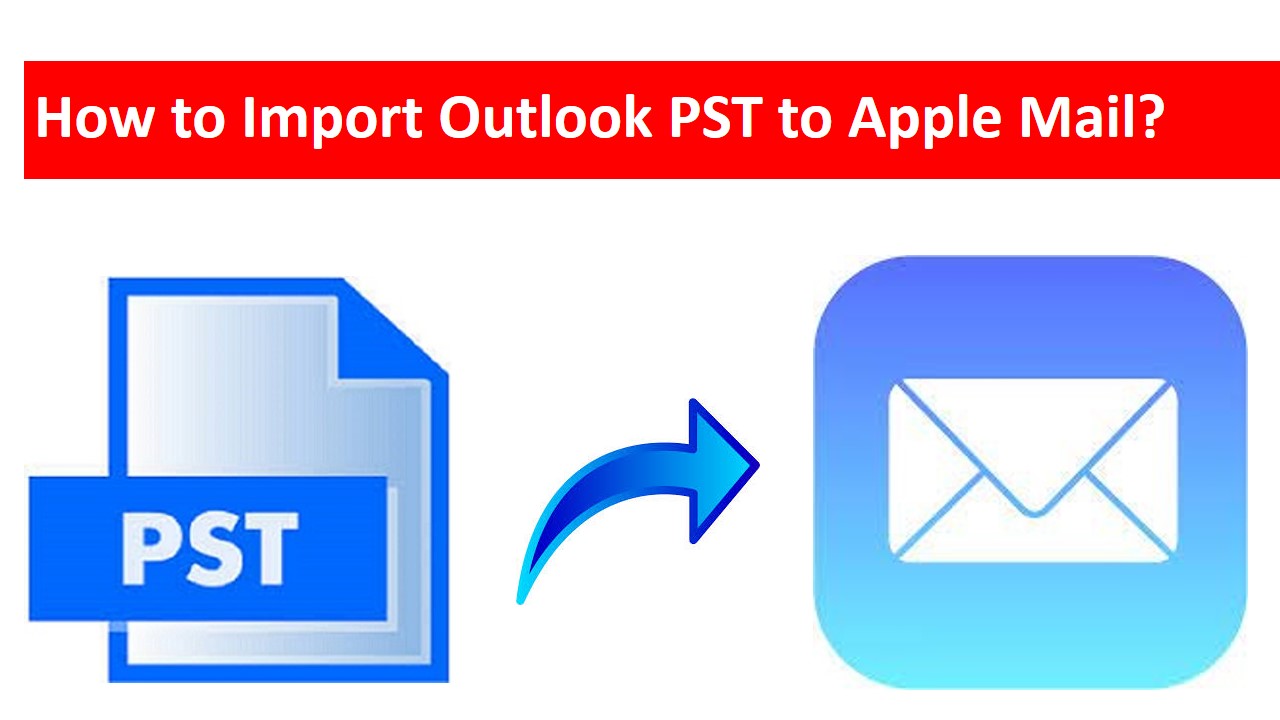 Summary: The blog comprises complete information to import Outlook PST to Apple mail along with all possible solutions. Hence, you just need to perform the procedure in a step-by-step manner to accomplish the task without any hurdle.
Sometimes the presence of bug or malware crashes Microsoft Outlook application. Or, there may several other reasons for what users might need to import Outlook PST to Mac Mail. However, executing this migration is not that much easy as it seems to be. As both email applications utilize different file formats to store their mailbox database.
Microsoft Outlook uses PST file format to save all personal information of users. On the other hand, an Apple Mail uses MBOX file for the same. Thus, many enterprise users search for a solution to import Outlook PST file to Mac Mail.
Whatever the reason behind this import process, we will be going to discuss best solutions for the same.
Import Outlook to Mac Mail with Different Solutions
As above we have told you that both email clients use different file formats, so, first you need to convert the PST file into Apple Mail supported MBOX format. Later on, you need to import it into Mac Mail. So, for that, there are different strategies that you should follow for doing this task –
Now, to understand both of them in detail, just take a look on the next section.
Manual Technique to Import Outlook PST to Apple Mail
The manual approach is considered to be more complex hence, it is recommended to follow every step cautiously. Any misstep or abnormal execution of guidelines may lead you to the serious data loss.
Important: Before going further to import Outlook PST file to Mac Mail, take the backup of original PST file.
Step 1: Sync MS Outlook with Gmail using IMAP
Log into your Gmail account
Hit the gear icon at top right and choose Settings
Select Forwarding and POP/IMAP tab
Click Enable IMAP
Afterwards, tap on the Save Changes button
Now, open Microsoft Outlook application
Navigate to File >> Add Account
Now, in the Account Settings wizard, click New
In this step, just select Email Account, click Next 
Choose Manual Setup or Additional Server Types option, click Next
Select Internet Email and click Next to

import Outlook to

Mac Mail
In the new wizard, enter your name, email address, and password
Change Account Type to IMAP
Type imap.gmail.com in Incoming Mail Server field
Enter smtp.gmail.com in Outgoing Mail Server box
Click on More Settings
Change Incoming Server (IMAP) and Outgoing Server (SMTP)
In the Outgoing Server menu, select My Outgoing Server (SMTP) requires Authentication
Click to choose Use Same Settings As My Incoming Server
After that, mouse-click OK >> Next
Later on, hit the Finish and OK buttons to end up the setup
Drag desired emails from Outlook account and drop them to any folder of Gmail account
Step 2: Configure Gmail Account in Apple Mail
Open Mac Mail application select Mail >> Preferences
Then, navigate to Accounts tab and click on Add icon
Enter your complete name, email address, and account password
In this step, just mouse-click Continue
Afterwards, enter all necessary information in appropriate fields:
Incoming Mail Server
Account Type: IMAP
Description: Gmail
Incoming Mail Server: imap.gmail.com
Username: Enter your Gmail username
Password: Enter your Gmail password
Hit Continue button
Outgoing Mail Server
Description: Gmail
Outgoing Mail Server: smtp.gmail.com
User name: Enter your Gmail username
Password: Enter your Gmail password
Click on Continue
Check your Account Summary
Hit Create button
Now, drag and drop the PST files emails from your Gmail account to Apple Mail on your Mac machine.
So, this was the manual approach that will require you to perform while importing Outlook PST file into Apple Mail account.
Proven Automated Solution to Import PST to Mac Mail
As the manual technique to import Outlook PST file to Apple Mail is lengthy and time-taking. Thus, you can take help from a trusted and proven automated solution. The Mac PST file converter software is the best and tested by top professionals for easily import.
Using this application,  you can export multiple Outlook PST files into Mac Mail supported MBOX file format. It can create a single MBOX file for every folder of PST file along with maintaining the folder hierarchy throughout the process.
Moreover, this proven application can be used to import Outlook PST to Entourage. Along with these, if you will need to convert PST file into EML file, HTML format, Text format, VCF file, ICS file, MSG format and etc.
Moreover, if you will ever need to convert just specific files from particular date, then it is feasible in that task also. As it provides you options to apply the date range, which will help while exporting only selected emails or other data from Outlook PST file.
Steps to Export Outlook PST into MBOX File Instantly
Launch the software and click on Add File(s)/ Add Folder(s) button to add PST file.
After adding file/ folder the software will list it on display, tap on the Next step
Now, select MBOX file and enable Maintain Folder Hierarchy option to import Outlook PST to Apple Mail
Later on, to export the PST file data of a specific time period, apply Date Filter
Next, browse a destination location to save the resultant MBOX files on your Mac PC
Eventually, click on Export button to get the process done.
The export process will begin of MS Outlook into MBOX format. Once it is done click OK. Now, you will get MBOX files at the saved location.
Steps to Import MBOX in Apple Mail
First of all, open your Mac Mail application on your computer
Secondly, click on the File tab and choose Import Mailboxes 
Choose Files in MBOX Format in Import data from section. Click Continue to

import Outlook PST file to Mac Mail

Afterwards, select MBOX file that you have exported before and click on Choose
Once the MBOX import process gets finished, click Done.
After this, you can access your Outlook PST content in your Apple Mail account on Mac machine.
Why Automated Solution is Better Than Manual Method?
You should go for the alternative method rather than manual approach because it provides you multiple benefits.
Unlike the manual solution, the automated software does not take much time to perform.
Moreover, the self-operated tool can import as many Outlook PST files as you want into your Apple Mail.
Additionally, it let's you apply date filter, so that, you can just export only required PST file data.
Also, it is best suited to import O

utlook to Mac Mail without any file restriction effortlessly.

Likewise, this tool not just allows you to export emails but also let's you import Outlook contacts to Mac Address Book easily.
Summing It Up
In order to fulfil personal and professional requirements, sometimes you may need to import Outlook PST to Apple Mail. This technical page incorporates two methods to execute such task as manual and automated method. The manual technique includes some limitations and requires technical expertise to execute import Outlook to Mac Mail. Thus, it is better to opt the professional approach, as it is proven and pre-tested solution. It allows you to do the entire import process without any data modification in your PST file. Moreover, you also gets some additional benefits to apply extra filters. So, you can download its free demo version and try its best features to deal with this query.