Migrate
How to Migrate Gmail to IMAP Server Using Step by Step Guide?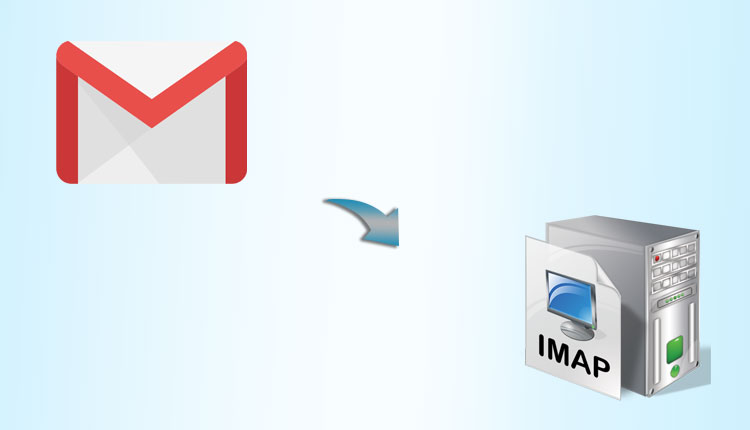 Transferring your email data from Gmail account to another IMAP webmail server sounds daunting. But, with proper guidance and tool, the task can be done easily. That's why,  we will discuss a detailed solution to migrate Gmail to IMAP server to make the migration simpler & easier. Stay with the article till the end so that you can safely complete the migration on your own to IMAP mail server.
Undoubtedly, Gmail is one of the best email clients. But, due to its limited storage space, some users prefer to experience a different email client. Here is a user query we received where he we worried about how can he move his Gmail data to IMAP.
User Query: Hey, I have been using Gmail account earlier for my personal use, then I started using it for official purposes as well. But, now the storage is full and I can't receive any new emails. And, I have decided to migrate to other IMAP supported email service. So, I want to know the safest solution to migrate emails from my Gmail account to IMAP, please help. 
Just like the above user, if you're a Gmail user and want to move your emails to another IMAP-supported email client, then look no further than this article.
Table of Content
Quick Solution to Migrate Gmail to IMAP Server on Desktop
For easily migrating emails from a Gmail account to an IMAP mail server you can go for the professional solution. Thus, the Smart IMAP Migration Software is the best solution. Using this tool, you can simply migrate countless emails with attachments from a Gmail account to IMAP.
However, for this automated software to operate, you need to enable IMAP. Also, if 2 Step Authentication is enabled, use the App Password to log in to this program. Or you can just disable 2-Step Authentication.
After completing the required details, it will start the application process immediately. In addition, it also supports various webmail services that are supported by IMAP servers. So, if you need to migrate your emails from a different webmail service than Gmail, go for this tool.
Note: If you want to migrate Gmail account to Amazon WorkMail then you can take the help of the above tool.
Advanced & Useful Integrated Features of the Software
With this software, you can enjoy its various features like-
Mac Machine Compatibility – As it is not necessary that the version of Mac you are using, other users may be using the same. Hence, this tool is designed to work with all Mac operating systems. Hence, it becomes easy for you to work on any version of Mac operating system. It fully supports Mac OS 10.8, and all versions below, Mac OS X 11.0 and Mac OS X 12.0 versions. However, it is necessary to have Java JDK 1.8.0 and JRE 8 installed on the Mac computer. IMAP settings also need to be enabled for the source and destination accounts.
Availability to Transfer New Gmail Emails – To prevent any email duplicates in the destination IMAP account, this tool offers a delta migration feature. Using this feature, you will be able to migrate Gmail to IMAP server which you have received recently or after the first export.
Free Software Version Available– Everyone likes to know about something before using it. With that in mind, there is a free demo version of this tool for migrating emails from Gmail account. Although the freeware demo version of this tool offers limited trials for migration.
Selective Emails Gmail Email Migration – Sometimes, you may not need an entire Gmail mailbox folder to migrate to IMAP. Hence, this software provides the facility to move only selected emails from Gmail accounts in a specific period to IMAP. To do this, it has a date filter option where you need to set the date range according to the "To" and "From" fields. Once you enter the fields for the required Gmail emails, the tool will migrate only those emails that fall within the selected date range. Hence, it keeps the task short to access the email in the destination account later.
How to Migrate Gmail to IMAP Server Step by Step?
Download the tool to migrate emails from Gmail account to the required IMAP account, follow the below guide-
Install the above-mentioned tool on your Mac PC, and implement the given instructions on the initial screen, press the "Continue" button.
Choose "Gmail" as a Host Name in the source account. Then, you need to enter the User name and password of the required Gmail account validation.
Now, in the destination account, select any "IMAP" supported application. Several options are given, but if the required one is not listed then tap on the "Other" option. After selecting them, provide the username and password of the required account and validate.
If there is a need to transfer emails from multiple Gmail accounts to different IMAP accounts, then you can tap the "Add" button for batch migration by mapping them.
To start the process, tap on the "Start Migration" option to move emails from Gmail account to IMAP. After all the steps are completed, the migration will begin and you can then access emails & attachments in any IMAP account.
FAQs
Q- Does this tool allow you to drop the already migrated emails from the mailbox?
Yes, this tool allows users to migrate Gmail to IMAP only newly received emails from the mailbox. In short, every time you go for migration it will already migrate emails to eliminate duplicates.
Q – Can I use this tool for bulk migration from Gmail account to IMAP mail server?
Yes, definitely, this software is capable of bulk migration of Gmail account emails with attachments to IMAP account.
Conclusion
In this article, you can easily migrate Gmail to IMAP server with the information explained. Using the suggested method, you will be able to transfer all emails from Gmail account mailbox to IMAP mail server. Also, it can be multiple Gmail account to migrate emails with attachments. Therefore, after migration, you will be able to access all emails with the same folder structure in the selected destination account. As this tool never compromises the folder hierarchy of the mailbox.