Migrate
How to Migrate Email from GoDaddy to Gmail Account Directly?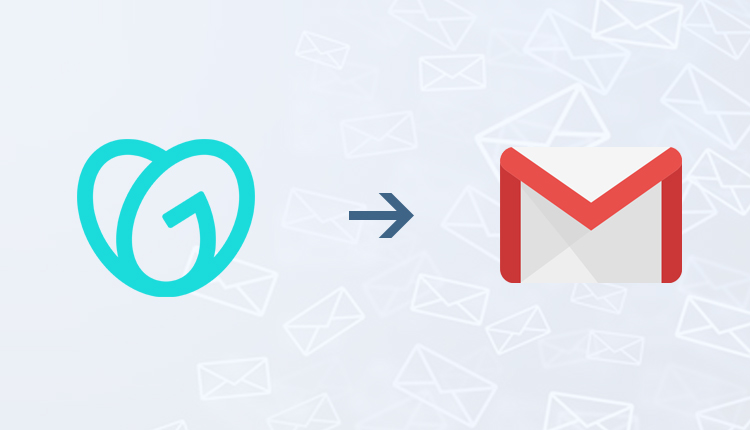 Migrating from a platform to something better having advanced features or facilities may be the requirement of any user. And when it comes to using advanced features then Google services are considered to be the best among others. Hence, in this article, we will discuss how to migrate email from GoDaddy to Gmail / G Suite account.
Google Mail becomes the first choice of many users for various reasons. First and foremost reason for the simple interface to manage email data along with contacts, calendar, and more. And even users go for Gmail business accounts for handling large data of big firms.
Let's take a look at a user query for the same issue –
User Question: Hi, I have been managing my email data on GoDaddy domains for a long time. But, now I need to transfer GoDaddy email to Gmail before creating new mailboxes on Google. The biggest reason behind this migration is the free Gmail email service. But, I'm afraid that migrating emails will delete the GoDaddy mailboxes and their existing contents. So, I am looking for a secure solution for migration that will allow me to keep my GoDaddy mailbox? Or please refer me to the solution if there is an alternate method that I should try.
Manual Solution to Migrate Email from GoDaddy to Gmail
However, GoDaddy does not offer a direct way to transfer GoDaddy email to Gmail, however, you can still try to perform the task in two steps-
Step 1: Enable POP in GoDaddy Webmail
Here, you need to enable POP mail setting in your GoDaddy email account. Follow the below step to execute the enabling process.
To start the migration process, login to your GoDaddy mail account >> POP Settings.
From the mailbox, enter the description in Incoming Server POP as POP.secureserver.net and SSL value: 993
Then, for Outgoing Server (SMTP) enter description as smtp.securityserver.net and SSL value as 465
After entering all the details, click on the Save button to save them.
Authorization tab, enter Godaddy username and password and click on Save option.
Doing so will enable the POP settings in the GoDaddy account on Mac desktop. Now, let's move to the next step to complete the migration manually.
Step 2: Add GoDaddy Email to Gmail Account
After enabling POP, you will now need to add the GoDaddy email to your destination Gmail account.
Simply log in with a Google Account by visiting Gmail.com to migrate.
After that, tap on the gear icon and click on the All Settings option that appears.
And in the Forwarding and POP/IMAP section, enable POP for all email, and disable IMAP, then tap Save Changes.
After that, from the same Settings, choose the Accounts and Import section.
Here, mouse-click Add another email address to connect the GoDaddy account.
On doing so, a dialog box will appear, here, enter GoDaddy email id, it will send you a code to your GoDaddy webmail.
So, just enter the code that you recently received in GoDaddy mailbox, and click on Verify.
This configuration will let you access all email from the GoDaddy account in your Gmail account.
How to Transfer GoDaddy Email to Gmail via Automated Method?
Sometimes, users or organizations need to migrate bulk data at one go in a short span of time. And going for some manual or indirect process may lead to data loss situation. Therefore, it is better to switch to professional solutions.
So, we would recommend you to use IMAP Migration Tool for Mac operating system to keep the data safe. This will allow you to perform a complete process to migrate email from GoDaddy to Gmail for bulk emails with attachments.
Hence, the operating this tool to transfer emails is quite easy for every technical or non-technical user. However, one of the best features of this tool is that one can run this tool on any of the latest or older versions of Mac OS. Although, some prerequisites are required to work with this tool on Mac OS 12.0, Mac OS 11.0, Mac OS 10.8, and lower versions.
Important Note: If you are wondering to transfer email from GoDaddy to G Suite / Google Workspace account. Then, this tool also lets you migrate to a G Suite account without affecting existing email data.
Features of the Tool for a Secure Migration
This automated tool provides various features for Mac users to migrate successfully, such as-
The above recommended GoDaddy to Gmail migration tool for Mac is one of the best and most effective because of its easy GUI interface. It does not impose any restrictions when transferring email data from one IMAP enabled platform to another.
Likewise, it is an advanced tool that is compatible with all the latest and older versions of Mac operating system. So, it is easy to migrate email from GoDaddy to Gmail on all Mac OS 13.0, MacOS 12.0, Mac OS 11.0, Mac OS 10.8 and below versions.
Furthermore, one can even use this tool for GoDaddy to AWS migration with all email attributes and attachments.
Secure tool that keeps the entire folder hierarchy in place during the migration process.
It even never transfer the same email twice from GoDaddy to G Suite/Google Workspace/Gmail account. To do this, it offers a delta migration option that you can use to discard already migrated emails to eliminate duplicates.
Guide to Migrate Email from GoDaddy to Gmail Quickly
To execute the migration, just download the software on any Mac operating system. After activation and installation, follow the below steps-
So, just runt the tool and follow the prerequisites, then tap on the Continue button.
To initiate the migration, select the GoDaddy option as the host name in the source IMAP account. Then, provide username and password to transfer multiple GoDaddy Webmail emails with attachments to Gmail.
Now, you will need to choose the Gmail / G Suite option in the destination IMAP account, enter active username and password and validate.
Either tap on the Advanced Settings for a customized migration if necessary.
Tap the Start Migration option to safely migrate from GoDaddy email to Gmail / G Suite account on Mac desktop.
User Review for This Migrator Software
Since we are using GoDaddy webmail for managing our large email data but recently it started throwing errors. Therefore, our company has decided to move important email data to G Suite account. We did a lot of research for that but couldn't find any reliable solution. But, one of my colleague suggested to use this migrator tool. And it really helped us to migrate GoDaddy email to G Suite accountwith attachments.
– Susain, America
Our major concern was migrating multiple emails, so we were looking for a solution that allowed bulk migration. And after a lot of research we found this migration tool which helped us to migrate email from GoDaddy to Gmail account in bulk. Also, the team was completely polite whenever we faced issues in getting the task done.
– Chandler, USA
Conclusion
For a secure migration, it is always suggested to go for a professional solution. Therefore, we would recommend a tried and tested automated solution for GoDaddy to Gmail migration. This will help you migrate email from GoDaddy to Gmail account safely. So, use the tool and easily transfer multiple GoDaddy emails with attachments to Gmail or G Suite. As manual method might lead to data loss situation.