Outlook for MAC
Resolve Outlook for Mac Attachments Not Showing in Reading Pane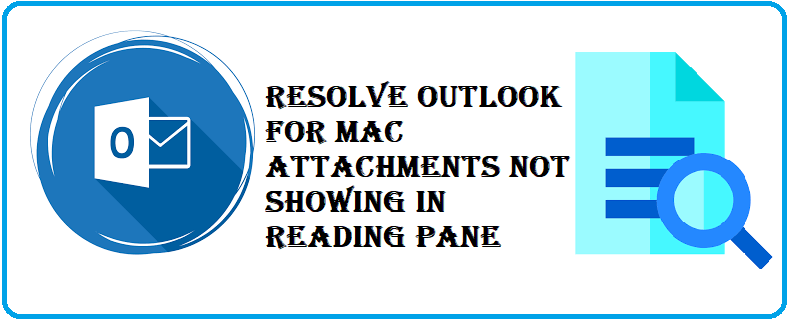 Summary: For instance, you received an e-mail message with an attachment in Outlook for Mac. Generally, you can preview the attachment file directly in the Reading Pane without downloading it. Just you have to Click the attachment below the message header and choose the preview option to see the attachment. You can even switch among the attachments in the attached workbook.
But sometimes due to some reasons users are encountering an issue where Outlook for Mac attachments not showing in reading pane.
Therefore, we have come with an article that helps you to understand why you are getting an issue while previewing the email attachments in Mac Outlook? Also in this write-up, we are going to discuss the reasons behind the Mac Outlook Not showing the attachments in reading pane.
Quick Tip: If you are facing such type of issue and urgently want to access attachments, then you can download this software and extract all your attachments into your system storage. After that, you can easily open them in the respective applications that support the attachment's file type.
Topics We Cover in this Blog
So, now, let's dig deeper into the blog
What are the Reasons Outlook for Mac Attachments Not Showing in Reading Pane?
May you have disable the Preview option by mistake
It is also possible if the user has some synchronization issues in the Mac Outlook
It also occurs due to file compatibility issue in Mac Outlook.
Resolve Outlook for Mac Attachments Not Showing in Reading Pane- Manually
All the issues mentioned above can leads Mac Outlook preview issue. In some cases, these issues will stop users from previewing the email attachments file.
Therefore, it is necessary to fix this issue immediately. Hence in this section, we are going to discuss some manual techniques that will resolve Outlook for Mac attachments not showing in reading pane.
Method #1 Check for Updated
The first thing that a user has to do is to check for Mac Outlook updates. Because as we mentioned above if we are using an older version of Mac Outlook then we may be e face attachments issue due to file compatibility. So first update your Mac Outlook because the new version can able to handle more emails and their large size attachment more effectively.
Method #2 Reset your Account
Sometimes due to the wrong synchronization, you may face Outlook for Mac attachments not showing in reading pane. So to fix the synchronization process we consider resetting your account. To do this you need to fast delete your account from Mac Outlook and later add it again. Follow these steps to reset your account.
First open Outlook and go to the tools option
Now, from tool option select accounts
Select the account which you want to remove from account settings
Click on the delete button and confirm your choice to remove the account.
After removing the account launch the Outlook again and add the same account details to reset it.
Method #3 Empty Cache
Microsoft Outlook stores file you have used so that you can easily access them again and this file is known as a cache file. Sometimes if you remove or uninstall Outlook add-ins, then you can face the attachments preview issue. So, it is important to clear your cache to resolve this issue.
Go to the navigation panel right click on account
Now select properties option
Click on the empty cache option
After that right-click on the folder containing email attachments that are not showing in reading pane.
After all the settings click on the synchronize now option.
Method #4 Open Outlook in Safe Mode
Sometimes antivirus or firewalls may provoke Outlook for Mac attachments not Showing in reading pane issue. So to check this firewall problem try to open Mac Outlook in Safe Mode and the guidelines are listed below
Now press and hold the shift key for a few seconds and release it once Mac boot in the safe mode.
After that login to your respective user account and launch Outlook in safe mode.
Smart Solution to Resolve Outlook for Mac Attachments Not Showing in Reading Pane
If you still encountering Mac Outlook not showing the attachments in reading Pane, then it is better to try trusted third-party applications that quickly save all attachments from Mac Outlook. It is one of the best-automated tool that is capable gives you an alternative solution for your issue of attachment preview in reading pane by downloading all your attachments in one place. The Mac Outlook Attachment Downloader software supported all Mac Outlook versions and files along with orphaned PST.
Note: To know the detailed working steps, then Click Here
Conclusion
After performing the above-stated techniques you can easily resolve Outlook for Mac attachments not showing in reading pane issue. But keep one thing in mind that free methods have some limitations. So in this situation, it is better to go with the third party software that we have suggested above in the blog. But the final decision is yours, opt for any method as per your requirement.