Yahoo mail
How to Save Yahoo Email as EML File Format in Batch Mode?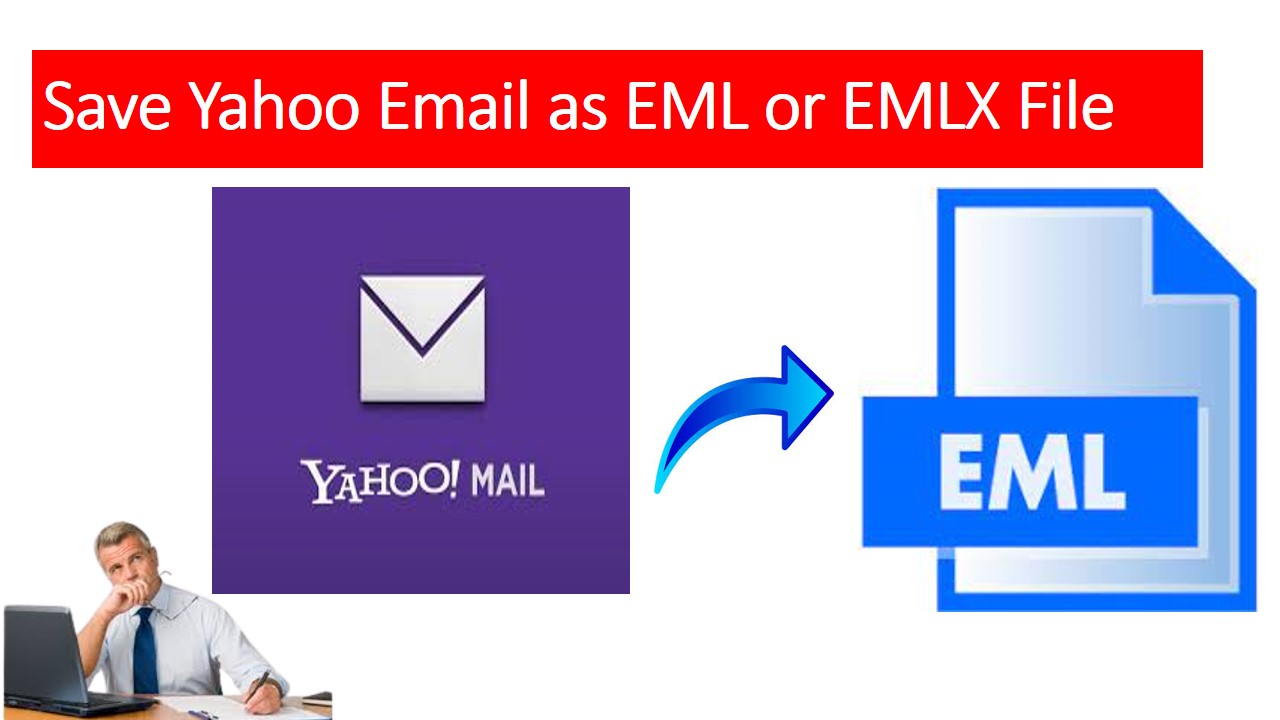 Summary: If you have been planning to take out the Yahoo mail emails for future use in EML format. Then, here, you will get all your answers to save Yahoo email as EML file format. So, whether you want to save all or selected emails from Yahoo Mail either into EML or EMLX file, every answer is here. After going through this article, in the end, you will be capable to know how to do the process on your own.
So, let's begin the topic with some user queries-
User Query: Hey, however, I was using Yahoo Mail to communicate with my clients, but due to the changes, we can't send or receive emails. So, I was planning to save emails from Yahoo mail to hard drive in .eml or .emlx format. For doing this, I surfed the internet but didn't get any solution on how to save Yahoo email as .eml. Can someone suggest me any professional software to save them? It would be a great help, thanks.

How to Save Yahoo Email as EML or EMLX?
Using these two techniques you can easily export Yahoo emails to EML –
So, now, let's move to the manual method for saving emails from Yahoo mail into .eml file.
Quick Solution to Export Multiple Yahoo Emails to EML
Although there is no such direct manual method, therefore, it would be much better if you switch to a professional solution. For the same, we have come up with the best Mac Yahoo Email Backup Tool from MacWareTools. This is the perfect standalone solution that will help you to know how to save Yahoo email as .eml or .emlx format in bulk.
This is the best self-operated program because it makes the entire task easy for both technical and novice users with a simple interface. So, there will be no issues arising while operating this tool while saving emails.
Hence, using this software you can just take out as many emails as you want from Yahoo Mail on your local computer. In fact, it has the capability to delete multiple emails from Yahoo mail just with one feature.
Above all, it not just provides the option to save emails in EML format but into PDF documents, Outlook PST file, and more. There is good news that using this software you can easily print Yahoo email attachments as well.
Guide to Save Yahoo Email as EML Format in Batch
First of all, download the software for operating it on Mac machine. Then follow the guide as mentioned to export Yahoo emails to EML in batch –
After launch the tool, login with your Yahoo account credentials, hit Login
Now, from the Select Export Type section, just check the EML or EMLX file option
Then, check the Delete After Download option or apply other Advance Settings 
Afterwards, for saving them at desired path place, tap the Change button to decide Destination Path
At last, hit the Start Backup to initiate the process to save Yahoo email as .eml or .emlx format.
Features of the Automated Tool
However, there are multiple features this self-operated program provides, such as-
Using this software, you can easily know how to backup Yahoo mail contacts on system along with saving multiple emails at a time.
If somehow, your Yahoo mail not working on Apple mail then this automated software will going to resolve it.
Apart from these, as it allows to save Yahoo email as EML or EMLX files, it also provides multiple formats.
There is an option through which you can remove all the unnecessary emails after saving them securely.
Configure Yahoo Mail to Thunderbird Manually
To save Yahoo email as EML or EMLX format, you can configure your Yahoo Mail account with IMAP. Hence, to transfer Yahoo Mail to Thunderbird, you need to follow the below guideline –
Launch Mozilla Thunderbird and then enter the details as asked and tap the Continue option to export Yahoo emails to EML
Secondly, check the IMAP (remote folders) option and select Manual Configuration from the screen
Then, enter the following server settings for the configuration:
In Incoming: imap.mail.yahoo.com – Port: This 993 (SSL) or 143
For Outgoing: smtp.mail.yahoo.com – Port: This 25 or 465 (SSL)
To move further press the Re-test option, if all the details are correct then just hit the Create Account option
By doing so, you have successfully configured your Yahoo mail account in your Mozilla Thunderbird email client
Afterward, you can tap on the Read Messages options to verify your emails with Thunderbird
Hence, now, you can easily access your Yahoo mail emails in Mozilla Thunderbird.
And for saving them into EML format, you can just drag and drop them into your computer at any location. As a result, you will get the dragged email either in .eml or .emlx format.
Few Limitations to Export Yahoo Emails to EML Manually
First of all, you must have technical knowledge in order to execute this manual method.
Moreover, it will only help you know how to save Yahoo email as EML format one by one. So, it will be a lengthy process if you want multiple emails from Yahoo mail in .eml format.
Along with these, if there is an error while configuring the Yahoo account then it might affect the file's data.
If you have multiple folders to save as .eml or .emlx then this manual process will be a quite tiring process.
Conclusion
When it comes to securing the data of the Yahoo mail for future use, saving them is a nice option. Therefore, in this article, we have discussed how to save Yahoo email as EML or EMLX format. Here, is the easiest and quickest solution we have shared. Using this automated software you will get to know how to save Yahoo email as .eml in batch mode.