Migrate
How to Migrate Emails from Gmail to Zoho Mail Securely?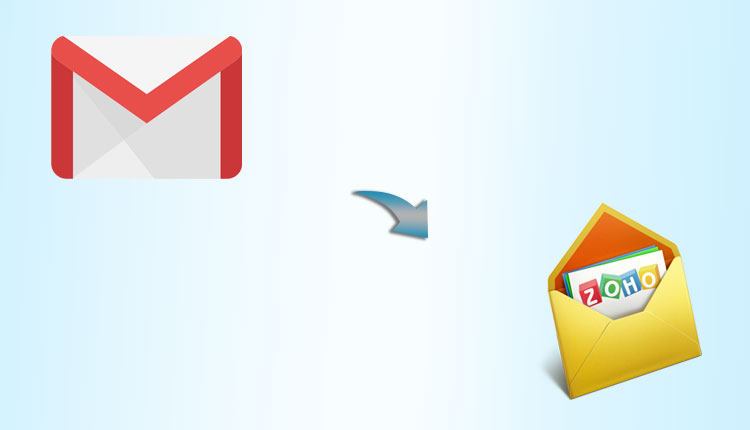 However, both Zoho Mail and Gmail are common cloud-based email clients among all users. But, sometimes, users prefer to switch from one email client to another due to some reasons. The case is same for these email clients, as many users search for a way to transfer Gmail to Zoho Mail effortlessly. For all, we will discuss the best solution to this question in this article.
The reason of this migration could be an expectation from the Gmail account that didn't complete successfully. Even though both provide similar services, migration becomes a necessity.
We have many user queries, let's consider one of them here-
User Query: I've been working on some Zoho products lately, so I've decided to switch my other account emails to Zoho Mail. Earlier, I was using Gmail account only for personal and official purposes. But, I now, I want to transfer Gmail to Zoho Mail with all the exact same conversations that I had in my Gmail account. However, I found some solutions over the internet but all of them are asking to take a backup of the required data and import it into Zoho. I certainly don't want to do that. So, I am looking for a straightforward solution that can perform this entire migration securely. Someone, please share something reliable and trustworthy solution.
How to Transfer Gmail to Zoho Mail Account Directly?
Though there is no such manual solution that can directly perform Gmail email to Zoho mail migration. Therefore, we have come up with a solution that you can rely on to transfer emails safely. So, using the Secure IMAP Migration Software for Mac you can easily migrate emails from Gmail to Zoho with complete data security.
After performing this task, you will be able to access all the migrated emails in Zoho Mail later with the same folder structure. Apart from this, this application also provides multiple features which helps in filtering the data for migration. To know more about this software, you can also check out the free demo version. So, get the benefits first and then go for the license version after you are satisfied.
Even using this tool you can transfer your emails from Gmail to AWS WorkMail. Because this software is an advanced solution that provides multiple email clients to migrate your email data in.
Similarly, if you have multiple Gmail accounts, and you want to migrate them to multiple Zoho accounts. Then you can add all the required accounts here and map them to do Zoho mail migration to Gmail.
Multiple Features of the Advanced Utility
Transfer Selected Emails – This automated software can easily migrate all newly received messages from the required Gmail account after the first export. As there is an option as Delta migration which will migrate emails from Gmail to Zoho which you have not migrated yet. This feature is helpful in preventing any duplicates in email data during migration.
Folder Structure Intact– As no one wants any modification in the hierarchy of the data. Therefore, this tool will never affect any folder structure during the entire migration. As it is designed by the top technical professionals keeping in mind all the hierarchy needs of the users. Furthermore, it is also capable of keeping the metadata the same.
Exclude/Include Folders- Sometimes, when you don't need some folders while transferring Gmail email data, this tool seems helpful. Using this tool, you can exclude certain folders from your Gmail account, such as Sent Items, Spam/Bulk/Junk, or Deleted Items. Hence, it allows to include only required folders to be migrated to Zoho Mail.
Check Status/Report of Migration Process – It can also help you to report or check the status of migration in the form of progress and completed entries. In short, this feature will guide you to know the exact migration progress.
Transfer Selected Emails– If in case, you want to transfer Gmail to Zoho Mail but only some specific emails on a Mac desktop. Then this software will help to migrate only selected emails using date filter feature. Therefore, it eases the task for selective migration from one webmail client to another without data modification.
Guide to Perform Gmail to Zoho Mail Migration on Mac
To execute this transfer email data from one web-based email client to another, first download the software. Follow the basic steps for a successful migration on Mac desktop-
There are some instructions given in the initial screen of this software, read them and tap Continue.
From next screen, add the Host Name as Gmail and enter the User Name and Password of the required Gmail account.
Now, in the Destination IMAP Account, select the Zoho mail option, and provide the User Name and Password for the same to validate.
If you want to migrate emails from multiple Gmail accounts to destination Zoho, then select the Add option
If necessary, choose the Advance Settings option to filter out the email data to transfer Gmail to Zoho.
Finally, mouse-click the Start Migration option to migrate from the Gmail account to Zoho with all the selected emails.
FAQs
Q- How do I migrate only certain emails from Gmail account to Zoho Mail?
To move specific emails from Gmail mailbox, you can apply date filter option which will transfer only emails that fall in that category to Zoho account.
Q- Will I get the same folder structure in my Zoho Mail account while using this migration tool?
Definitely yes, this advanced solution that transfer Gmail to Zoho Mail account while retaining all folder structure and meta properties.
Q- Does this migrator work on Mac OS 13.0 to migrate multiple emails?
Yes, it is an advanced software to perform migration which is compatible with all latest and old versions of Mac OS including Mac OS 13.0, 12.0, etc.
Transfer Gmail to Zoho Account – Wrap Up
In this article, we have discussed migration from one web-based email client i.e. Gmail to another i.e. Zoho Mail. Here, we have shared the best and most reliable solution for the same. This suggested method will help you to perform this migration without any data modification. This automated software will transfer Gmail to Zoho mail with all the folder hierarchies. So, download it, operate it and migrate all Gmail emails to Zoho on Mac desktop.