Office 365
Transfer Office 365 Mailbox to Another Account Mac – Complete Solution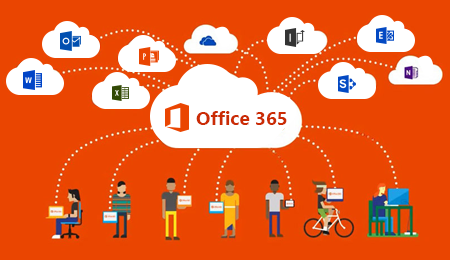 We all know that migration or transfer Office 365 mailbox to another account is a very complex process and there is no manual method to execute such a task, even Microsoft advised the user to choose a third-party application to move Office 365 mṬailbox to another account in a more convenient way.
Therefore in this article, we will explain how to execute such a task using the all in one "Office 365 Export Tool".Before moving directly towards the working of the tool let's have a look at this user query that will help us to understand the problem in a better way.
User Query
"Hello, I am working as a system administrator in the organization and the CEO wants to transfer Office 365 mailbox to another account. Because many new employees will going to join the organization. Therefore, I have download and use many tools online or offline but not getting the best result. Is there any perfect solution to move Office 365 emails to another account? Please suggest me any reliable and cost-effective software to execute such task."
As the above scenarios, there are many more organizations that want to transfer emails from one Office 365 account to another. And as the companies work in the cloud, they ask for the step by step procedure for transfer Office 365 Mailbox to another account.
But the surprising thing is there is no direct and convenient method for this procedure. Thus keep this in mind that we will provide you the ultimate solution for move Office 365 mailbox to another account. Before moving further let's have a look at some things which are very important before this transfer.
Points to Transfer Office 365 Mailbox to Another Account in Mac
Before migrating Office 365 emails to another account ensure that you must have Office 365 license assigned and you can run the OWA administration portal. It is needed that you have the Mailbox Import Export role as well to the admin account.
Before moving emails from one account to another account with an automated tool you need to create a project in Microsoft azure and generate an Application ID to perform starting the process.
After creating a project and generating Application ID in Azure, we need to have the activation code for software to move email data from one account to another.
This method is user to transfer Office 365 mailbox to another account of Office 365 but if you need to import Office 365 emails in MS Outlook, Thunderbird, Apple Mail or other leading email clients than what should you do?
This article is focused about the working of an Automated Tool that will assist you to execute such task in trouble free manner. Below we also mentioned the limitations or the reasons why we couldn't explain the manual method.
Drawbacks of Manual Method
The manual method to transfer Office 365 emails is a time consuming and very lengthy method.
It requires technical assistance. Non- technical users find it difficult to opt for this method.
This method doesn't provide any data filter option.
It only permits you to transfer an email which means you are not able to transfer data like calendars, contacts, etc.
Working of the Automated Tool Solution
Fill the required information of Office 365 Admin Center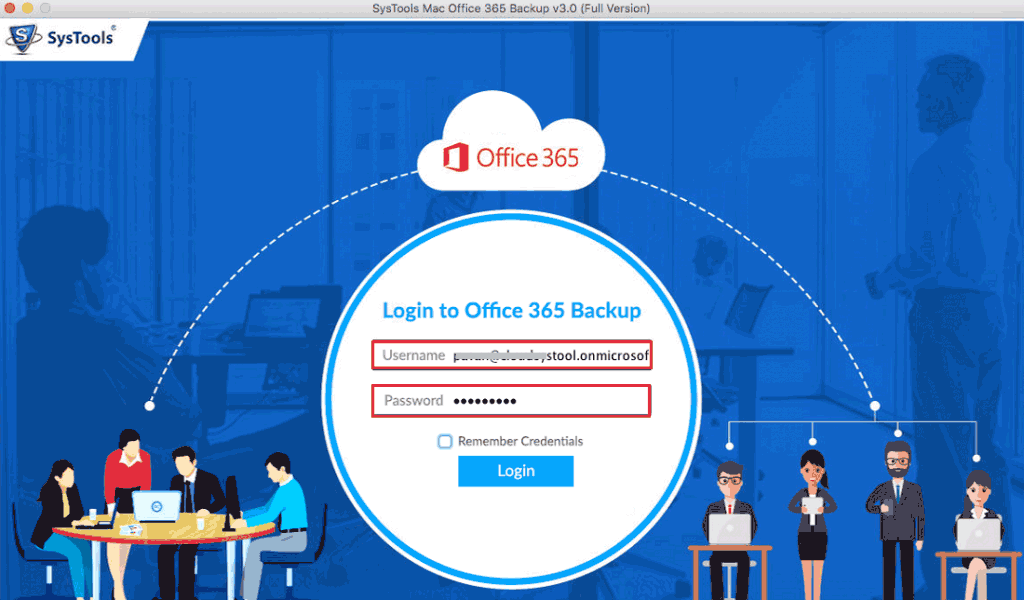 Choose the PST, MBOX, MSG, EML, EMLX file format accordingly from the options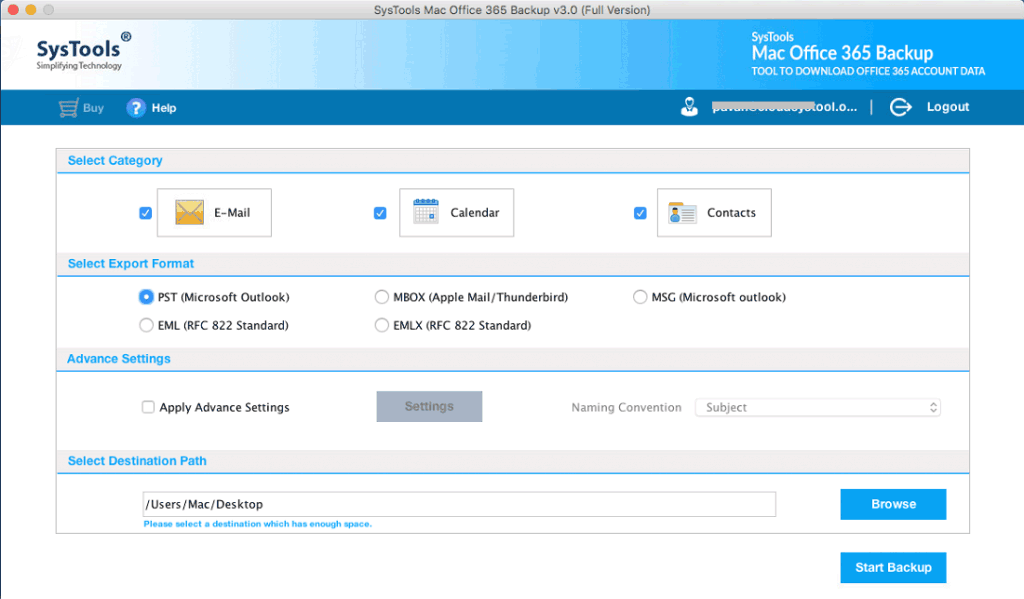 Note: These above mentioned file formats are categorized in such a way that user can choose PST for MS Outlook, MBOX for Apple Mail or Thunderbird etc. Therefore by taking the example of PST format we described how user import the PST file into Windows Outlook. Don't worry if you choose MBOX or MSG it is quite simple to import that file also in their supported email clients respectively.
Browse the destination location for your resultant file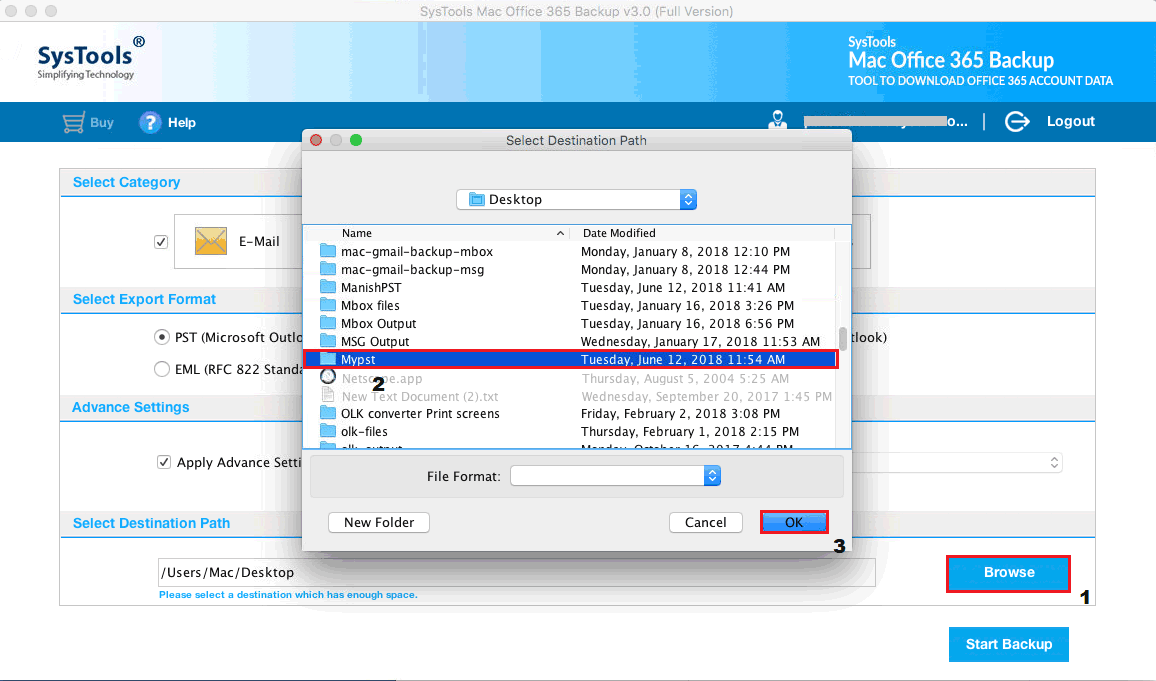 Click on the Start Backup button to start the process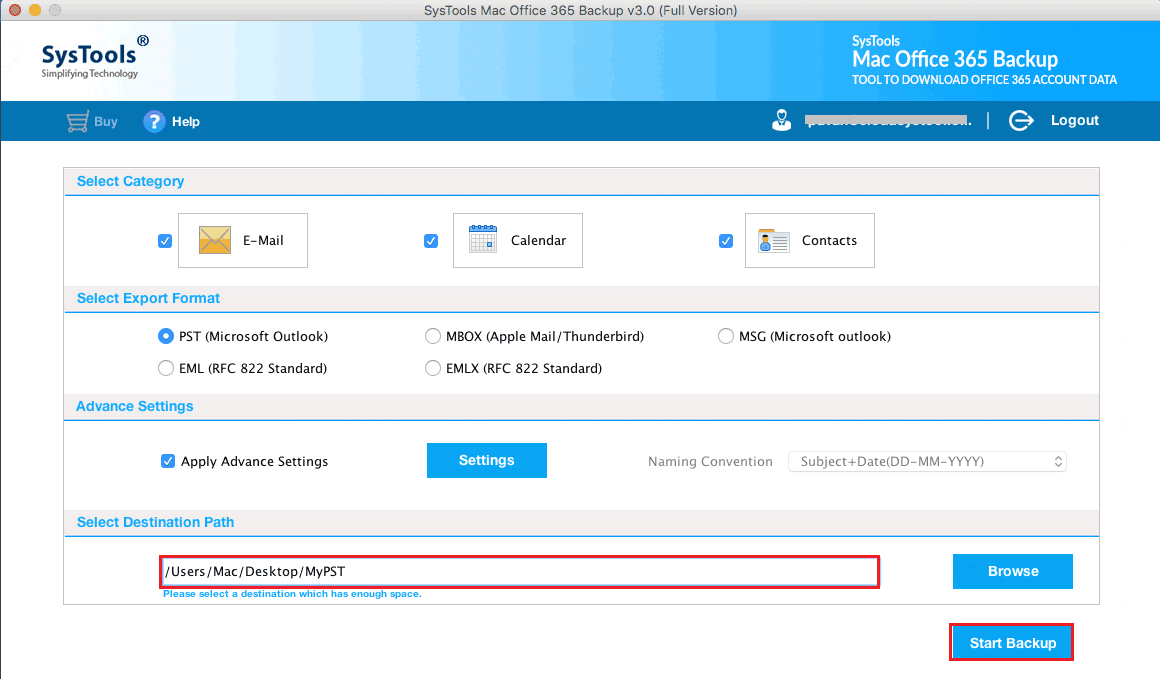 Now move to the destination folder and browse your resultant file. Follow the upcoming steps to import that file into Windows Outlook.
Import the PST file to Windows Outlook
Launch Windows Outlook into your Mac machine
Go to the File menu then select Open & Export
Choose Import/Export wizard to initiate the process
Select the Import from another program or file then click on the Next button
Navigate the PST file and then press the Next button to continue the ongoing process
Click on the Finish button to start the process
Wait till the software completes the process, open your Windows Outlook, and go to the folder to access your folder.
Additional Features of the Tool
Permits you to convert emails into more than four file formats.
Instruct you on how to export Office 365 mailbox to PST.
Compatible with all the versions of Mac OS X.
Allow you to convert contacts into VCF and calendars into ICS file formats.
Also, provide you an option of Include folder to backup selected emails.
This is how one can easily transfer Office 365 mailbox to another account ( MS Outlook, Apple Mail, Thunderbird) etc without any technical support.
Summing up
Many users are searching the ways to transfer Office 365 mailbox to another account, so in this write-up, we have discussed automated solutions and elaborate on the reasons why we don't prefer the manual method accordingly. We recommend you opt for the automated tool to overcome the consequences of the manual method as it is a complicated and time-consuming method.
On the other hand, the automated tool is designed in such a way that even a non-technical person can easily able to move Office 365 emails to another account without any extra efforts. Additionally, all in one tool assist you to pause and resume the ongoing process of transferring emails in a trouble-free manner. Users can also download the demo version of the tool for free.